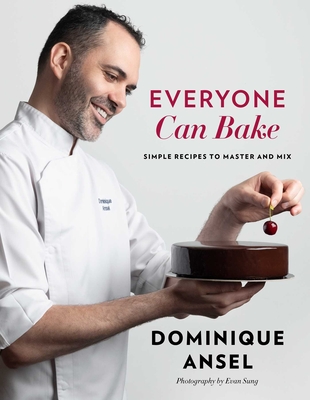 Everyone Can Bake
Simple Recipes to Master and Mix
Hardcover

* Individual store prices may vary.
Description
Named one of the best cookbooks of the season by The New York Times, Chowhound, Eater, Food & Wine, Forbes, and more.

Acclaimed pastry chef Dominique Ansel shares his simple, foolproof recipes for tarts, cakes, jams, buttercreams, and more "building blocks" of desserts for home cooks to master and mix as they please.

Dominique Ansel is the creator of beautiful, innovative, and delicious desserts, from the Frozen S'More to the Cronut®, the croissant-doughnut hybrid that took the world by storm. He has been called the world's best pastry chef. But this wasn't always the case.

Raised in a large, working-class family in rural France, Ansel could not afford college and instead began work as a baker's apprentice at age sixteen. There, he learned the basics—how to make tender chocolate cakes, silky custards, buttery shortbread, and more.

Ansel shares these essential, go-to recipes for the first time. With easy-to-follow instructions and kitchen tips, home cooks can master the building-blocks of desserts. These crucial components can be mixed in a variety of ways, and Ansel will show you how: his vanilla tart shell can be rolled out and stamped into cookies; shaped and filled with lemon curd; or even crumbled into a topping for ice cream.

This cookbook will inspire beginners and experienced home cooks alike to bake as imaginatively as Ansel himself.
Praise For Everyone Can Bake: Simple Recipes to Master and Mix…
"When it comes to baking, Dominique Ansel is the ultimate perfectionist. Now we can all create picture-perfect desserts by mastering his baking basics. Thank you, Dominique, this is a gift to all home bakers!" —MARTHA STEWART

"What a privilege it is to learn to bake alongside Dominique Ansel – a true original, whose building blocks of baking will give home cooks endless inspiration to create rousing desserts that express personal taste and delight loved ones."—DANNY MEYER, author of Setting the Table

"This is the most encouraging book! Chef Ansel takes you by the hand and makes you believe that you are capable of making pastries as beautiful as his. And with his help, you actually are. I'm giving this to every aspiring baker I know."—RUTH REICHL, author of Garlic and Sapphires

"As the title of this book says, everyone can bake—but not everyone can bake without this book. Dominique Ansel has created a guide that works as well for beginners as for experts, and he's built it to last, with mix-and-match features that let you use it not just once or twice but forever. If you have never approached baking before, why not learn from one of the best!"—QUESTLOVE

"A book that will help you take next steps as a baker… Choose your own adventure, guided by Mr. Ansel's experience and lively voice."—THE NEW YORK TIMES

"A manual for how to make just about any dessert the reader's heart desires, whatever their skill level. With Everyone Can Bake, Ansel asserts that armed with the "building blocks of baking" he provides, baking is achievable for even the most intimidated novice...they're in good hands with Ansel's Everyone Can Bake." —EATER

"As you flip through these chapters, you'll gain the confidence to mix and match these recipes to create something completely unique."—BAKE FROM SCRATCH

Pastry-chef-wannabes will thrill to this challenge.—PUBLISHERS WEEKLY

"Full of robust flavors and creative combinations . . . A solid and satisfying 'next steps' cookbook."— BOOKLIST

"A delightful and inspiring cookbook that guides bakers of all levels through the mix-and-match mentality of experienced pastry chefs. Highly recommended for established fans of Ansel and creative recipe construction." —LIBRARY JOURNAL
Simon & Schuster, 9781501194719, 352pp.
Publication Date: April 14, 2020
About the Author
Dominique Ansel, a James Beard Award–winning Pastry Chef, is the chef and owner of eponymous bakeries in New York, London, and Los Angeles, as well as his first-ever restaurant in Los Angeles. Ansel has been responsible for creating some of the most celebrated pastries in the world, including: the Cronut® (named one of TIME Magazine's "25 Best inventions of 2013"), The Cookie Shot, Frozen S'more, Blossoming Hot Chocolate, and many more. He was named the World's Best Pastry Chef in 2017 by the World's Best Restaurants awards. Food & Wine has called him a "Culinary Van Gogh" while the New York Post coined him "the Willy Wonka of New York." He was also named one of Business Insider's "Most Innovative People Under 40," one of Crain's "40 under 40," and was bestowed the prestigious l'Ordre du Mérite Agricole, France's second highest honor.