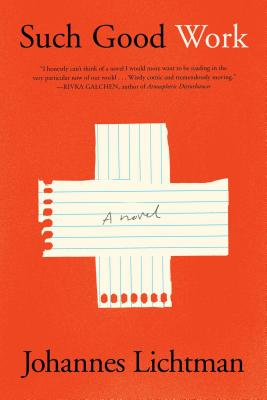 Such Good Work (Hardcover)
A Novel
Simon & Schuster, 9781501195648, 304pp.
Publication Date: February 5, 2019
Other Editions of This Title:
Digital Audiobook (2/4/2019)
Compact Disc (2/5/2019)
* Individual store prices may vary.
Description
A timely and provocative debut novel that Rivka Galchen calls "wisely comic and tremendously moving," about a creative writing teacher whose efforts to stay sober land him in Malmö, Sweden, where drugs are scarce but the refugee crisis forces a very different kind of reckoning.

YOU DON'T HAVE TO BE PERFECT TO DO GOOD

Jonas Anderson wants a fresh start.

He's made plenty of bad decisions in his life, and at age twenty-eight he's been fired from yet another teaching position after assigning homework like, Visit a stranger's funeral and write about it. But, he's sure a move to Sweden, the country of his mother's birth, will be just the thing to kick-start a new and improved—and newly sober—Jonas.

When he arrives in Malmo in 2015, the city is struggling with the influx of tens of thousands of Middle Eastern refugees. Driven by an existential need to "do good," Jonas begins volunteering with an organization that teaches Swedish to young migrants. The connections he makes there, and one student in particular, might send him down the right path toward fulfillment—if he could just get out of his own way.

Such Good Work is a darkly comic novel, brought to life with funny, wry observations and searing questions about our modern world, told with equal measures of grace and wit.
About the Author
Johannes Lichtman was born in Stockholm and raised in California. He holds an MFA in fiction from UNC Wilmington and an MA in literature, culture, and media from Lund University. His work has appeared in American Short Fiction, Los Angeles Review of Books, Oxford American, The Sun, Sydsvenskan, and elsewhere. He lives in Portland and Ukraine. Such Good Work is his first novel.
Praise For Such Good Work: A Novel…
PRAISE FOR SUCH GOOD WORK by JOHANNES LICHTMAN

"Lichtman [is] a remarkable thinker and social satirist…Such Good Work introduces a writer who is willing to openly contradict himself, to stand corrected, to honor both men and women, to ask sincere questions and let them ring unanswered...Jonas finds a companion in his neighbor Anja, one of the more autonomous, intelligent and unpredictable female characters to grace a male novelist's debut. Lichtman has a terrific ear for the tiny linguistic cues that reveal completely correct English to be nonetheless foreign, and Anja's dialogue is delivered in sometimes heartbreakingly poignant German-English…The reader feels the potency of a kind of communication between lovers that is non-national, non-hierarchical and pronounced in peace…The novel outgrows its own boundaries, becoming stranger and more robust." —NEW YORK TIMES BOOK REVIEW

"Such Good Work is, indeed, a bit Jonas-like: it's wary of affectation or grandstanding; it works small, as if from a sense of modesty, a reluctance to presume; it cuts sincerity with the direst of humor. Such Good Work [is] alive to the contradictions between morality and comfort that exist everywhere under global structures of capitalism and politics. Moving to Sweden is a way for Jonas to reconcile his privilege with his ideals—perhaps it is easier, in the land of subsidized housing and schooling and health care, to live well, to care about injustice, and to not be a hypocrite. The book contain[s] both sadness and expectation—leav[ing] the reader grazed by tempered hopes."—THE NEW YORKER

"The international refugee crisis and the struggle to stay sober preoccupy roughly equal portions of this thoughtful first novel, which follows an American graduate student to Sweden in the fraught years 2014-15...[It] casts a sharp eye over the Swedish social and political landscape...Lichtman's low-key treatment of two highly charged subjects is refreshing."—KIRKUS REVIEWS

"[An] excellent and timely debut ... Throughout, Lichtman expertly infuses his multicontinental narrative with humor and humanity, suggesting the dangers of intolerance while also poking fun at the white savior trope. Jonas may be helping others to make himself feel whole, yet his heartfelt actions stick with the reader in this winning novel."—PUBLISHERS WEEKLY

"The novel answers its primary question, Is doing good even possible?, with significant emotional honesty, and Lichtman's clear and accessible writing allows readers to explore its complex topics at many levels. Jonas is a bundle of shifting emotions, needs, and coping mechanisms, and rather than doing good, easing the discomfort of being human is at times all he can manage."—BOOKLIST

"[Lichtman] has written a likeable, funny and thoughtful book with an endearingly frustrating central character. Without appearing to try too hard, Such Good Work gets to the heart of what it means to have a conscience and attempts—however futile that attempt may be—to use it for the greater good. It is gratifying that Mr Lichtman does not endeavour to offer a satisfying answer to these questions of migration, belonging, alienation and addiction. Rather like the solitary characters in Go, Went, Gone, Jenny Erpenbeck's novel about Germany's refugee crisis, and Leaving the Atocha Station, Ben Lerner's tale of a disaffected young American living in Madrid around the time of the terrorist attack in 2004, Jonas reflects, regrets and moves on."—THE ECONOMIST

"[A] wise and funny debut novel...Lichtman handles this transition with dexterity and humor as he explores what it means to do the good work of being human."—NEW YORK JOURNAL OF BOOKS

"With intelligent probing, sinuous prose, and considerable charm, this Bildungsroman charts his journey, an interior trip to the core of being a compassionate human in the twenty-first century. Scenes read like meticulous journal entries as Jonas both records his urge to help and questions his own motives and capacity, unsparing when his attempts fall short. This artful realism lends his account an appealingly honest intimacy and immediacy as the quotidian is scrupulously examined. Jonas is deeply serious about finding meaning and connection."—FICTION WRITERS REVIEW

"I honestly can't think of a novel I would more want to be reading in the very particular now of our world. Lichtman's narrator is an everyman (albeit a singular one) who just wants to be good—that slipperiest of ambitions—and yet his efforts pretty much always go wrong. But also they don't. Wisely comic and tremendously moving, Such Good Work thinks in detail about immigration, addiction, privilege, power and loneliness; but it does so by mining the seemingly inconsequential for its true profundity. Lichtman never falls for the siren song of self-seriousness, and that is part of what makes his novel feel so accurate, and so important. In being open to complexity, and sensitive to absurdity, Such Good Work gets at the wholeness and difficulty and beauty of lives both ordinary and extraordinary."—RIVKA GALCHEN, author of Atmospheric Disturbances

"Johannes Lichtman has given us a powerful, unsparingly honest portrayal of a soul in torment, trying to find his way to a decent life. How to love, how to work--how to live, however modestly, with meaning and purpose inside a self that for too long has used booze and drugs to avoid the hard work of being human. Building a genuine self, that's an inside job, and in Such Good Work Lichtman delivers a deeply affecting novel of one young man's struggle to be whole."—BEN FOUNTAIN, National Book Critics Circle Award-winning author of Billy Lynn's Long Halftime Walk

"I loved the bleary, almost-but-not-quite hopeless tenderness of Such Good Work. The classroom scenes are marvelous. This book is funny, wise, finely paced, and attentive to its every sound. I can't stop thinking about it."—SARAH MANGUSO, author of 300 Arguments