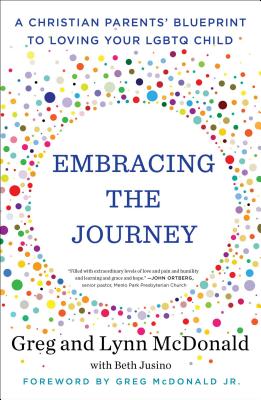 Embracing the Journey
A Christian Parents' Blueprint to Loving Your LGBTQ Child
Hardcover

* Individual store prices may vary.
Other Editions of This Title:
Digital Audiobook (3/4/2019)
Paperback (4/7/2020)
Paperback (1/7/2020)
Description
A sympathetic, compassionate, and inspiring guide for parents, from the founders of one of the first Christian ministries for parents of LGBTQ children.

Greg and Lynn McDonald had never interacted with members of the LGBTQ community until they discovered that their son was gay—and without resources or support, they had no idea how to handle this discovery. At first they tried to "fix" him, to no avail. But even in the earliest days of their journey, the McDonalds clung to two absolutes: they would love God, and they would love their son.

This book follows the McDonald family's journey over the next twenty years, from a place of grief to a place of gratitude and acceptance that led the McDonalds' to start one of the first Christian ministries for parents of LGBTQ children. Based on their experience from counseling and coaching hundreds of struggling Christian parents, they offer tools for understanding your own emotional patterns and spiritual challenges. They also help you experience a deeper relationship with God while handling difficult or unexpected situations that are out of your control. You will discover tested principles, patterns, and spiritual lessons that can change the way we all see our families, and help Christians at large think though Christ-like ways to respond to the LGBTQ community.

Written in an unvarnished, honest, reassuring, and relatable voice, this is a practical guide for parents and a roadmap to learning to love God, the people He created, and the church, even when they seem to be at odds.
Praise For Embracing the Journey: A Christian Parents' Blueprint to Loving Your LGBTQ Child…
"This book is filled with extraordinary levels of love and pain and humility and learning and grace and hope. Greg and Lynn McDonald—and Greg Jr—have laid bare their story to give us a healing gift. May it be widely read."
— John Ortberg, Senior Pastor, Menlo Park Presbyterian Church

"Embracing the Journey is an essential resource for Christian parents of LGBTQ kids. Greg and Lynn McDonald share their story of having a gay son with admirable transparency about things they did wrong, humility about the things they're still learning, and grace for others on the journey. This book will have a profound impact on countless relationships between parents and their children, and I can't recommend it highly enough. It blew me away. It's a must-read for any Christian parent wishing to have a better relationship with their LGBTQ child, any LGBTQ person wishing to have a better relationship with their Christian parent, or anyone who knows and loves someone at that intersection."

— Matthew Vines, author of God and the Gay Christian and executive director of The Reformation Project

"This book is great for parents, pastors, LGBTQ people, and anyone who wants to know how to move 'gay' from a long list of issues to a compelling story about a community and people group we need to know better and love generously. I pray this book and these people inspire you as much as they have me."
— Alan Chambers, Author of My Exodus: From Fear to Grace

"A compelling description of a challenge faced by more and more people in the modern church: how to love God and their gay child without losing their faith or their relationship with either. Each page is filled with striking honesty and first-century courage.. an important and helpful resource."
— Bill Willits, Executive Director of Ministry Environments, North Point Ministries

"A true game changer. This book is a true testament to God's desire to transform today's Church to learn how and finally commit to fully loving everyone just like Christ first loved us, one parent at a time."


— Jane Clementi, co-founder, The Tyler Clementi Foundation

"It is terribly sad but obviously true that when conservative Christian parents discover that their child is LGBTQ, the default reaction is faith-based rejection. It takes a journey — a hard, brave, grace-filled journey — to move to a place not just of acceptance of the child but transformation of the parents and of their faith. Greg and Lynn McDonald have taken that journey. Their story is told in a riveting way here. This book should prove a compelling resource for many parents who are somewhere on that journey. More: I believe this book will save lives."
— Rev. Dr. David P. Gushee, Distinguished University Professor of Christian Ethics, Mercer University, author of Changing Our Mind

Sharing our stories is important. Vitally important. So many parents of LGBTQ children feel utterly alone. But you are not alone. Which is why the McDonalds are sharing their story, their journey, the changes in their lives. Because no matter where you are on your journey, Greg and Lynn have been there too. They asked the same questions, struggled with the same emotions. But also--wait for it--experienced the love and peace and joy that is also part of the journey. We know. We're on this journey too.
— Dave and Neta Jackson Authors of Risking Grace:Loving Our Gay Family and Friends Like Jesus.

"The osmosis that will occur from reading this brave story will make you more like Jesus because of how passionate, honest, truthful, compassionate, and Christ-like the McDonald family is. They're building bridges of relationship and we all could use more like them!"
— Clay Scroggins, Lead Pastor, North Point Community Church Author, How to Lead When You're Not in Charge

"What a magnificent story of respect, honor, commitment and deep love. Thank you Greg and Lynn for allowing us to see your openness and humility to learn, grow and be real. The truth that you have discovered and experienced about God, life, and enduring love is a message that all families need to hear. Thank you for unconditionally loving your beloved son and the people that he holds dear in his life. I will be recommending this book to all the parents I know who are on this very sacred journey."
— Janelle M. Hallman, PhD, LPC, PLLC, Desert Hope Ministries

"Writing with both confidence and vulnerability, the McDonalds have given us a much needed resource which will help not only Christian parents of LGBTQ children, but for the children themselves. For parents, Embracing the Journey provides a thoughtful guide to reconcile their faith with the reality of having an LGBTQ child. Children will benefit from seeing the journey from the other side, learning how to better appreciate the steps their parents may take."
— David and Constantino Khalaf, authors of Modern Kinship: A Queer Guide to Christian Marriage.

"Every Christian parent of an LGBTQ child should read this book."
— B.T. Harman, Creator of Blue Babies Pink

"If you are a Christian parent whose child has recently come out to you, please, please take the time to read this account of Greg and Lynn's efforts to reconcile their faith in Jesus Christ with their desire to love their son well. Had my husband and I found a book like this after our 12 year old son came out back in 2001, it very well would have changed everything."
— Linda Robertson, author of Just Because He Breathes

"An excellent resource... Greg and Lynn have created the book that LGBTQ people will be handing to their parents, asking them to read it so that families can be healed and the lives of LGBTQ people may thrive in relationship with God."
— Kathy Baldock Executive Director of Canyonwalker Connections and author of WALKING THE BRIDGELESS CANYON
Howard Books, 9781501195686, 256pp.
Publication Date: March 5, 2019
About the Author
Greg McDonald is cofounder of Embracing the Journey and has enjoyed a career that spans 30+ years as an industry leader in the private sector. He currently serves on the Board of Directors of Orphan Helpers and has served on numerous advisory boards and committees. Today Greg pursues his passion of helping LGBTQ families become reconciled with each other and move one step closer to Jesus. Greg is the proud dad of Greg Jr. and Connie, dad-in-law to Matt, and happy grandfather of three grandchildren.

Lynn McDonald is cofounder of Embracing the Journey. When her now-adult children were young, she was a full-time homemaker. Additionally, Lynn has served as a volunteer crisis pregnancy counselor and on the Committee for Young Life Central America. She is the proud mom of Greg Jr. and Connie, mom-in-law to Matt, and happy grandmother of three grandchildren.

Beth Jusino is an award-winning writer, editor, and teacher with almost twenty years of experience in publishing. She's ghostwritten and collaborated on multiple titles for both large and small publishers.
or
Not Currently Available for Direct Purchase