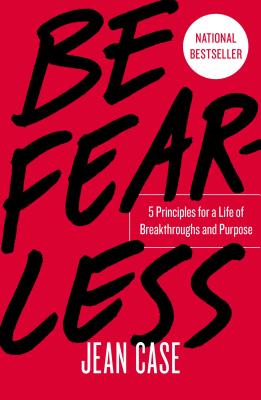 Be Fearless (Hardcover)
5 Principles for a Life of Breakthroughs and Purpose
Simon & Schuster, 9781501196348, 272pp.
Publication Date: January 8, 2019
* Individual store prices may vary.
Description
Philanthropist, investor, and technology pioneer Jean Case brings to life the five Be Fearless principles common to the people and organizations that change the world.

This book is a call to action for those seeking to live extraordinary lives and bring about transformational change.

When National Geographic Chairman Jean Case set out to investigate the core qualities of great change makers, past and present, from inventors to revolutionaries, she found five surprising traits all had in common. They weren't wealth, privilege, or even genius. It was that all of these exceptional men and women made a big bet, took risks, learned from their failures, reached beyond their bubble, and let urgency conquer fear.

Be Fearless mixes storytelling and strategy, practical tips and inspiration, to teach individuals and organizations how to put these five principles to work so that they too can spark the sorts of remarkable breakthroughs that change the world.
About the Author
Jean Case, the first female Chairman of the National Geographic Society in its 130-year history and CEO of the Case Foundation, is a philanthropist, investor and internet and impact investing pioneer who advocates for the importance of embracing a more fearless approach to innovate and bring about transformational breakthroughs. Her career in the private sector spanned nearly two decades before cofounding the Case Foundation in 1997. Before the Case Foundation, she was a senior executive at America Online, Inc. where she directed the marketing and branding that helped establish AOL as a household utility. In addition, Jean currently serves on the boards of Accelerate Brain Cancer Cure (ABC2), the White House Historical Association, and BrainScope Company, Inc., as well as on the advisory boards of the Brain Trust Accelerator Fund, Stanford Center on Philanthropy and Civil Society and Georgetown University's Beeck Center for Social Impact and Innovation. She was elected to the American Academy of Arts and Sciences in 2016 and has received honorary degrees from Indiana University and George Mason University. Be Fearless: 5 Principles for a Life of Breakthroughs and Purpose is her first book.