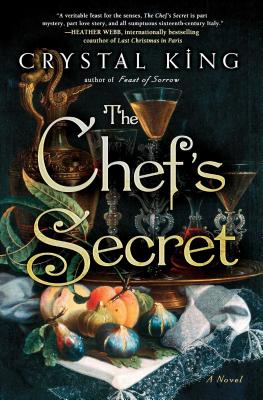 The Chef's Secret
A Novel
Paperback

* Individual store prices may vary.
Other Editions of This Title:
Digital Audiobook (2/11/2019)
Paperback, Large Print (6/19/2019)
Compact Disc (2/12/2019)
Description
A captivating novel of Renaissance Italy detailing the mysterious life of Bartolomeo Scappi, the legendary chef to several popes and author of one of the bestselling cookbooks of all time, and the nephew who sets out to discover his late uncle's secrets—including the identity of the noblewoman Bartolomeo loved until he died.

When Bartolomeo Scappi dies in 1577, he leaves his vast estate—properties, money, and his position—to his nephew and apprentice Giovanni. He also gives Giovanni the keys to two strongboxes and strict instructions to burn their contents. Despite Scappi's dire warning that the information concealed in those boxes could put Giovanni's life and others at risk, Giovanni is compelled to learn his uncle's secrets. He undertakes the arduous task of decoding Scappi's journals and uncovers a history of deception, betrayal, and murder—all to protect an illicit love affair.

As Giovanni pieces together the details of Scappi's past, he must contend with two rivals who have joined forces—his brother Cesare and Scappi's former protégé, Domenico Romoli, who will do anything to get his hands on the late chef's recipes.

With luscious prose that captures the full scale of the sumptuous feasts for which Scappi was known, The Chef's Secret serves up power, intrigue, and passion, bringing Renaissance Italy to life in a delectable fashion.
Praise For The Chef's Secret: A Novel…
"King's characters are drawn as lovingly, as sensually as the food and the Vatican world she describes, and the plot itself — part secret-code mystery, part love story — moves like a well-paced meal."
— Boston Globe

"King supplies all of the elements historical fiction fans expect in a juicy Renaissance tale, including luscious meals, erotic interludes, and deaths by poison and blade. This rich tale should satisfy the appetites of fans of historicals."
— Publishers Weekly

"Crystal King's The Chef's Secret is a fabulous immersion in the world of renaissance Italy, full of passion, intrigue, secrets, danger, and of course food. Come hungry!"
— Melodie Winawer, author of The Scribe of Siena

"The Chef's Secret is a sumptuous buffet, serving up a love story (two of them!); mystery and suspense so thick you could cut it with, well, a chef's knife; and such a vibrant panorama of Renaissance Rome you'll feel you've walked its streets and inhabited its kitchens. Anyone who loves history, food, a great story—read this novel! Warning: it will make you hungry."
— Jenna Blum, New York Times and international bestselling author of Those Who Save Us and The Lost Family

"In The Chef's Secret, Crystal King serves up a delectable read stuffed with passion, danger, and a plot worthy of Dan Brown. This fast-paced, engrossing novel brings Renaissance Rome and the Vatican to life through the eyes of a famous papal chef. You won't be able to put it down."
— Stephanie Storey, author of Oil and Marble

"A veritable feast for the senses, The Chef's Secret is part mystery, part love story, and all sumptuous sixteenth century Italy. This tale of one of the world's first celebrity chefs—Bartolomeo Scappi, a DaVinci of Renaissance cuisine—sent me on a quest to know more, and to my kitchen to experiment—a sign of a great historical novel. Readers will delight in a plot as juicy as Scappi's braised beef!"
— Heather Webb, international bestselling author of Last Christmas in Paris

"The Chef's Secret is a classic historical drama, full of intrigue, star-crossed love, family turmoil, shocking revelations and twists of fate. What sets it apart from other fiction of that sort is the cuisine, which once again is practically a minor character."
— Boise Weekly

"With adventure, engaging characters, and an absorbing mystery, King expertly blends fact with fiction, intrigue, and a powerful love story. Well written and perfectly paced, The Chef's Secret is a fascinating immersion into sixteenth-century Italian life, an introduction to the world's first celebrity chef, and a reminder of the power of food to influence a civilization."
— Booklist

"King twists in romance, mystery, cultural richness, and some zesty research. Scappi's secrets are unveiled at a pace that simmers with intrigue…Mixed together with decadent banquets and sweeping historical detail, King has a recipe that entices the senses… vibrant in both visual and flavorful detail."
— Historical Novel Review

"If true gastronomy resides at the intersection of food, art and culture, then Crystal King's debut novel can only be described as a gastronomical delight . . . .Every page oozes with remarkable insights . . . satisfying, but readers are left hungry for more."
— Associated Press

"In her addictively readable first novel . . . the food lore is fascinating and the time period is inherently dramatic . . . .[A]ficionados of all things SPQR will eat this up."
— Kirkus Reviews

"Finely paced. . . . the novel combines exotic menus with the melodrama of a Greek tragedy. King's debut is a compelling historical drama with an appetizing center."
— Booklist

"King's descriptions of the food and entertainment are exquisite, her characters are beautifully drawn, and events and people of the times are deftly woven throughout . . . A delight to the senses, King's debut novel is to be savored and devoured."
— Library Journal, starred review

"Crystal King's debut is a feast for the senses, bringing ancient Rome to dark, vibrant life. Politics, intrigue, danger, and passion mix deliciously in this tale of a young slave vaulted into the corridors of power as personal chef to the ancient world's greatest gourmet. Not to be missed!"
— Kate Quinn, author of Mistress of Rome

"Sometimes you just want a big, fat, juicy read and Crystal King's debut novel fits the bill. . . . Romance, power, politics and mouth-watering meals described in detail. . . . We think we've just discovered the Food Channel's first miniseries."
— The Huffington Post

"Through the lens of a slave in ancient Rome, Crystal King illuminates a realm of seemingly impossible gluttony and excess, along with every other deadly sin. In the household of outrageous gourmand Apicius, he of extraordinarily decadent mores, one man, a slave, Thrasius, provides the sole ethical center. Feast of Sorrow is impossible to put down."


— Randy Susan Meyers, bestselling author of Accidents of Marriage

"Crystal King's debut novel, Feast of Sorrow, tells the story of Apicius, the notorious gourmand of ancient Rome, from the viewpoint of his slave and cook Thrasius. It's a dark and engrossing read, and provides an evocative new perspective on the rule of Tiberius."
— Emily Hauser, author of For the Most Beautiful

"Crystal King has written a delicious feast of a book, one that allows us to not only see, but also taste ancient Rome in all its dark and varied appetites."
— Yael Goldstein Love, author of Overture

"The historical world of Feast of Sorrow lives and breathes, and it is a delight to follow its characters' struggle for happiness and survival amidst the simmering peril of Rome's great houses. Even if you're not a foodie drawn to novels of ancient Rome, this immersive, sensorily rich page-turner will take you for a delicious and unforgettable ride."
— Tim Weed, author of Will Poole's Island

'An engaging foray into the treacherous world of Claudio-Julian Rome from a fresh perspective. Who knew that the gourmand Apicius was larger than life? King deftly serves up intrigue, scandal and heartbreak with lashings of exotic sauces, mouth-watering recipes and the occasional drop of poison. Highly recommended."
— Elisabeth Storrs, author of the series Tales of Ancient Rome

"The ancient Rome of Crystal King's Feast of Sorrow is filled with delectable dishes and astonishing injustice, deep loyalties and stunning loss. By the time you're done, you'll want a sip of honeyed water alongside some fried hyacinth bulbs. An engrossing read."
— Marjan Kamali, author of Together Tea

"Ancient Rome comes alive with a remarkable degree of immediacy and authenticity. I savored every page of this compulsively readable novel."
— Lisa Borders, author of The Fifty First State

"King excels at researching a historical period, and her knowledge of the culinary life of early imperial Rome is second to none. When Thrasius cooks up a particular recipe for one of Apicius' extravagant dinners, the reader's mouth waters, even when the ingredients are unfamiliar. By recreating Apicius' famous recipes, the world of ancient Rome comes to vivid, sparkling life."
— BookReporter

"Upstairs/downstairs drama meets food porn meets historical fiction."
— Epicurious

"Crystal King seamlessly weaves questions about power, morality, and family into this completely immersive and compulsively readable debut."
— Amanda Foreman, author of Georgiana and A World on Fire

"A plunge into the ancient Roman world in all its senses—especially taste. But the character studies of the people are even tastier than the recipes! A Roman feast on many levels, all delicious."
— Margaret George
Atria Books, 9781501196423, 352pp.
Publication Date: February 12, 2019
About the Author
Crystal King is an author, culinary enthusiast, and marketing expert. Her writing is fueled by a love of history and a passion for the food, language, and culture of Italy. She has taught classes in writing, creativity, and social media at several universities including Harvard Extension School and Boston University, as well as at GrubStreet, one of the leading creative writing centers in the US. A Pushcart Prize–nominated poet and former co-editor of the online literary arts journal Plum Ruby Review, Crystal received her MA in critical and creative thinking from UMass Boston, where she developed a series of exercises and writing prompts to help fiction writers in medias res. She resides in Boston but considers Italy her next great love after her husband, Joe, and their two cats, Nero and Merlin. She is the author of Feast of Sorrow.