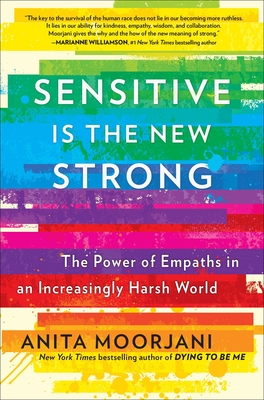 Sensitive Is the New Strong
The Power of Empaths in an Increasingly Harsh World
Hardcover

* Individual store prices may vary.
Other Editions of This Title:
Digital Audiobook (4/5/2021)
Compact Disc (4/6/2021)
Description
"I highly recommend this book for all empaths and their loved ones." —Jack Canfield, co-author of the #1 New York Times bestselling Chicken Soup for the Soul series

The New York Times bestselling author of Dying to Be Me returns with an inspirational guide for sensitive people looking to fully harness their gifts of intuition and empathy in today's harsh world.

International speaker, cancer survivor, and author of Dying to Be Me Anita Moorjani astounded fans across the globe with her New York Times bestselling book about overcoming cancer and her life-changing near-death experience. Now she returns with Sensitive Is the New Strong, a powerful, heartfelt book on harnessing and fostering empathic gifts in today's difficult, fear-based world.

Empaths not only sense other people's emotions, but also absorb them—sometimes to their own disadvantage, often leading to overwhelming sensory overload and feelings of confusion or low self-esteem. Their willingness to help and please others might make them prey to opportunists or cause them to give away more energy than they can afford. But Anita Moorjani argues that it's possible to turn this onslaught of emotional burden into a powerful tool. In a time when traits like sensitivity, kindness, and compassion are sorely undervalued, Moorjani helps empaths—whether emerging or acknowledged—navigate obstacles they may face and identify what makes them unique. Finally, she teaches them how to claim their true powers as empaths, to be their most authentic selves, shifting their own trajectory and leading to shift the trajectory of the planet in a more conscientious direction.

Filled with eye-opening personal anecdotes, insights from other empaths, meditations, and self-affirming mantras, Sensitive Is the New Strong is an empowering book that demonstrates the positive power of sensitivity.
Praise For Sensitive Is the New Strong: The Power of Empaths in an Increasingly Harsh World…
"Moorjani teaches you to embrace your sensitivity and see it as a strength, and she shows you how to empower yourself and become the leader of your life, while showing us all how sensitivity is a valuable and needed component in our future evolution. I highly recommend this book for all empaths and their loved ones. — JACK CANFIELD, co-author of the #1 New York Times bestselling Chicken Soup for the Soul series

"Sensitive is the New Strong is the absolute truth of what it's like to live as an empath. It teaches us how to understand that our inherent sensitivity is not a liability, it's a strength. If you've ever been told to toughen up or just get over it, this book is for you. I believe that empaths are the new normal. And it's time that we finally learned how to step into the superpower that has always existed within." — CHRISTIANE NORTHRUP, MD and New York Times bestselling author of Women's Bodies

"Thank you so much, Anita Moorjani, for writing this book and for shining the way for all of us, especially empaths, to recapture our dormant—and most important—sixth sense. There is so much possible and never a better time." — PAM GROUT, #1 New York Times bestselling author of E-Squared and Course in Miracles Experiment

"Fabulous insights on how to live from the heart of an empath like no other. Anita's views on six-sensory living, and thriving, with an emphasis on self-appreciation, are out of this world. This treasure is a love story, about you." — MIKE DOOLEY, New York Times bestselling author of Infinite Possibilities

"Anita Moorjani has done it again! Sensitive is the New Strong is a gorgeous and powerful field guide to the empath living in today's wild world. If you, like millions of others, struggle with emotional regulation, overwhelm, and holding healthy boundaries, get ready to feel truly seen... and to learn how to express gifts you may not even realize you have from a place of power and grace." — LAURA BERMAN, PhD and author of Quantum Love

"Whether you're an artist or an engineer, a homemaker or policy maker, Sensitive is the New Strong will catapult you beyond the casual speculation of what intuition and empathy can mean in your life, to reveal the practical steps that you can take now to unveil the most intimate relationship that you'll ever experience—your relationship with yourself and your personal power." — GREGG BRADEN, New York Times bestselling author of Human by Design and The God Code

"Sensitive is the New Strong is a book that provides YOU with ground-breaking information, tools, and exercises in understanding the challenges faced by empaths. You can learn how to protect your energy and thrive. A definite must read for empaths and their loved ones." — NICK ORTNER, New York Times bestselling author of The Tapping Solution

"Sensitive is the New Strong is a practical user's manual for the gifted empath who must learn to balance their inner world of thoughts and feelings with their outer material world. Anita Moorjani gives us the knowledge and the tools to free ourselves to live a more meaningful life. This book is for anyone who is courageous enough to feel." — DR. JOE DISPENZA, New York Times bestselling author of You Are the Placebo: Making Your Mind Matter

"For every last people pleaser, who feels too much and takes too little, this is the essential handbook." — LYNNE MCTAGGART, internationally bestselling author of The Intention Experiment

"The key to planetary sustainability - indeed, the survival of the human race - does not lie in our becoming more ruthless. It lies in our ability for kindess, empathy, wisdom and collaboration. Moorjani gives the way and the how of the new meaning of strong." — MARIANNE WILLAMSON, New York Times bestselling author of A Return to LovE

"Many empaths have no idea that they are empaths—this insightful and practical book will help them identify themselves, and reveal their importance to the world." — EBEN ALEXANDER MD, author of Living in a Mindful Universe

"This a remarkable, insightful book that will speak to empaths all over the world. I thought I was reading about myself as I turned each new page. I truly loved reading this book and will be recommending it to all my empath friends." — DAVID HAMILTON PhD, bestselling author of How Your Mind Can Heal Your Body

"Sensitive is the New Strong is a deeply spiritual journey into the empath world. This book is liberating to everyone who has felt small inside a world that is so big and scary." — CHRISTINA RASMUSSEN, bestselling author of Seconds Firsts

"Moorjani's revealing insights will appeal to her many fans as well as those just beginning to understand their empathic abilities." — Publishers Weekly

"The essential guidebook for those of us who are tired of seeing our sensitivity as a detriment and who instead want to harness its power and strength!" — Ms. Magazine
Atria/Enliven Books, 9781501196676, 224pp.
Publication Date: March 16, 2021
About the Author
Anita Moorjani is the New York Times bestselling author of What If This Is Heaven? and Dying to be Me. A beloved international speaker, she lives in the United States with her husband, Danny, and has dedicated her life to empowering the minds and hearts of people with her story of courage and transformation. Anita was born in Singapore to Indian parents and grew up in Hong Kong speaking English, Cantonese, and an Indian dialect simultaneously. Prior to her near-death experience, she worked in the corporate world.