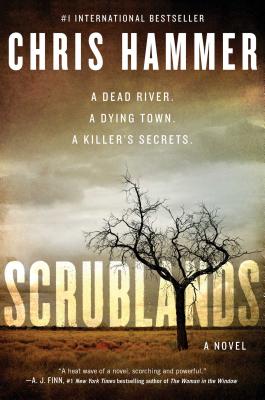 Scrublands (Hardcover)
Atria Books, 9781501196744, 384pp.
Publication Date: January 8, 2019
* Individual store prices may vary.
Description
In the vein of The Dry and Before the Fall, a town's dark secrets come to light in the aftermath of a young priest's unthinkable last act in this arresting and searing debut thriller.

In Riversend, an isolated rural community afflicted by an endless drought, a young priest does the unthinkable, killing five parishioners before being taken down himself.

A year later, accompanied by his own demons from war-time reporting, journalist Martin Scarsden arrives in Riversend. His assignment is simple: describe how the townspeople are coping as the anniversary of their tragedy approaches. But as Martin meets the locals and hears their version of events, he begins to realize that the accepted wisdom—that the priest was a pedophile whose imminent exposure was the catalyst for the shooting, a theory established through an award-winning investigation by Martin's own newspaper—may be wrong.

Just as Martin believes he's making headway, a new development rocks the town. The bodies of two German backpackers—missing since the time of the church shootings—are discovered in a dam in the scrublands, deserted backwoods marked by forest fires. As the media flocks to the scene, Martin finds himself thrown into a whole new mystery.

What was the real reason behind the priest's shooting spree? And how does it connect to the backpacker murders, if at all? Martin struggles to uncover the town's dark secrets, putting his job, his mental state, and his life at risk as more and more strange happenings escalate around him.

For fans of James Lee Burke, Jane Harper, and Robert Crais, Scrublands is a compelling and original crime novel that marks Chris Hammer as a stunning new voice in the genre. A compulsively readable thriller of the highest order, Scrublands never loosens its grip, from its opening scene to the very last page.
About the Author
Christopher Hammer lives in Australia and has been a journalist for over twenty-five years. He has been an international correspondent, the chief political correspondent for The Bulletin, and a senior political journalist for The Age.
Praise For Scrublands…
"A heatwave of a novel, scorching and powerful. This extraordinary debut, perfect for readers of the magnificent Jane Harper, seared my eyes and singed my heart. Don't miss it."
— A.J. Finn, #1 New York Times bestselling author of THE WOMAN IN THE WINDOW

"Stellar. . . .Richly descriptive writing coupled with deeply developed characters, relentless pacing, and a bombshell-laden plot make this whodunit virtually impossible to put down."

"Debut thriller of the month (and maybe of 2019) . . . . Beautifully written."

"Chris Hammer's powerful debut Scrublands establishes his place among the handful of thriller writers who understand the importance of setting as character, deftly weaving the story of a landscape burned dry and a town whose residents are barely hanging on with a complicated mystery that could only happen in this place in exactly the way Hammer tells it. Fresh and hypnotic, complex and layered, Scrublands' gorgeous prose swept me up and carried me toward a conclusion that was both surprising and inevitable. I loved every word. Highly recommended."
— Karen Dionne, international bestselling author of THE MARSH KING'S DAUGHTER

"Compelling…highly recommended."
— Dervla McTiernan, author of THE RUIN

"Scrublands kidnapped me for 48 hours. I was hopelessly lost in the scorching Australian landscape, disoriented but completely immersed in the town and people of Riversend, as the heat crackled off the pages. I was devastated when it was time to go back to the real world. This book is a force of nature. A must-read for all crime fiction fans."
— Sarah Bailey, author of THE DARK LAKE and INTO THE NIGHT

"An evocative and compelling page-turner, and a deft unravelling of small town secrets and the legacy of trauma, amid the suffocating heat of a drought-ravaged Australian scrub; I was hooked!"
— Paul Howarth, author of ONLY KILLERS AND THIEVES

"As evocative and haunted as the American Southwest, Chris Hammer's Australian-set Scrublands is desolate, dangerous, and combustible. A complex novel powered by a cast of characters with motives and loyalties as ever-shifting as the dry riverbed beneath them, Hammer's story catches fire from the first page."
— J. Todd Scott, author of THE FAR EMPTY and HIGH WHITE SUN

"A compulsively page-turning thriller where the parched interior looms as large as the characters."

"Scrublands is the epic novel about rural life …that we need right now. In its concern with crime beyond the suburban fringe, it sits right up there with the late Peter Temple's Broken Shore, Garry Disher's Bitterwash Road and Jane Harper's The Dry, even as it extends their focus and reach."

"A novel's opening moments are there to rivet readers' attention; this one begins with a dazzler. . . we're hooked."

"Hammer's intricately plotted, atmospheric debut introduces the bleak Australian scrublands, an area haunted by its past. Fans of Jane Harper's Australian crime novels will welcome another author with a rich descriptive style."

"A spellbinding mystery . . . . a great addition to any book club this winter."