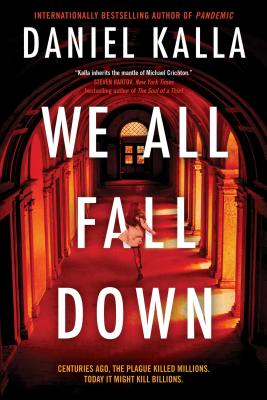 We All Fall Down (Paperback)
Simon & Schuster, 9781501196935, 384pp.
Publication Date: March 26, 2019
Other Editions of This Title:
Mass Market (10/29/2019)
* Individual store prices may vary.
Description
Not since Pandemic have we seen a thriller like this from bestselling author Daniel Kalla: The plague has hit Italy. Can Dr. Alana Vaughn find the source in time to save the world?

No person is left unscathed, no family untouched. Death grows insatiable.

Alana Vaughn, an infectious diseases expert with NATO, is urgently summoned to Genoa by an ex-lover to examine a critically ill patient. She's stunned to discover that the illness is a recurrence of the Black Death. Alana soon suspects bioterrorism, but her WHO counterpart, Byron Menke, disagrees. In their desperate hunt to track down Patient Zero, they stumble across an 800-year-old monastery and a medieval journal that might hold the secret to the present-day outbreak. With the lethal disease spreading fast and no end in sight, it's a race against time to uncover the truth before millions die.
About the Author
Daniel Kalla is the international bestselling author of We All Fall Down, Pandemic, Resistance, Rage Therapy, Blood Lies, Cold Plague, and Of Flesh and Blood. His books have been translated into eleven languages, and two novels have been optioned for film. Kalla practices emergency medicine in Vancouver, British Columbia. Visit Daniel at DanielKalla.com or follow him on Twitter @DanielKalla.
Praise For We All Fall Down…
Praise for We All Fall Down

"A tightly plotted thriller, energetic and completely believable. Kalla knows how to build a suspenseful story that doesn't stretch the bounds of plausibility. He also knows how to build realistic characters and put natural-sounding dialogue into their mouths, something many better-known medical-thriller authors often struggle to do. . . . [a] top-drawer thriller."
— BOOKLIST

"A fast paced thriller with an historical overlay and a dash of romantic tension."
— VANCOUVER SUN

"A superbly written suspense novel, completely believable in its frightening premise and masterful in execution. Kalla inherits the mantle of Michael Crichton, devising a plot in which an ancient pestilence meets a scourge of human egotism and misplaced faith, resulting in the potential for a worldwide cataclysm. Much more than a medical thriller, We All Fall Down is both a vivid history lesson and a heart-pounding warning, resulting in a page-turning obsession."
— STEVEN HARTOV, New York Times bestselling author of The Soul of a Thief

"A great thriller hero never hesitates—despite, or perhaps because of, her checkered past and uncertain future. By that standard, Dr. Alana Vaughn is the woman readers will want on their side when stalked by the most terrible of all plagues in We All Fall Down."
— JUSTIN SCOTT, author of The Shipkiller, Rampage, and the Isaac Bell adventure novels with Clive Cussler

Praise for Of Flesh and Blood

"This novel should appeal to any reader who enjoys a rich medical narrative that combines the past with the present and throws into the mix visionary doctors, supportive nurses, hospital politics, children with cancer, celebrity patients, a lethal infection, adultery, and unrequited love."
— LIBRARY JOURNAL

"Daniel Kalla plunges us straight into the frenzied pace of the OR and a medical drama that spans a hundred years. He's a strong storyteller who keeps his characters moving and struggling, and we're right there, struggling with them, rooting for them."
— VANCOUVER SUN

"Daniel Kalla deftly portrays the triumph and heartbreak of life-or-death matters."
— SUSAN WIGGS, New York Times bestselling author

"Daniel Kalla, a worthy successor of Robin Cook, shows as deft a hand in penning this compelling tale as he no doubt does in the operating room."
— EILEEN GOUDGE, New York Times bestselling author

"Of Flesh And Blood is great story-telling. Daniel Kalla has written a remarkably compelling novel of vivid, driven characters and the hard choices they are forced to make."
— DAVID LISS, bestselling author

Praise for Cold Plague

"A terrific read."
— THE GLOBE AND MAIL

"A well-written novel . . . Kalla, an emergency-room physician, employs just enough medical realism to carry a wild tale through one cliff-hanger chapter after another."
— LIBRARY JOURNAL

"Similar in many ways to Michael Crichton and even Dan Brown's bestsellers, Cold Plague is testament to just how good commercial fiction can be: entertaining, informative, and downright fun."
— WINNIPEG FREE PRESS

"Plenty of suspense and layering the kind of scientific detail the fans of the medical thrillers crave. Recommended to fans of Robin Cook and other such A-listers."
— BOOKLIST

Praise for Blood Lies

"Kalla's well paced medical thriller has twists that surprise us, but always make sense."
— ENTERTAINMENT WEEKLY

"Kalla strikes again with another perfect page-turner."
— LEE CHILD, New York Times bestselling author

"Fast-paced and smartly written . . . Kalla has quickly matured into a force to be reckoned with. . . . Blood Lies springs several fresh surprises on the reader (including one whopping great shocker)."
— BOOKLIST

"Fans of Presumed Innocent will find welcome echoes of that modern classic in Blood Lies. The twists are well done, and Kalla has a gift rare in the thriller field for creating sympathetic characters."
— PUBLISHERS WEEKLY, starred review

"Kalla continues his rapid rise in the thriller ranks with a gripping fourth novel."
— SEATTLE PI

Praise for Rage Therapy

"Kalla navigates the emerging fields of impulse and rage control therapy, and the issue of doctor/patient abuse, turning it all into an ingenious thriller."
— OTTAWA CITIZEN

"Gripping."
— VANCOUVER SUN

"His first novel, Pandemic, was as fine a medical thriller as I've ever read; his newest, Rage Therapy, is a taut psychological thriller that will pull you into a world of sexual deviancy, murder, and mind games. A very good read."
— NELSON DEMILLE, New York Times #1 bestselling author

"Rage Therapy is a compelling story. It's layered and nuanced. Kalla might well grow to be the James Patterson or John Grisham of the medical world."
— JANUARY MAGAZINE

Praise for Resistance

"Kalla builds suspense and keeps the medical action moving."
— THE GLOBE AND MAIL

"Daniel Kalla's prescription for a perfect thriller includes snappy characters, a pace that sweeps up a reader and not too much technical jargon . . . the kind of magnetic story you can't put down. And the twist at the end of the book is the flourish that caps a strong story."
— VANCOUVER PROVINCE

"[Kalla] is back with another gripper."
— OTTAWA CITIZEN

"[Kalla] continues his remarkable side career as the author of knowledgeable, but very scary medical thrillers."
— SEATTLE PI

Praise for Pandemic

"Very much in the Michael Crichton school of cutting-edge scientifically rooted thrillers. Pandemic is an absorbing, compulsive thriller, the sort of book you could stay up too late reading. I'd advise against that, however. With all the bugs going around, you're going to need your immune system functioning at full strength."
— VANCOUVER SUN

"Kalla's ripped-from-the-headlines plot and confident command of both language and medicine make this sobering book a pleasure."
— PUBLISHERS WEEKLY

"Pandemic starts fast and never lets up on the suspense . . . Kalla juggles the many narrative balls easily, manages to insert a little romance, puts his protagonists in plenty of danger and drives his complex plot to a rousing climax."
— EDMONTON JOURNAL

"Michael Crichton ought to be looking over his shoulder. He has some serious competition in Kalla."
— THE CHRONICLE HERALD

"Pandemic is an absorbing, compulsive thriller, the sort of book you could stay up too late reading."
— VANCOUVER SUN

"Daniel Kalla expertly weaves real science and medicine into a fast-paced, nightmarish thriller—a thriller all the more frightening because it could really happen."
— TESS GERRITSEN, author of Body Double

"Kalla is a rocket ship of a writer. He moves to the front of the pack with a thriller that will grab you from page one and never let you go."
— KEITH ABLOW, author of Psychopath

"Pandemic is fast, fierce, and frightening. Kalla delivers a shot of adrenaline in a medical thriller that really thrills."
— DON WINSLOW, author of California Fire and The Life and Death of Bobby Z

"Pandemic is a totally compelling novel, one of those rare thrillers that lays out a scenario that is not only possible, but terrifyingly probable."
— DOUGLAS PRESTON, author of Relic and The Codex

"At last! A new thriller writer worthy to join the Ludlum, DeMille, le Carré club. Not just a great read, a real treat."
— BEVERLY SWERLING, author of City of Dreams: A Novel of Nieuw Amsterdam and Early Manhattan

"Pandemic is a sizzler. A killer epidemic that may go global—convincing and terrifying."
— BARBARA D'AMATO, author of Death of A Thousand Cuts and White Male Infant