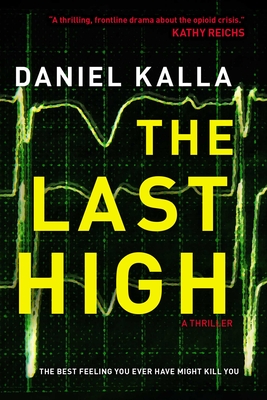 The Last High
Paperback

* Individual store prices may vary.
Other Editions of This Title:
Mass Market (2/23/2021)
Description
INSTANT NATIONAL BESTSELLER

In this riveting novel from international bestselling author Daniel Kalla, a Vancouver doctor and a detective face the deadly consequences of the opioid crisis as they track down the supplier of fentanyl that landed a group of teens in the ER with critical overdoses.

Deliberately or not, they must've been poisoned…And if it happened to them…

There will be others.

Dr. Julie Rees, a toxicologist and ER doctor, is stunned when her emergency room is flooded with teenagers from the same party, all on the verge of death. Julie knows the world of opioids inside and out, and she recognizes that there's nothing typical about these cases. She suspects the teens took—or were given—fentanyl. But why did they succumb so quickly?

Detective Anson Chen is determined to find out. He and Julie race to track down the supplier of the deadly drugs. But the trail of suspects leads everywhere, from unscrupulous street dealers to ruthless gang leaders who hide behind legitimate business fronts and the walls of their mansions.

As Anson and Julie follow clues through the drug underworld, Julie finds herself haunted by memories of her troubled past—and the lover she lost to addiction. When other overdoses fill the ER—and the morgue—Julie realizes that something even more sinister than the ongoing fentanyl crisis is devastating the streets. And the body count is rapidly rising.

A gripping thriller, The Last High explores the perfect storm of greed, addiction, and crime behind the malignant spread of fentanyl, a deadly drug that is killing people faster than any known epidemic.
Praise For The Last High…
Praise for The Last High

"Kalla has long had his stethoscope on the heartbeat of his times. . . . In his latest, the focus is on Vancouver's opioid crisis. . . . [A] lively story."
— Toronto Star

"A thrilling, front-line drama about the opioid crisis."
— KATHY REICHS, bestselling author of the Bones series

"If you want an engrossing, edge-of-your-seat thriller that combines good detective work, corruption, savage criminal practices, a dark, seamy portrait of a large Canadian city, and a hard-hitting lesson on the medical and emotional effects of opioid drugs, then The Last High certainly fills that prescription."
— Montreal Times

"Kalla is terrific at building suspense as the case progresses, uncovering a web of dealers, sellers, and users."
— The Globe and Mail

"A riveting thriller, The Last High features the most evil and insidious of villains: opioids. This important, must-read book is not only well-researched and entirely realistic, it gives a human face to a devastating epidemic."
— ROBYN HARDING, #1 bestselling author of The Swap

"An exciting police/medical thriller that's an even better sociological alarm bell . . . everything feels real."
— Winnipeg Free Press

"A sobering glimpse into the drug overdose crisis. . . . An entertaining, if slightly eerie read."
— Vancouver Sun

Praise for We All Fall Down

"A tightly plotted thriller, energetic and completely believable. Kalla knows how to build a suspenseful story that doesn't stretch the bounds of plausibility. He also knows how to build realistic characters and put natural-sounding dialogue into their mouths, something many better-known medical-thriller authors often struggle to do. . . . [a] top-drawer thriller."
— Booklist

"A fast-paced thriller with an historical overlay and a dash of romantic tension."
— Vancouver Sun

"Kalla inherits the mantle of Michael Crichton. . . . Much more than a medical thriller, We All Fall Down is both a vivid history lesson and a heart-pounding warning, resulting in a page-turning obsession."
— STEVEN HARTOV, New York Times bestselling author of The Soul of a Thief
Simon & Schuster, 9781501196980, 320pp.
Publication Date: May 12, 2020
About the Author
Daniel Kalla is the internationally bestselling author of novels including The Last High and We All Fall Down. Kalla practices emergency medicine in Vancouver, British Columbia. His new novel, Lost Immunity, will be released in 2021. Visit him at DanielKalla.com or follow him on Twitter @DanielKalla.