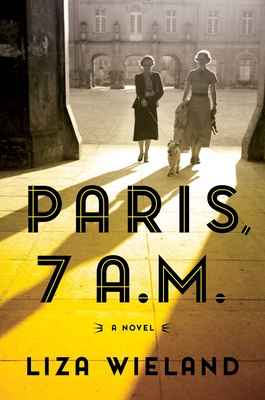 Paris, 7 A.M.
Hardcover

* Individual store prices may vary.
Other Editions of This Title:
Digital Audiobook (6/10/2019)
Paperback (6/9/2020)
Compact Disc (6/11/2019)
Library Binding, Large Print (6/11/2019)
Description
The acclaimed, award-winning author of A Watch of Nightingales imagines in a sweeping and stunning novel what happened to the poet Elizabeth Bishop during three life-changing weeks she spent in Paris amidst the imminent threat of World War II.

June 1937. Elizabeth Bishop, still only a young woman and not yet one of the most influential poets of the twentieth century, arrives in France with her college roommates. They are in search of an escape, and inspiration, far from the protective world of Vassar College where they were expected to find an impressive husband, a quiet life, and act accordingly. But the world is changing, and as they explore the City of Light, the larger threats of fascism and occupation are looming. There, they meet a community of upper-crust expatriates who not only bring them along on a life-changing adventure, but also into an underground world of rebellion that will quietly alter the course of Elizabeth's life forever.

Paris, 7 A.M. imagines 1937—the only year Elizabeth, a meticulous keeper of journals, didn't fully chronicle—in vivid detail and brings us from Paris to Normandy where Elizabeth becomes involved with a group rescuing Jewish "orphans" and delivering them to convents where they will be baptized as Catholics and saved from the impending horror their parents will face.

Poignant and captivating, Liza Wieland's Paris, 7 A.M. is a beautifully rendered take on the formative years of one of America's most celebrated—and mythologized—female poets.
Praise For Paris, 7 A.M.…
PRAISE FOR PARIS, 7 A.M.:

"Fittingly for the artist at the story's center, Wieland's novel, about Bishop's time in the City of Lights, is an achingly introspective marvel of lost innocence."— O Magazine

"With this exquisite novel, Wieland offers a beautifully realized tribute to distinguished American poet Elizabeth Bishop… The novel exhibit[s] its own kind of poetry as it brings its subject's deeply humane, inquisitive, and intelligent sensibility compellingly to life. A triumph."—Library Journal (Starred review)

"Striking imagery and sharp, distinctive language shimmer in Wieland's haunting fifth novel, which imagines American poet Elizabeth Bishop as a young woman…. [Wieland's] her dreamlike juxtapositions of the searing and the sensual probe the artistic process, the power of the mother-daughter bond, and the creative coming-of-age of one of America's greatest poets."—Publishers Weekly, (Starred review)

"The life of extraordinary poet Elizabeth Bishop is a more than challenging subject for fiction, but Liza Wieland, in this rendering, captures a sensibility that is believable as Bishop's, complete with its sometimes acerbic lucidity, its wit, and crystalline precision of mind. Paris, 7 a.m. stands with works like Colm Toibin's The Master in its startlingly credible rendition of the inner life of a great artist of our time." —Madison Smartt Bell, author of Master of the Crossroads and Devil's Dream

"Wieland's prose is simultaneously poetic and sparse, much like Bishop's poems…. In college, Bishop contemplated what it meant to keep her "eyes open" and attain a deeper vision that could reorder pieces of the past and present into coherence, like a cubist painting or modernist collage, a feat she achieved in writing. Wieland's rendition of Bishop's life aptly and beautifully mirrors that process." —Booklist

"Paris, 7 A.M weaves historical facts, biographical speculation, and the plaintive, teasingly playful elements of poems written by one of America's most beloved 20th-century poets, Elizabeth Bishop—and it is nothing short of wizardry. I am romanced by this story, half true, half re-imagined, about the queer women bohemians of pre-World War II, who dared to resist, create and salvage in the midst of virulent fascism. I love these heroes, as much as I love the true poetry of this daring novel." —Kathy Fagan, author of Sycamore

"Inspired by a missing period in poet Elizabeth Bishop's journals, Wieland imagines her adventures in France on the brink of World War II…. Finely written… Wieland creates an unsettled, dread-soaked atmosphere appropriate to the period."—Kirkus

"Meticulously researched and crisply imagined, biography, history, and poetry come together in this elegant, literary-but-not-too-literary spellbinder. Nothing is left out—Bishop's love life, her alcoholism, her extraordinarily intense flashbacks from childhood, even her asthma—all are brought to life as Europe descends into war. A masterwork." —Michael White, author of Travels in Vermeer

PRAISE FOR LIZA WIELAND:

"Wieland is a vital voice in contemporary American fiction. Her prose is crisp, her voices are true, and her acuity is remarkable."—Colum McCann, author of the National Book Award-winning Let the Great World Spin

"Liza Wieland writes of discord with such harmony and wisdom that even the bad things that befall her characters feel limned with wonder and grace. For all its wonderfully realized tensions and conflicts, Quickening is an oddly hopeful and redemptive book."—Michael Parker, author of Don't Make Me Stop Now

"Liza Wieland understands down to the bone how loneliness and love compel her characters to make their impossible choices. Not only does she have a searing intelligence and wisdom, her prose is by turns graceful and astonishing."—Jane Hamilton

Liza Wieland's brilliant work commingles death, sexuality, and the desperate search of children for ways of assuring themselves of love. These are some of the best pages of fiction I have read in a very long time."—Frederick Busch

"Liza Wieland's stories are wry, touching, crafty portraits of life in the far West where everybody seems to be yearning for roots, for cement, and settling for a what-the-hell compromise. But there is a nobility and boldness to her characters that lends them a heroism missing from much modern fiction, and makes these stories totally absorbing adventures of the heart."—Ron Hansen
Simon & Schuster, 9781501197215, 352pp.
Publication Date: June 11, 2019
About the Author
Liza Wieland is an American novelist, short story writer, and poet who has received fellowships from the National Endowment for the Arts, the Christopher Isherwood Foundation, and the North Carolina Arts Council. She is the 2017 winner of the Robert Penn Warren Award for Fiction from the Fellowship of Southern Writers. Her novel A Watch of Nightingales won the 2008 Michigan Literary Fiction Award, and her most recent novel, Land of Enchantment, was a longlist finalist for the 2016 Chautauqua Prize. She lives near Oriental, North Carolina, and teaches at East Carolina University.
or
Not Currently Available for Direct Purchase