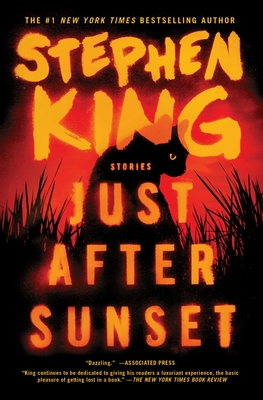 Just After Sunset (Paperback)
Stories
Scribner, 9781501197659, 560pp.
Publication Date: January 23, 2018
Other Editions of This Title:
Prebound (1/23/2018)
* Individual store prices may vary.
Description
With stories that have appeared in The New Yorker, Playboy, and McSweeney's, this classic collection displays the phenomenally broad readership of #1 New York Times bestselling author Stephen King.

Just After Sunset—call it dusk, call it twilight, it's a time when human intercourse takes on an unnatural cast, when nothing is quite as it appears, when the imagination begins to reach for the shadows as they dissipate to darkness and living daylight can be scared right out of you. It's the perfect time for Stephen King.

Who but Stephen King would turn a Port-O-San into a slimy birth canal, or a roadside honky-tonk into a place for endless love? A book salesman with a grievance might pick up a mute hitchhiker, not knowing the silent man in the passenger seat listens altogether too well. Or an exercise routine on a stationary bicycle, begun to reduce bad cholesterol, might take its rider on a captivating—and then terrifying—journey. Set on a remote key in Florida, "The Gingerbread Girl" is a riveting tale featuring a young woman born vulnerable and resourceful. In "Ayana," a blind girl works a miracle with a kiss and the touch of her hand.

For King, the line between the living and the dead is often blurry, and the seams that hold our reality intact might tear apart at any moment. In one of the longer stories here, "N.," a psychiatric patient's irrational thinking might create an apocalyptic threat in the Maine countryside…or keep the world from falling victim to it.

Stories include:
-Willa
-The Gingerbread Girl
-Harvey's Dream
-Rest Stop
-Stationary Bike
-The Things They Left Behind
-Graduation Afternoon
-N.
-The Cat from Hell
-The New York Times at Special Bargain Rates
-Mute
-Ayana
-A Very Tight Place
About the Author
Stephen King is the author of more than sixty books, all of them worldwide bestsellers. His recent work includes If It Bleeds, The Institute, Elevation, The Outsider, Sleeping Beauties (cowritten with his son Owen King), and the Bill Hodges trilogy: End of Watch, Finders Keepers, and Mr. Mercedes (an Edgar Award winner for Best Novel and an AT&T Audience Network original television series). His novel 11/22/63 was named a top ten book of 2011 by The New York Times Book Review and won the Los Angeles Times Book Prize for Mystery/Thriller. His epic works The Dark Tower, It, Pet Sematary, and Doctor Sleep are the basis for major motion pictures, with It now the highest grossing horror film of all time. He is the recipient of the 2018 PEN America Literary Service Award, the 2014 National Medal of Arts, and the 2003 National Book Foundation Medal for Distinguished Contribution to American Letters. He lives in Bangor, Maine, with his wife, novelist Tabitha King.
Praise For Just After Sunset: Stories…
"Wonderfully wicked." -- Carol Memmott, USA Today

"King is as sharp and versatile as ever." -- Erica Noonan, Boston Globe

"Quietly dazzling." -- Ted Anthony, Associated Press

"King continues to be dedicated to giving his readers a luxuriant experience, the basic pleasure of getting lost in a book." -- Charles Taylor, New York Times Book Review

"King lets the reader put the book down at night after one story, knowing another horrific treat awaits the next day." -- Amanda St. Amand, St. Louis Post Dispatch

"King is as sharp and disgusting as ever... Haunting." -- People magazine

"King reminds us again of his power to unhinge with a single line or image. A master of the storytelling craft, he gets his ghastly fingernails right beneath the skin." -- John Marks, Salon.com

"In these 13 newly collected stories, we see a master craftsman at the top of his game and clearly enjoying himself.... Each story is a treat not just for King fans but for any fan of good fiction." -- Salem Macknee, Charlotte Observer

"A master storyteller... Haunting." -- Karen Sandstrom, Cleveland Plain Dealer