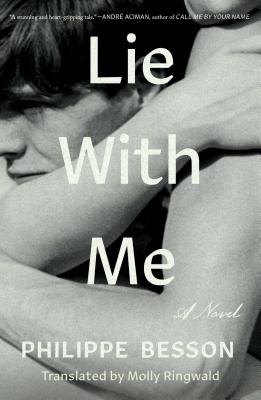 Lie With Me
A Novel
Hardcover

* Individual store prices may vary.
Other Editions of This Title:
Digital Audiobook (4/29/2019)
Paperback (4/7/2020)
Compact Disc (4/30/2019)
Description
The Advocate's Best Gay Novel of 2019
A New York Times Book Review Editor's Choice
O, The Oprah Magazine's Best LGBTQ Books That'll Change the Literary Landscape in 2019
The Wall Street Journal's Ten Books You'll Want to Read this Spring
Out's Best Queer Books of April 2019
TheSkimm's LGBTQ+ books to celebrate Pride

"Stunning and heart-gripping." —André Aciman, author of Call Me By Your Name

The award-winning, bestselling French novel by Philippe Besson—"the French Brokeback Mountain" (Elle)—about an affair between two teenage boys in 1984 France, translated with subtle beauty and haunting lyricism by the iconic and internationally acclaimed actress/writer Molly Ringwald.

We drive at high speed along back roads, through woods, vineyards, and oat fields. The bike smells like gasoline and makes a lot of noise, and sometimes I'm frightened when the wheels slip on the gravel on the dirt road, but the only thing that matters is that I'm holding on to him, that I'm holding on to him outside.

Just outside a hotel in Bordeaux, Philippe chances upon a young man who bears a striking resemblance to his first love. What follows is a look back at the relationship he's never forgotten, a hidden affair with a gorgeous boy named Thomas during their last year of high school. Without ever acknowledging they know each other in the halls, they steal time to meet in secret, carrying on a passionate, world-altering affair.

Dazzlingly rendered in English by Ringwald in her first-ever translation, Besson's powerfully moving coming-of-age story captures the eroticism and tenderness of first love—and the heartbreaking passage of time.
Praise For Lie With Me: A Novel…
"[A] study in intimacy ... the novel captures the full tragedy of the closet ... Equal parts Andre Aciman and Marguerite Duras."
—Ayten Tartici, The New York Times Book Review

"An elegiac tale of first, hidden love between two teen-age boys who have no chance of a shared future, Lie With Me sold more than a hundred thousand copies in France, where it won several prizes and is being made into a movie. Elle deemed it "the French Brokeback Mountain" ... The book reads like a photograph, faded but composed: the bac, linden trees, a green Simca 1100, Lino Ventura. We can see even if we don't know. Call it a memoir of a memory."
—Lauren Collins, The New Yorker

"This Year's Call Me by Your Name Is French: More Meta But Just As Hot ... Lie With Me is the story of a successful (unnamed) French novelist ... who catches a glimpse of what he thinks is a past lover in a hotel. Triggered by the sighting, he traces the story of his secret high-school affair with that lover: It was brief in tenure but formed the mold into which he has since tried to press every other romantic relationship."
—Hillary Kelly, Vulture

"Ultimately, [Lie With Me is] simply a beautiful and poignant love story, a short and very French tale whose sparse, delicate prose is gorgeously translated by Molly Ringwald, retaining all of its heart-stopping power. If one can look past the tough-guy facades of the main characters – and Besson's vivid first-person narration does wonders at revealing the churning thoughts and repressed feelings hiding behind such exteriors – one can easily lose oneself in this gorgeously resurrected memory of '80s love, with all its awkward beauty and lost innocence."
—Pop Matters

"One of the best novels you'll read this year was actually published in France in 2017. Translated by the actress and author Molly Ringwald, Lie With Me by Philippe Besson brilliantly reminds readers of the joys and agonies of love."
—Jeffrey Masters, The Advocate

"[A] tender, sensuous novel."
—New York Times Book Review, 9 New Books We Recommend This Week

"Lie with Me succeeds as a novel because of Besson's graceful writing, beautifully translated by Ringwald. Besson is a gifted stylist, and he infuses Philippe's story with the right notes of sadness and longing. . . . perfectly captures what it's like to be young and in love ... [a] lovely novel."
—Michael Schaub, NPR.org

"Want to be hip, cool and on trend? Read Phillippe Besson's story of young first love, Lie With Me, masterfully translated from the French by Molly Ringwald ... good and sad and wonderfully beautiful."
—Ciaran Freeman, America Magazine

"French author Philippe Besson's international best seller Lie With Me is now available Stateside thanks to actor, author, and erstwhile Parisian Molly Ringwald's fluid translation. Told in three parts, the slender novel recounts a clandestine romance between two teenage boys in 1984 ... More than 20 years after his last encounter with Thomas, Philippe runs into his former lover's doppelganger, and a chance discovery shatters the gentle reverie of the past. Small ripples can make the fiercest waves."
—Lauren Mechling, Vogue

"A devastating read about first love ... The novel is so irresistible, it can't be put down ... Lie With Me is the must-read gay novel of the summer."
—Gary Kramer, Philadelphia Gay News

"Lie with Me will enthrall the reader from start to finish. The prose is so spot on. Besson seems incapable of wasting a word. His descriptions, his feelings, and his memories are precise and captivating."
—Declan Henry, New York Journal of Books

"Introspective and evocative, Lie With Me is an absorbing story about passionate love thwarted by class differences and homophobia. The slim novel takes on a great deal in a short amount of space and establishes Molly Ringwald as a skilled translator."
—Michael Kaler, Lambda Literary

"Besson's Lie With Me—translated from French to English by none other than actress Molly Ringwald!—tells the story of Philippe, a gay man who recounts his heady, all-consuming first love as a teen growing up in France in the 1980s. The André Aciman–approved coming-of-age tale has already racked up a slew of accolades, including notable mentions from The New York Times Book Review, the Wall Street Journal, The Advocate, and more. It's a No. 1 best-seller en France, too."
—NewNowNext

"For your friend who can't stop talking about Call Me By Your Name ... Say hi to Philippe Besson's Lie With Me. Originally published in French, Molly Ringwald translated the book for English audiences this year. There's a love affair between two teenage boys in 1984 France and it's pretty much perfect."
—TheSkimm

"There's a reason why Lie With Me is often compared to Call Me By Your Name. In this slim French novel, an unnamed author is prompted to revisit his first love affair with a man. All relationships since have paled. And yes, it's translated from French by that Molly Ringwald."
—Elena Nicolaou, Refinery 29, 35 Outstanding LGBTQ+ Books Of 2019

"People call Lie With Me, a 1984 teenage romance novella, the French Brokeback Mountain. A sexy, pure, and radiant story, this book has been republished for US readers, and translated by Molly Ringwald. Yes, that Molly Ringwald! This is a great gift book, a quick plane-read, and honestly, better than Brokeback Mountain. Don't miss it!"
—Fran Tirado, Out.com, 8 Queer Books to Read in April

"A French bestseller likened to Call Me By Your Name and Brokeback Mountain, the novel marks the first English translation by the actress and writer Ms. Ringwald, a longtime Francophile."
—Rebecca Makkai, Wall Street Journal, The 10 Books You'll Want to Read This Spring

"Molly Ringwald translated this French Call Me By Your Name-esque novel about two teenagers in 1984 Bordeaux as they fall in love in the shadows, leaving one of them to reflect on the relationship many years later."
—OprahMag.com, 30 of the Best LGBTQ Books in 2019

"It's as immediately involving and heart-breaking a tale of gay first love as I can recall... direct and devastating."
—The Bay Area Reporter

"There's much book-to-filmstar appeal in this moving, well-plotted tale: Elle dubbed it "the French Brokeback Mountain"; there's something of Call Me by Your Name's Elio in Philippe, who lives in the books he reads and writes; and actress and writer Ringwald ably translates."
—Booklist

"Moving ... Besson's writing and Ringwald's smooth translation provide emotional impact."
—Publishers Weekly

"Besson is a thoughtful writer who can strike home with vivid imagery . . . . [and] deftly translated [by Ringwald]."
—Kirkus

"I remember the movement of his hips pressing against the pinball machine. This one sentence had me in its grip until the end. Two young men find each other, always fearing that life itself might be the villain standing in their way. A stunning and heart-gripping tale."
—André Aciman, author of Call Me by Your Name

"This is a gorgeous fever dream of a book. Ringwald's translation does elegant justice to Besson's balance of beauty and despair, and to his interrogations of memory and longing. Lie With Me positively glows in the dark."
—Rebecca Makkai, author of The Great Believers

"Lie With Me is an exquisite whisper that lingers long after you've finished reading it."
—Kevin Kwan, author of Crazy Rich Asians and China Rich Girlfriend

"In spare yet evocative prose, elegantly translated by Molly Ringwald, Philippe Besson relates the erotic awakening of two adolescent boys in a small French town in the 1980s. Lie With Me captures their world with the grainy poignancy of an old high school yearbook, while movingly conveying the quintessential human dramas of longing, love, and letting go."
—Caroline Weber, author of Proust's Duchess: How Three Celebrated Women Captured the Imagination of Fin-de-siècle Paris

"The uncanny thrill of Philippe Besson's Lie With Me rises up from Molly Ringwald's elegant translation with the intensity of meeting a stranger on a train who tells you a single unforgettable story and then leaves. And his voice haunts me still."
—Alexander Chee, author of How to Write an Autobiographical Novel and The Queen of the Night

"A timeless love story, written with the unmistakable ache of truth. Molly Ringwald's translation is as clear and beautiful as the story it depicts. You'll read it in a night, but its exquisite heartbreak will linger."
—David Ebershoff, author of The Danish Girl and The 19th Wife

"At first erotic and joyous, ultimately elegiac and haunting, Lie With Me is a deceptively slender book as big as life itself."
—Rumaan Alam, the author of That Kind of Mother and Rich and Pretty

"This gorgeous, aching novel captures all of the fear and freedom of young desire. Besson's sharp, compressed prose gets right to the heart of what it means to have to fall in love in secret. Thanks to Ringwald's pitch-perfect translation, this affecting and sexy elegy may well be the best gay love story in contemporary fiction. I dare you to read it without crying."
—Christopher Bollen, author of Orient and The Destroyers

"An intense, unforgettable novel, alive with the ache of longing and loss."
—Sarah Waters, bestselling, award-winning author of The Little Stranger and Fingersmith

"It has been years since anything moved me as much as Lie With Me. It will become a classic."
—Jonathan Coe, author of Middle England and The Winshaw Legacy

"A beautiful, shattering novel about desire and shame, about passionate youth and the regrets of age."
—Olivia Laing, author of Crudo and The Lonely City

"A deeply moving depiction of first love, both tender and elegiac."
—John Boyne, author of A Ladder to the Sky and The Heart's Invisible Furies

"Devastating and tender; this is the book I wish I'd read when I was 15, and a book I'm glad to have as a companion now."
—Andrew McMillan, award-winning author of Physical
Scribner, 9781501197871, 160pp.
Publication Date: April 30, 2019
About the Author
Philippe Besson is an author, screenwriter, and playwright. His first novel, In the Absence of Men, was awarded the Emmanuel-Roblès Prize in 2001, and he is also the author of, among others, Late Autumn (Grand Prize RTL-Lire), A Boy from Italy, and The Atlantic House. In 2017 he published Lie With Me, a #1 French bestseller that won the the Maisons de la Presse Prize, and A Character from a Novel, an intimate portrait of Emmanuel Macron during his presidential campaign. His novels have been translated into twenty different languages.

Molly Ringwald's writing has appeared in The New Yorker, The New York Times, The Guardian, and Vogue, and she is the author of the bestselling novel-in-stories When It Happens to You.