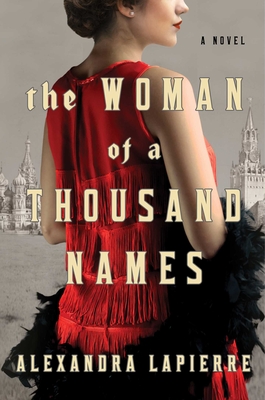 The Woman of a Thousand Names
A Novel
Hardcover

* Individual store prices may vary.
Other Editions of This Title:
Compact Disc (3/31/2020)
Description
From the internationally bestselling author of the "fascinating epic" (Associated Press) Between Love and Honor comes a rich, sweeping tale based on the captivating true story of the Mata Hari of Russia, featuring a beautiful aristocrat fighting for survival during the deadly upheaval of the Russian Revolution.

Born into Russian aristocracy, wealth, and security, Moura never had any reason to worry. But in the upheaval of the Bolshevik Revolution, her entire world crumbles. As her family and friends are being persecuted by Vladimir Lenin's ruthless police, she falls into a passionate affair with British secret agent Sir Robert Bruce Lockhart. But when he's abruptly and mysteriously deported from Russia, Moura is left alone and vulnerable.

Now, she must find new paths for her survival, even if it means shedding her past and taking on new identities. Some will praise her tenderness and undying loyalty. Others will denounce her lies. But all will agree on one point: Moura embodies Life. Life at all cost.

Set against the volatile landscape of 20th-century Russia, The Woman of a Thousand Names brings history to vivid life in a captivating tale about an extraordinary woman caught in the waves of change—with only her wits to save her.
Praise For The Woman of a Thousand Names: A Novel…
"As history brought to life through the eyes of one woman whose fortunes took her through two wars and tumultuous regime changes, this account is engrossing, especially as to the particulars of existence in a paranoid, post-revolutionary state with a bureaucratic machine as deadly as it is dysfunctional….this multifaceted portrait rescues its heroine from undeserved obscurity." —Kirkus Reviews

"Lapierre evokes Moura's appeal by moving between the impressions she makes on others, including Gorky and H.G. Wells, and her own deep feelings, meshing history with a captivating tale of a passionate heart. This will move readers." —Publishers Weekly (starred review)

"Lapierre exquisitely captures the elusiveness of the baroness through the observations of those who knew her, her contradictions and secrets combining to create a multifaceted portrayal of a woman both brilliant and besieged. While Moura's full story may never be known, Lapierre delivers a thrilling rendition of her singular life." —Booklist

"Realistic yet fantastical in its account of the audacious Maria, this is a rewarding rediscovery of a memorable woman." —Library Journal

"Using lyrical language, LaPierre deftly elucidates these events and breaks down the complexities of Moura's society. Brimming with breathtaking plot twists, The Woman of a Thousand Names is an inspiring tale of resilience and courage that will be embraced by fans of epic historical fiction." —BookTrib

"Brimming with breathtaking plot twists, The Woman of a Thousand Names is an inspiring tale of resilience and courage that will be embraced by fans of epic historical fiction." —The Charlotte Observer

Praise from France for The Woman of a Thousand Names

"When Alexandra Lapierre gets her grip on a forgotten woman, you can be sure that she will turn her heroine into a fascinating specimen. [This book] is both powerful and inspired, fast and passionate. Lapierre at her best." —ELLE (France)

"You'll devour this novel the same way Moura devoured life: voraciously. Fierce, dense, complex, boisterous, romantic, in fury and in blood, she loves breathlessly. And my god, does it feel good to meet women like her!" —Valeurs Actuelles

"With enthusiasm that becomes a contagious passion, Lapierre plunges into the heart and soul of a woman who embodied the whole of the 29th century, with its cultural wealth and complexity. The result is a three-dimensional portrait of a powerful woman. A . . . captivating narrative." —Le Figaro Litteraire
Atria Books, 9781501197918, 640pp.
Publication Date: March 31, 2020
About the Author
Alexandra Lapierre is a bestselling French novelist, short story writer, and biographer. She graduated from Sorbonne University and the University of Southern California. Her works, including Artemisia, bring back to life great women and characters neglected by history. Her books have been published in more than twenty countries. She lives in Paris.