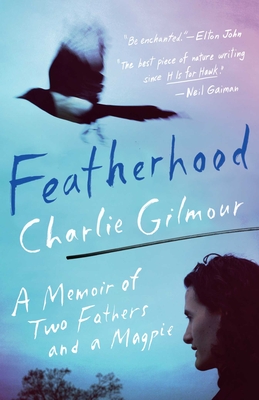 Featherhood
A Memoir of Two Fathers and a Magpie
Hardcover

* Individual store prices may vary.
Other Editions of This Title:
Digital Audiobook (1/4/2021)
Paperback (1/11/2022)
Library Binding, Large Print (5/28/2021)
Compact Disc (1/5/2021)
Description
In this "vivid…lovely and inviting" (The New York Times) coming-of-age memoir—the "best piece of nature writing since H Is for Hawk" (Neil Gaiman)—a young man saves a baby magpie as his estranged father is dying, only to find that caring for the bird saves him.

This is a story of two men who could talk to birds—but were completely incapable of talking to each other.

A father who fled from his family in the dead of night, and the jackdaw he raised like a child.

A son obsessed with his absence—and the young magpie that fell into his path and refused to fly away.

This is a story about the crow family and human family; about repetition across generations and birds that run in the blood; about a terror of repeating the sins of the father and a desire to build a nest of one's own.
Praise For Featherhood: A Memoir of Two Fathers and a Magpie…
"Vivid ... when the writing turns to his present, multigenerational, blended family, bird included, the scenes are lush with the warmth and comfort of everyday living ... [Gilmour] is fearless in sharing himself with readers. As he works through his relationships, the emotional freight is not always subtle, but this comes from a generosity and openness on his part, which, ultimately, is what makes Featherhood so lovely and inviting."
—The New York Times

"This will undoubtedly be held up alongside H is for Hawk ... [A] work of magpie investigation that ranks among the best modern coming-of-age memoirs."
—The Sunday Times, Best Memoirs of 2020

"Engrossing ... At once droll and wise, this is an unforgettable memoir."
—Christian Science Monitor

"A moving account of [Gilmour's] attempts to make sense of his deeply complicated father while assessing his own suitability for fatherhood, wrestling with the question of nature versus nurture, all while caring for a magpie."
—The Times

"This absorbing memoir is touching, painful, and honest."
—Christian Science Monitor

"When the author decided to raise a baby magpie, he had no idea it would quiet his stormy emotions and help him reconcile with the father who'd abandoned him. Screeching, stealing, burying meat in Gilmour's hair, this bird is a winning heroine—delightful on paper, harrowing to live with."
—People

"With razor-sharp wit and storytelling, Gilmour interweaves the story of this bird, whom he and his partner named Benzene, with that of his past ... Featherhood represents the debut of a talented young writer reckoning with an unusual past."
—BookPage

"Thoughtful ... [an] intimate, entertaining story ... the book soars ... Featherhood is an incisive, funny and at times traumatic study of the damage done by destructive father-son relationships and the struggle to smash generational cycles."
—Evening Standard

"A profound exploration of grief, fragmented families, nature versus nurture and whether we are doomed to repeat the sins of our fathers. But it is also a gladdening celebration of what it is to nurture and bring forth new life."
—Sunday Express

"Gilmour's language is as precise as his gaze is forensic. He is something of a magician himself, conjuring whole vivid personalities with a few deft strokes of his pen."
—Daily Mail

"In a captivating memoir, Gilmour recounts his frustrating search for his father, Heathcote Williams, who abruptly disappeared when he was 6 months old ... Eventually, the author gained perspective on the causes of his father's abandonment, and he assuaged his fears about his own mind: "who your father is," he realizes, "isn't who you have to be." ... A sensitive, often moving chronicle of transformation for bird and man."
—Kirkus, starred review

"Born to write, Gilmour interweaves intimate observations of magpie behavior with bird science; an astonishing family history; psychological struggles ... His prose is as darkly iridescent as the magpie's feathers, his wit is winged, and he is as tenacious in his gathering of memories and facts as the magpie is with food and objects. A resplendent interspecies memoir of nature, nurture, revelation, and love," —Booklist, starred review

"Moving . . . The author's introspection is rewarding without becoming maudlin, and his poetic take on the complexities of father/son relationships resonates. This spirited outing hits all the right buttons for memoir lovers." —Publishers Weekly

"Featherhoodis one of the best books I've ever read. I urge you to seek it out, buy it, and be enchanted. It's incredibly moving and I loved every single page."
—Elton John

"Wonderful – I can't recommend it too highly."
—Helen Macdonald, author of H is for Hawk

"Featherhood is an astonishing achievement: a book about fathers and their children, about magicians and birds, about the hurt we pass on from generation to generation, and the ways we can try to heal. It's a journey that we take with a magpie, across the decades of Charlie's life, and the life of his biological father. It's the best piece of nature writing since H is for Hawk, and the most powerful work of biography I have read in years. It announces Charlie Gilmour as a major new writing talent, as he weaves words like a poet and offers us continual small treasures like a magpie."
—Neil Gaiman

"A wonderful, moving book. The story of Gilmour's family is deeply felt. His account of raising a young magpie offers a lovely insight into this fascinating bird. The two stories intertwine gracefully and perceptively, bringing solace and understanding with them."
—James Macdonald Lockhart, author of Raptor

"Featherhood, Charlie Gilmour's miraculous account of his life raising a magpie, shows us that learning how to fly is as hard for a bird as it is for a young man, especially when that young man's father weighs on him like a rock. Gilmour is a hero, for surviving the horrible storms he flew through before he met the magpie, and for the magic he glides through after.
—Robert Sullivan, author of Cross Country

"Featherhood is a good time in a weird way – I have never read anything so filthy."
—Nell Zink, author of The Wall Creeper

"I loved Featherhood. About nature and growth, about belonging and not belonging, it is beautiful."
—Andrew O'Hagan, author of The Illuminations

"What a breath-taking, beautiful book Featherhood is! Utterly absorbing, astonishingly well-written, full of heart. It's the most arresting book I've read for a very long time, so original and glittering and true. It's wonderful."
—Cressida Connolly, author of After the Party

"Beautiful, wise, compassionate and powerful, Featherhood is one of those rare, enchanted books that sings to the soul of what it is to be."
—Isabella Tree, author of Wilding

"The extraordinary story of an extraordinary family."
—Sophie Heawood, author of The Hangover Games

"What a book! I was entranced. It is so blood soaked and yet so warm, so beautiful, so hopeful. A personal reckoning which is simultaneously brutal and joyous. It's full of light. I have that feeling I have with a very good book that I want to tell everyone about it."
—Cathy Rentzenbrink, author of The Last Act of Love and A Manual for Heartache

"Featherhood is a beautiful book, sensitive and compelling – it made me cry."
—Simon Amstell

"This stunning memoir flashes with as many colours as its enchanting subject, and draws us into a world of eccentric characters impossible to predict or forget. Savage, mischievous, moving, sublime."
—Rhik Samadder, author of I Never Said I Loved You
Scribner, 9781501198502, 304pp.
Publication Date: January 5, 2021
About the Author
Charlie Gilmour lives in South London with his wife and daughter.