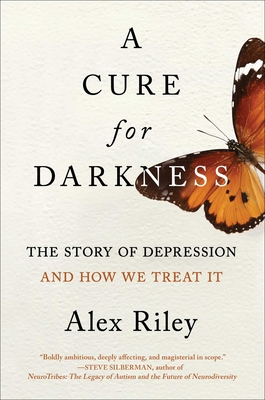 A Cure for Darkness
The Story of Depression and How We Treat It
Hardcover

* Individual store prices may vary.
Other Editions of This Title:
Compact Disc (4/13/2021)
Description
A fascinating look at the treatment of depression, blending journalism, science, history, and memoir, by an award-winning science writer.

What is depression? Is it a persistent low mood or a complex range of symptoms? Is it a single diagnosis or a diversity of mental disorders requiring different treatments? In A Cure for Darkness, science writer Alex Riley explores these questions, digging into the long history of depression and chronicling the lives of psychiatrists and scientists who sought cures for their patients.

Since 2015, Riley has received both cognitive behavioral therapy and antidepressants for his own depression. Throughout his treatment, he wondered—are antidepressants effective? Do short-term talking therapies actually work? And what treatments are on the horizon for those who don't respond to these first-line treatments? Expanding from his own experience, he tracks treatments through history, from the "talking cure" to electroconvulsive therapy to magic mushrooms. With depression fast becoming the leading burden of disease around the world, the future of mental healthcare depends not just on the development of new therapies, but on increasing access for people who are currently without. Reporting on the field of global mental health from its colonial past to the present day, Riley highlights a range of scalable therapies, including how a group of grandmothers stands on the frontline of a mental health revolution.

Weaving in personal and family history, A Cure for Darkness is a gripping narrative journey and a surprisingly hopeful work that delves deep into the science of mental health.
Praise For A Cure for Darkness: The Story of Depression and How We Treat It…
"Boldly ambitious, deeply affecting, and magisterial in scope, A Cure for Darkness is a milestone in the literature of clinical depression, humanizing the global quest to unlock the secrets of a profoundly disabling disorder... It's a masterpiece."
—Steve Silberman, author of Neurotribes: The Legacy of Autism and the Future of Neurodiversity

"A Cure for Darkness is both a compelling intellectual contribution and an act of generosity. Alex Riley combines meticulous reporting and evocative storytelling to reveal scientists' evolving understanding of depression and the many ways it can be treated. In this candid, accessible, era-spanning book, Riley brings rare sensitivity and lucidity to a topic that has defied comprehension for centuries, weaving a story that is both sweeping in scope and intensely personal."
—Siri Carpenter, science journalist and editor of The Craft of Science Writing

"Alex Riley explores the long shadow of depression that winds through human history with intelligence and insight and — equally important — with courage and compassion. The resulting, remarkable book shines like a light against the night itself."
—Deborah Blum, author of Love at Goon Park: Harry Harlow and the Science of Affection

"A splendid read and a stunning debut, imbued throughout with warmth, intelligence, authority, and regard for the reader. Riley, deftly interlacing the story of his long and often torturous struggle with depression with an uncommonly earthy account of psychiatry's 150-year-long bumbling, bizarre, and occasionally brilliant effort to treat the dread condition, has created a book of rare quality. A Cure for Darkness rightly belongs aside William Styron's Darkness Visible, Kay Redfield Jamison's An Unquiet Mind, and Janet Malcolm's The Impossible Profession."
—David Dobbs, author of Reef Madness

"Alex Riley knows what depression is personally. Here he explains for the general reader what it means, and its story in psychiatry, in one of the best overall books on depression that I've seen."
—Nassir Ghaemi, author of A First-Rate Madness

"Pervasive but too rarely discussed, depression finally gets the careful, thorough, and humane history that it deserves. People have tried to understand the condition for centuries — and now, in this vivid narrative, Alex Riley brings to life the often flawed, always fascinating characters behind each successive theory and treatment. We need A Cure For Darkness." —Eva Holland, author of Nerve: Adventures Through the Science of Fear
Scribner, 9781501198779, 464pp.
Publication Date: April 13, 2021
About the Author
Alex Riley is an award-winning science writer and the author of A Cure for Darkness: The Story of Depression and How We Treat It, his first book. He received a best feature award from the Association of British Science Writers for his reporting on The Friendship Bench, a project that began in Zimbabwe in 2006 and has since provided mental health care to thousands of people in New York. A former research scientist, he has co-authored peer-reviewed scientific papers while working at the Natural History Museum in London. Since leaving academia in 2015, he began writing popular science articles for magazines such as New Scientist, PBS's NOVA Next, BBC Future, Mosaic Science, Aeon, and Nautilus Magazine. He lives in Bristol.