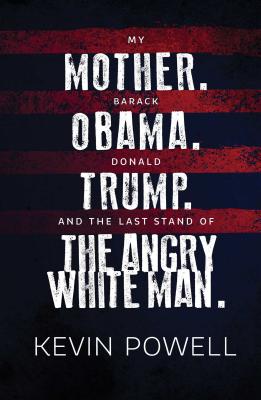 My Mother. Barack Obama. Donald Trump. And the Last Stand of the Angry White Man.
Hardcover

* Individual store prices may vary.
Other Editions of This Title:
Digital Audiobook (9/3/2018)
Paperback (5/14/2019)
Compact Disc (9/4/2018)
Description
Written in the tradition of works by Joan Didion, bell hooks, Toni Morrison, and Eve Ensler, a provocative and soul-searching "autobiography of America"—the past, the present, and the future Kevin Powell wants for us all, through the lens and lives of three major figures: his mother, Barack Obama, and Donald Trump.

Ten short years ago, Barack Obama became president of the United States, and changed the course of history. Ten short years ago, our America was hailed globally as a breathtaking example of democracy, as a rainbow coalition of everyday people marching to the same drum beat. We had finally overcome.

But did we?

Both the presidencies of Obama and Donald Trump have produced some of the ugliest divides in history: horrific racial murders, non-stop mass shootings, the explosion of attacks on immigrants and on the LGBTQ community, the rise of anti-Semitism and Islamophobia, a massive gap between the haves and the have-nots, and legions of women stepping forth to challenge sexual violence—and men—in all forms.

In this gripping new collection of thirteen essays, My Mother. Barack Obama. Donald Trump. And the Last Stand of the Angry White Man., Kevin Powell interweaves brutally honest personal stories with the saga of America, then and now. Be it politics, sports, pop culture, hip-hop music, mental health, racism, #MeToo, or his very complicated relationship with his mother, these impassioned essays are not merely a mirror of who we are, but also who and what Powell thinks we ought to be.
Praise For My Mother. Barack Obama. Donald Trump. And the Last Stand of the Angry White Man.…
"Kevin Powell thoughtfully weaves together the connective tissue between gender, race, sexuality, pop culture, and sports through a series of raw, incredibly personal essays. He masterfully uses his own life experiences to force us to take an uncomfortable look at how we've been conditioned to adopt, accept, and extend the unfortunate American traditions of hate and violence."— Jemele Hill, ESPN anchor, commentator, writer

"Hip-hop has been the most influential cultural force of the last fifty years and no writer has understood its power quite like Kevin Powell. It's not just music. It's a lens to understand the world and Kevin Powell wields it to further our understanding of racism, manhood, and our troubled political times. Make no mistake about it: Whether writing about Harvey Weinstein, his mother, or American football, this book is hip-hop in the best sense of the phrase, in that it challenges the readers to step outside of themselves. Powell takes us to a place beyond the beats. It's a place most fear to tread, but if we hope to salvage this country, it's a place we all need to understand."— David Zirin, writer and editor for The Nation

"Kevin Powell's writing never fails to be both profoundly insightful and brilliantly inciting. His words are unassuming daggers, piercing the skin of racism in America, gender inequality, misogyny, and the socio-political impact of our greatest icons while expertly avoiding clichés and pretension. His work provides a compassionate examination of our contemporary ethos, and inspires us to move beyond apathy into full social accountability."— Dominique Morisseau, Obie Award-winning playwright
Atria Books, 9781501198809, 304pp.
Publication Date: September 4, 2018
About the Author
Kevin Powell is the author of thirteen books, including his autobiography, The Education of Kevin Powell: A Boy's Journey into Manhood. He lives with his wife Jinah Parker, the dancer, choreographer, and playwright, in Brooklyn, New York.
or
Not Currently Available for Direct Purchase