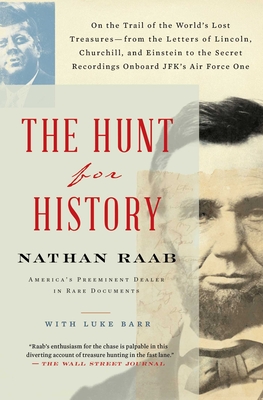 The Hunt for History
On the Trail of the World's Lost Treasures—from the Letters of Lincoln, Churchill, and Einstein to the Secret Recordings Onboard JFK's Air Force One
Paperback

* Individual store prices may vary.
Other Editions of This Title:
Hardcover (3/10/2020)
Compact Disc (3/10/2020)
Description
Nathan Raab, America's preeminent rare documents dealer, delivers a "diverting account of treasure hunting in the fast lane" (The Wall Street Journal) that recounts his years as the Sherlock Holmes of historical artifacts, questing after precious finds and determining their authenticity.

A box uncovered in a Maine attic with twenty letters written by Alexander Hamilton; a handheld address to Congress by President George Washington; a long-lost Gold Medal that belonged to an American President; a note that Winston Churchill wrote to his captor when he was a young POW in South Africa; paperwork signed and filled out by Amelia Earhart when she became the first woman to fly the Atlantic; an American flag carried to the moon and back by Neil Armstrong; an unpublished letter written by Albert Einstein, discussing his theory of relativity.

Each day, people from all over the world contact Nathan Raab for help understanding what they have, what it might be worth, and how to sell it. The Raab Collection's president, Nathan is a modern-day treasure hunter and one of the world's most prominent dealers of historical artifacts. Most weeks, he travels the country, scours auctions, or fields phone calls and emails from people who think they may have found something of note in a grandparent's attic.

In The Hunt for History, "Raab takes us on a wild hunt and deliciously opens up numerous hidden crevices of history" (Jay Winik, author of April 1865)—spotting a letter from British officials that secured the Rosetta Stone; discovering a piece of the first electric cable laid by Edison; restoring a fragmented letter from Andrew Jackson that led to the infamous Trail of Tears; and locating copies of missing audio that had been recorded on Air Force One as the plane brought JFK's body back to Washington. Whether it's the first report of Napoleon's death or an unpublished letter penned by Albert Einstein to a curious soldier, every document and artifact Raab uncovers comes with a spellbinding story—and often offers new insights into a life we thought we knew.
Praise For The Hunt for History: On the Trail of the World's Lost Treasures—from the Letters of Lincoln, Churchill, and Einstein to the Secret Recordings Onboard JFK's Air Force One…
"Raab's enthusiasm for the chase [is] palpable in this diverting account of treasure hunting in the fast lane—a welcome addition to the genre."
—Wall Street Journal

"Delightful…As skilled in satisfying readers as clients, Raab knows how to tell a story…Unfailingly entertaining."
—Kirkus Reviews (Starred Review)

"A thrilling work of detection through the eyes of an expert, with false leads, forgeries and scoundrels—a fast and fascinating read."
—Jonathan Harr, author of A Civil Action and The Lost Painting

"Forget National Treasure—Nathan Raab's historical adventures make him the Indiana Jones of rare document dealers….Not content to preserve history, here Raab makes some of his own in a detective story that will fascinate every collector."
—Richard Norton Smith, author of Thomas E. Dewey and His Times

"An absolutely riveting book that will have you experiencing moments of great significance as if they were occurring right in front of you."
—Andrew Carroll, author of War Letters and Letters of a Nation

"A fascinating glimpse at the day-to-day operations of an unusual profession…Raab's exploits will delight lovers of history like himself."
—Booklist

"Raab takes us on a wild hunt and deliciously opens up numerous hidden crevices of history. What a rollicking ride."
—Jay Winik, author of 1944 and April 1865

"Fascinating…This is a book of captivating adventures. It's great fun to read."
—Richard Rhodes, author of The Making of the Atomic Bomb

"A terrific feat of storytelling, The Hunt for History will forever change the way you think about the events that have shaped our current reality."
—Daniel Weiss, President and CEO of the Metropolitan Museum of Art

"Worth reading for its tales of buried treasure and dogged detection. It's also keenly perceptive on the alchemy by which ink-and-paper relics become portals to the past, bringing history thrillingly alive."
—Benjamin Wallace, author of The Billionaire's Vinegar

"Fascinates with its stories of tracking down rare artifacts from America's past….Raab's track record as an antiquarian, restorer, curator and field-researcher is extraordinary."
—Douglas Brinkley, author of American Moonshot: John F. Kennedy and the Great Space Race
Scribner, 9781501198915, 272pp.
Publication Date: March 9, 2021
About the Author
Nathan Raab is one of the world's most knowledgeable and respected experts in historical documents. His writing has appeared in The New York Times and The Philadelphia Inquirer, and he frequently writes a column, "Historically Speaking," for Forbes.com. The author of The Hunt for History, he lives with his family in Pennsylvania.

Luke Barr is the author of Ritz & Escoffier and the New York Times bestseller Provence, 1970. The former features editor at Travel + Leisure, he lives in Brooklyn with his wife and their two daughters.