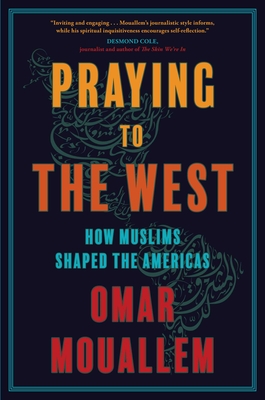 Praying to the West
How Muslims Shaped the Americas
Hardcover

* Individual store prices may vary.
Description
*Selected as a Most Anticipated Book of Fall by The Globe and Mail and The Toronto Star*
*A Chatelaine Fall Best Books Selection*

"A necessary meditation on the richness and multiplicity of Islamic history and practice." —Desmond Cole, author of The Skin We're In
"Explore[s] Islam's deep roots in himself and the Americas and crafting a striking portrait of both." —Maclean's
"[A] fascinating...almost infallibly instructive read." —The Wall Street Journal

An insightful and perspective-shifting new book, from a celebrated journalist, about reclaiming identity and revealing the surprising history of the Muslim diaspora in the west—from the establishment of Canada's first mosque through to the long-lasting effects of 9/11 and the devastating Quebec City mosque shooting. Discover the book that is sparking conversation from Brazil to Canada's icy North.

"Until recently, Muslim identity was imposed on me. But I feel different about my religious heritage in the era of ISIS and Trumpism, Rohingya and Uyghur genocides, ethnonationalism and misinformation. I'm compelled to reclaim the thing that makes me a target. I've begun to examine Islam closely with an eye for how it has shaped my values, politics, and connection to my roots. No doubt, Islam has a place within me. But do I have a place within it?"

Omar Mouallem grew up in a Muslim household, but always questioned the role of Islam in his life. As an adult, he used his voice to criticize what he saw as the harms of organized religion. But none of that changed the way others saw him. Now, as a father, he fears the challenges his children will no doubt face as Western nations become increasingly nativist and hostile toward their heritage.

In Praying to the West, Mouallem explores the unknown history of Islam across the Americas, traveling to thirteen unique mosques in search of an answer to how this religion has survived and thrived so far from the place of its origin. From California to Quebec, and from Brazil to Canada's icy north, he meets the members of fascinating communities, all of whom provide different perspectives on what it means to be Muslim. Along this journey he comes to understand that Islam has played a fascinating role in how the Americas were shaped—from industrialization to the changing winds of politics. And he also discovers that there may be a place for Islam in his own life, particularly as a father, even if he will never be a true believer.

Original, insightful, and beautifully told, Praying to the West reveals a secret history of home and the struggle for belonging taking place in towns and cities across the Americas, and points to a better, more inclusive future for everyone.
Praise For Praying to the West: How Muslims Shaped the Americas…
"Mouallem's curiosity—about the promise of a global ummah and his personal relationship with Islam—is inviting and engaging. His journalistic style informs, while his spiritual inquisitiveness encourages self-reflection. A necessary meditation on the richness and multiplicity of Islamic history and practice."
— DESMOND COLE, journalist and author of The Skin We're In

"[A] fascinating . . . almost infallibly instructive read. . . . A testament to [Mouallem's] journalistic acumen, full of well-chosen and vividly rendered stories. The book is a peripatetic illustration of how many people, often scattered and marginal, practice Islam in the Americas. It's when he is chronicling the plight of these people that Mr. Mouallem is at his best."
— Wall Street Journal

"A fascinating exploration of the many manifestations of Islam across cultures, traditions, communities, and political lines. . . . Mouallem is masterful in his ability to both embrace what he loves and interrogate the faith he was born into. . . . It's a refreshing read that shines light on the humanity of Islam through the words, reflections, and lives of its practitioners."
— Quill & Quire

"Absorbing . . . [Mouallem's] book has made it impossible not to see this faith tradition's rich complexity."
— BookPage (Starred Review)

"[Mouallem] uncovers a wide variety of stories about what it means to be Muslim—debunking any idea of a monolithic institution—and its influence on culture, politics and religion."
— Toronto Star

"Illuminates Islam in the Americas with glorious care . . . This essential examination of places and faces of the Islamic diaspora ambitiously travels the pre-pandemic world with high-stakes curiosity and professional dexterity."
— Edmonton Journal

"Mouallem performs a daring act of historical excavation and cultural reconstruction of Islam's history and perseverance as a faith and a community builder in the Americas. Through insightful reporting, masterful storytelling, and exquisite prose, he provides both a panoramic and an intimate view of peoples and sects within a religion often willfully misunderstood and mischaracterized in the West. What a towering achievement this book is and what a gift to have Mouallem guide his readers through its complex and urgent explorations."
— KAMAL AL-SOLAYLEE, author of Return and Brown, winner of the Writers' Trust Shaughnessy Cohen Prize for Political Writing

"At once a work of historical scholarship, fascinating travelogue, and deeply personal assessment of lost and rediscovered faith, Praying to the West is a balm against the depiction of Muslims as some kind of nefarious monolith. Omar Mouallem has excavated so many buried stories of Islam's relationship with this part of the world, and in doing so created a timely, vital, and thoroughly readable biography. This is a book that eschews easy answers and generalizations, and the result is both honest and kaleidoscopic."
— OMAR EL AKKAD, Scotiabank Giller Prize–winning author for What Strange Paradise

"This book is a remarkable achievement."
— MARCELLO DI CINTIO, author of Pay No Heed to the Rockets: Life in Contemporary Palestine

"Mouallem is one of Canada's most masterful nonfiction writers and there's no one I'd rather follow on a journey like this: across centuries, around the world and into intimate corners of family and personal history. With a deep generosity of both intellect and heart, he offers a rich and complex view of Muslim communities, and of his own ever-evolving relationship to the faith."
— RACHEL GIESE, author of Boys: What it Means to Be a Man, winner of the Writers' Trust Shaughnessy Cohen Prize for Political Writing

"Thoughtful, deeply personal, and rich in long ignored and buried histories, Praying to the West reshaped my understanding both of Islam—or, the many Islams—and the history of North America. Omar Mouallem has written a fascinating, essential book."
— EVA HOLLAND, author of Nerve: A Personal Journey Through the Science of Fear

"Mouallem shatters the myth of a monolithic Islam by revealing a sweeping array of cultures within the Muslim faith. Part adventure story and part investigative probe, his journey spans the Americas, from an Arctic mosque to the Maya Muslims of Mexico. Written from the perspective of an 'atheist Muslim,' Mouallem asks tough questions and offers surprising insights. Like all great books, it is transformative. After reading Praying to the West, you'll never see Islam in the same way again."
— ZIYA TONG, science broadcaster and author of The Reality Bubble

"There's a spirit of generosity, curiosity, and—dare I say it—humour in this book, which lightens the load of a weighty topic. I love a master craftsman of a storyteller who can take you on a journey in which you feel like you're along for the ride, figuring stuff out at the same time as the author. That's what Omar Mouallem does here: takes the reader on a thoughtful journey all up and down the Americas to reveal a religious landscape few of us stop to notice. Some of the people he meets are cranks, some are ideologues, some are inspirations, but all have a human dimension that you can appreciate, even if you're a 100% secular person as I am."
— RUSSELL COBB, journalist, historian, and professor

"Insightful and engaging . . . Mouallem's use of lesser-known Arabic terms and phrases contextualized within heartwarming personal anecdotes helps create a writing style that informs and entertains while inviting serious contemplation."
— Winnipeg Free Press

"Timely and necessary. Tracing the little-known history of Islam across the Americas, this book provides critical context for how Muslims have shaped cities and towns from Edmonton to Inuvik."
— Chatelaine

"[Mouallem] visited mosques from the Arctic Circle to Amazonia, exploring Islam's deep roots in himself and the Americas and crafting a striking portrait of both."
— Maclean's

"[A] cultural and political exploration. Part memoir, part historical study and cultural critique, this is personal writing that digs deep into what shaped the author. The perceived world around him creates a piece of literature with a broad-spectrum appeal. Mouallem enlightens the reader on the true meaning and message of Islam."
— Rat Creek Press
Simon & Schuster, 9781501199141, 384pp.
Publication Date: September 21, 2021
About the Author
Omar Mouallem is an award-winning writer and filmmaker. His journalism has appeared in The Guardian, The New Yorker, Rolling Stone, Maclean's, WIRED, and more. He coauthored the national bestseller Inside the Inferno: A Firefighter's Story of the Brotherhood that Saved Fort McMurray, and codirected Digging in the Dirt, a documentary about mental health in the Alberta oil patch. In 2020, he founded Pandemic University School of Writing. He lives in Edmonton, Alberta, with his family. Follow him on Twitter @OmarMouallem and find him at OmarMouallem.com. Visit PrayingtotheWest.com for more information.