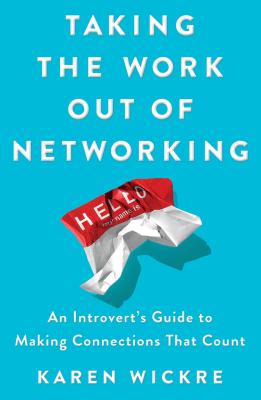 Taking the Work Out of Networking
An Introvert's Guide to Making Connections That Count
Hardcover

* Individual store prices may vary.
Other Editions of This Title:
Digital Audiobook (11/26/2018)
Paperback (10/29/2019)
Compact Disc (11/27/2018)
Description
The former Google executive, editorial director of Twitter and self-described introvert offers networking advice for anyone who has ever cancelled a coffee date due to social anxiety—about how to nurture a vibrant circle of reliable contacts without leaving your comfort zone.

Networking has garnered a reputation as a sort of necessary evil in the modern business world. Some do relish the opportunity to boldly work the room, introduce themselves to strangers, and find common career ground—but for many others, the experience is often awkward, or even terrifying.

The common networking advice for introverts are variations on the theme of overcoming or "fixing" their quiet tendencies. But Karen Wickre is a self-described introvert who has worked in Silicon Valley for 30 years. She shows you to embrace your true nature to create sustainable connections that can be called upon for you to get—and give—career assistance, advice, introductions, and lasting connections.

Karen's "embrace your quiet side" approach is for anyone who finds themselves shying away from traditional networking activities, or for those who would rather be curled up with a good book on a Friday night than out at a party. For example, if you're anxious about that big professional mixer full of people you don't know, she advises you to consider skipping it (many of these are not productive), and instead set up an intimate, one-on-one coffee date. She shows how to truly make the most out of social media to sustain what she calls "the loose touch habit" to build your own brain trust to last a lifetime.

With compelling arguments and creative strategies, this new way to network is perfect not only for introverts, but for anyone who wants for a less conventional approach to get ahead in today's job market.
Praise For Taking the Work Out of Networking: An Introvert's Guide to Making Connections That Count…
"Karen Wickre may be the best-connected Silicon Valley figure you've never heard of, widely regarded in tech as a champion networker. Now she reveals in highly readable, practical terms how anyone can create and sustain a network painlessly, and why it matters. This book can change your career, and your life." — Walt Mossberg, former columnist and conference producer for the Wall Street Journal, AllThingsDigital, and Recode

"Karen Wickre has taken a lifetime of learning and put it into a practical, easy-to-use book that people of all stripes and backgrounds will find useful. (And by the way: it's not only for introverts!)"—Sree Sreenivasan, former Chief Digital Officer of New York City, Columbia University, and the Metropolitan Museum of Art

"Listen to Karen Wickre. Taking the Work Out of Networking will make you a better questioner, observer, relationship-nurturer, and, yes—a networker for all the right reasons." —Blair Shane, Chief Marketing Officer, Sequoia Capital

"If you believe relationships are the bedrock of both adventure and achievement, then you must read this book. Step by step, concept by concept, Karen shares her wisdom on how to build a community of relationships that help you change the world." —Keith Yamashita, founder and chairman, SYPartners

"Most of us dread the awkward phone calls to strangers and the transactional nature of what we think of as 'networking.' Karen Wickre recasts the notion completely—and extremely usefully—in terms of connections, friendships and reciprocity. A very user-friendly tool for those of us introverts masquerading as extroverts." —Amanda Bennett, journalist and author

"So many of us dislike or even fear the transactional nature of traditional networking. Karen Wickre has done a great service by showing how it's possible to make genuine connections that last, that we can nurture across the world for all kinds of purposes."—Chris Anderson, Head of TED and author of TED Talks: The Official TED Guide to Public Speaking

"In a world of social media, a meaningful conversation is a memorable thing. Karen Wickre reminds us that the ability to put your phone in your pocket, look a person in the eye, and really connect is not only one of life's great pleasures—it is the key to succeeding in your career."—Kim Scott, author of Radical Candor

"Pragmatic and thoughtful, Karen Wickre shows how networking can move from being transactional to being transformational in your life. Taking the Work Out of Networking gives you the know-how to connect with the know-who. This is one of the best 'read it in the morning, use it in the afternoon' career guides I've ever read, especially in our social media era."—Chip Conley, author of Wisdom @ Work: The Making of a Modern Elder

"Karen Wickre has long been an powerful but unsung resource for tech industry insiders seeking career advice. In this charming book, she shares the powerful secrets that will allow introverts--and everyone else--to organically network in the workplace, for better jobs and a more satisfying work life." —Steven Levy, author of In the Plex

"Taking the Work Out of Networking is a networking game-changer. Karen Wickre reveals how anyone—even the introverts dreading their social obligations—can make strides in their career by building meaningful connections in a thoughtful, diligent way."—Olivia Fox Cabane, author of The Charisma Myth

"People will always be moving and changing jobs, but the value of human connection doesn't change. Karen Wickre shows how 'loose touch' interactions can make your life better. If you're an introvert, you will find help making connections in ways that don't feel forced or artificial. If you know an introvert, this book makes a good gift." —Matt Cutts, former Googler

"For introverts who panic at the idea of networking, Wickre's book is a deep, calming breath. You can do it."—Sophia Dembling, author of The Introvert's Way and Introverts in Love

"Networking is essential for business success, yet many still dread it. Prepare to change your mind. Karen Wickre's inspired new book shows readers how to embrace their true selves while building an authentic, sustainable network."—Dorie Clark, adjunct professor at Duke University's Fuqua School of Business and author of Stand Out Networking and Reinventing You

"Practical, delightful read... Full of insights and helpful tips, especially regarding social media, this is the perfect book for anyone in the midst of a career transition or considering one."
—Ted.com, "TED's winter reading list"
Gallery Books, 9781501199271, 240pp.
Publication Date: November 27, 2018
About the Author
Silicon Valley veteran Karen Wickre is the former Editorial Director at Twitter, where she landed after a decade-long career at Google. An advisor to startups and a lifelong information seeker, she is a member of the Board of Visitors for the John S. Knight Journalism Fellowships at Stanford University, and serves on the boards of the International Center for Journalists, the News Literacy Project, and the Yerba Buena Center for the Arts. She has been a featured columnist for Wired.com and is a cofounder of Newsgeist, an annual conference fostering new approaches to news and information. She is the author of Taking the Work Out of Networking and lives in San Francisco.
or
Not Currently Available for Direct Purchase