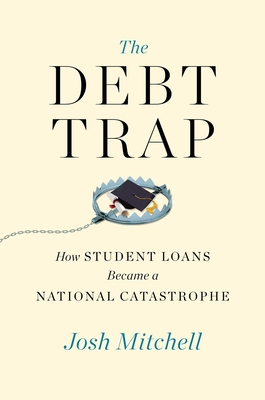 The Debt Trap
How Student Loans Became a National Catastrophe
Hardcover

* Individual store prices may vary.
Other Editions of This Title:
Digital Audiobook (8/2/2021)
Paperback (8/9/2022)
Compact Disc (8/3/2021)
Description
An NPR Best Book of 2021

From acclaimed Wall Street Journal reporter Josh Mitchell, the "devastating account" (The Wall Street Journal) of student debt in America.

In 1981, a new executive at Sallie Mae took home the company's financial documents to review. "You've got to be shitting me," he later told the company's CEO. "This place is a gold mine."

Over the next four decades, the student loan industry that Sallie Mae and Congress created blew up into a crisis that would submerge a generation of Americans into $1.5 trillion in student debt. In The Debt Trap, Wall Street Journal reporter Josh Mitchell tells the "vivid and compelling" (Chicago Tribune) untold story of the scandals, scams, predatory actors, and government malpractice that have created the behemoth that one of its original architects called a "monster."

As he charts the "jaw-dropping" (Jeffrey Selingo, New York Times bestselling author of Who Gets in and Why) seventy-year history of student debt in America, Mitchell never loses sight of the countless student victims ensnared by an exploitative system that depends on their debt. Mitchell also draws alarming parallels to the housing crisis in the late 2000s, showing the catastrophic consequences student debt has had on families and the nation's future. Mitchell's character-driven narrative is "necessary reading" (The New York Times) for anyone wanting to understand the central economic issue of our day.
Praise For The Debt Trap: How Student Loans Became a National Catastrophe…
"A devastating account...The story he tells is so infuriating that it could induce apoplexy in a Zen monk." —The Wall Street Journal

"Necessary reading for any politician or activist who wants to change the way we make college education available to all." —The New York Times

"Proves the old adage that the road to Hell is paved with good intentions." —Forbes

"Vivid and compelling" —Chicago Tribune

"A shocking history, dominated by an attitude of exploitation toward American students and their families."
—Literary Hub

"The book is sure to garner attention, as well as make readers take a close look at the cost of higher education. Parents, students, and educators will find it enthralling and possibly be moved to push for industry reforms."
—Booklist, starred review

"This urgent report makes a convincing case for reforming the loan program to allow students a fair shot at college, at a reasonable price. An alarming study of an economic crisis long in the making—and entirely avoidable."
—Kirkus Reviews

"A deeply reported, jaw-dropping book. A must-read for every student, parent, and educator. Through engaging storytelling, this timely book helps us understand, in the same way as The Big Short did with housing, how we allowed a student-loan system started with good intentions during the Great Society to grow into an uncontrolled behemoth that has left tens of millions of Americans saddled with trillions in debt."
—Jeffrey Selingo, New York Times bestselling author of Who Gets In and Why and There Is Life After College

"A masterfully written, surprising, and deeply reported book that is studded with breathtaking insights on every page. The Debt Trap is about more than student debt — it's the true story of how America's ladder of opportunity was turned into a debtor's prison. It's all here: Well-intentioned government programs gone awry, corporate corruption, exploitation, and the unbreakable hope of American people working tirelessly for a better life. An indispensable book to understand one of the most urgent problems in our country today."
—Christopher Leonard, New York Times bestselling author of Kochland

"A powerful investigation into one of the most important economic crises of our time. The storytelling is lively and emotive, which is crucial for understanding the human impact of towers of student debt on everyday Americans. The book should be read by politicians, parents and students alike as a cautionary tale of how government policies can bring enormous gains while also wreaking havoc on lives."
—Brad Hope, New York Times bestselling co-author of The Billion Dollar Whale

"Almost out of nowhere, student debt became a one trillion dollar problem—not just for the 43 million people who suffer under its weight but the entire society. In his rich and poignant book, Josh Mitchell traces this harrowing history, how policy makers' good intentions in Washington DC and corporate executives' greed and exploitation has led to stifled lives and snuffed out dreams of betterment."
—Jesse Eisinger, author of Chickenshit Club

"If your instinct is that there has to be a good story behind how Americans have collectively racked up $1.6 trillion of college debt — much of it never to be repaid and with the taxpayers holding the bag – Wall Street Journal reporter Josh Mitchell's "The Debt Trap: How Student Loans Became a National Catastrophe" will confirm your suspicions with a vengeance."
—Business Insider

"If you've don't think a book about the student loan crisis can read like a fast-paced thriller — complete with passages that will leave you exclaiming in shock out loud — this book will prove you wrong."
—New York Post
Simon & Schuster, 9781501199448, 272pp.
Publication Date: August 3, 2021
About the Author
Josh Mitchell is a reporter in the Washington bureau of The Wall Street Journal, writing about the economy and higher education. In 2016, the Education Writers Association named him the nation's top education beat reporter among large publications, calling his reporting "unique, comprehensive, illuminating, and a must-read for policymakers, prospective and current college students, and their parents." He lives and works in Washington, DC.
or
Not Currently Available for Direct Purchase