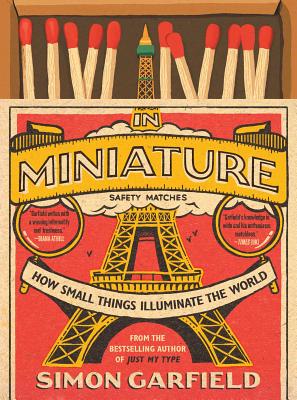 In Miniature (Hardcover)
How Small Things Illuminate the World
Atria Books, 9781501199585, 336pp.
Publication Date: March 12, 2019
* Individual store prices may vary.
Description
Bestselling, award-winning writer Simon Garfield returns with an enthralling investigation of humans' peculiar fascination with small things—and what small things tell us about our larger world.

"[Simon Garfield is] an exuberant truffle-hound of the recondite and delightful factoid." —Sunday Times (London)

Simon Garfield writes books that shine a light on aspects of the everyday world in order to reveal the charms and eccentricities hiding in plain sight around us. After beguiling fans with books about everything from typography to time, from historic maps to the color mauve, he's found his most delightful topic yet: miniatures.

Tiny Eiffel Towers. Platoons of brave toy soldiers. A doll's house created for a Queen. Diminutive crime scenes crafted to catch a killer. Model villages and miniscule railways. These are just a few of the objects you will discover in the pages of In Miniature.

Bringing together history, psychology, art, and obsession, Garfield explores what fuels the strong appeal of miniature objects among collectors, modelers, and fans. The toys we enjoy as children invest us with a rare power at a young age, conferring on us a taste of adult-sized authority. For some, the desire to play with small things becomes a desire to make small things. We live in a vast and uncertain world, and controlling just a tiny, scaled-down part of it restores our sense of order and worth.

As it explores flea circuses, microscopic food, ancient tombs, and the Vegas Strip, In Miniature changes the way we perceive our surroundings, encouraging all of us to find greatness in the smallest of things.
About the Author
Simon Garfield is the author of eighteen acclaimed books of nonfiction including Timekeepers, To the Letter, On the Map, and Just My Type. A recipient of the Somerset Maugham prize for nonfiction, he lives in London.
Praise For In Miniature: How Small Things Illuminate the World…
Praise for In Miniature

"If you are someone who appreciates the quirkier byways of human endeavour, there's plenty to surprise and delight in this compendium."

"This intriguing study of our urge to make scale models is full of bizarre stories and poignant insight...engaging and exuberant...The moral seems to be that we're all small, relatively speaking, which is perhaps why In Miniature is not only highly entertaining; it is also moving"

"A fun read."

"Entertaining."

"Simon Garfield's enthusiasm...is irresistible...Garfield offers not just intriguing snapshots of curiosities but some rather interesting history lessons."

"In Miniature is a delicious read; quirky, unpredictable and written with a genuine savour for the subject."

"Intriguing...full of bizarre stories and poignant insight...not only highly entertaining; it is also moving."

Praise for Simon Garfield

"Time well spent … Simon Garfield has made his name as an author who can spin fascinating narratives."

"A sort of museum between hard covers...As good as pop history gets."

"Digressive, gossipy, thoughtful and thoroughly entertaining . . . Simon Garfield is an exuberant truffle-hound of the recondite and delightful factoid."