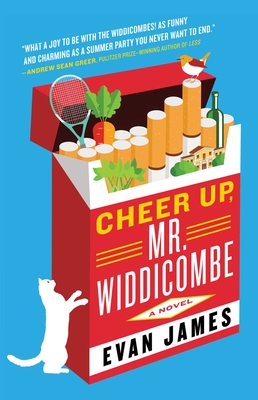 Cheer Up, Mr. Widdicombe
A Novel
Paperback

* Individual store prices may vary.
Other Editions of This Title:
Digital Audiobook (3/25/2019)
Compact Disc (3/26/2019)
Library Binding, Large Print (6/26/2019)
Hardcover (3/26/2019)
Description
Named one of 2019's most anticipated reads by Entertainment Weekly, "a hilarious and witty joy of a novel about a family's insanely dramatic summer at their new island home" (Cosmopolitan) in the Pacific Northwest.

The inimitable—some might say incorrigible—Frank Widdicombe is suffering from a deep depression. Or so his wife, Carol, believes. But Carol is convinced that their new island home—Willowbrook Manor on the Puget Sound—is just the thing to cheer him up. And so begins a whirlwind summer as their house becomes the epicenter of multiple social dramas involving the family, their friends, and a host of new acquaintances.

The Widdicombes' son, Christopher, is mourning a heartbreak after a year abroad in Italy. Their personal assistant, Michelle, begins a romance with preppy screenwriter Bradford, who also happens to be Frank's tennis partner. Meanwhile, a local named Marvelous Matthews is hired to create a garden at the manor—and is elated to find Gracie Sloane, bewitching self-help author, in residence as well. When this alternately bumbling and clever cast of characters comes together, they turn "as frothy and bitter as a pot of freshly brewed dark-roast coffee, the kind that's always available on the Widdicombe's sideboard. And the dialogue, oh how it singes and sears" (The Washington Post).

A "gleefully over-the-top satiric debut" (Kirkus Reviews), Cheer Up, Mr. Widdicombe is perfect for fans of Maria Semple's Where'd You Go, Bernadette?, Andrew Sean Greer's Less, and Jess Walter's Beautiful Ruins.
Praise For Cheer Up, Mr. Widdicombe: A Novel…
"What a joy to be with the Widdicombes! As funny and charming as a summer party you never want to end."— Andrew Sean Greer, Pulitzer Prize-winning author of Less

"Cheer Up, Mr. Widdicombe is shrewd as hell and hysterically funny. A summer novel, a comedy of manners, a razor-sharp satire of the idle rich…there's so much unbridled pleasure to be found in this rogue's gallery of new-age self-help gurus, aspiring screenwriters, bird-watching party-planning social climbers, lovesick assistants, despondent patriarchs, ne'er-do-well houseguests, indolent watercolorists, and loveably loathsome cads of all kinds."— Carmen Maria Machado, author of Her Body and Other Parties

"An assured, big-hearted debut, as tender as it is hilarious. Evan James's wry intelligence and sense of the absurd are an absolute delight."— R.O. Kwon, author of The Incendiaries

"Cheer Up, Mr. Widdicombe had me smiling from the very first page, and long after I put it down. Evan James writes dysfunctional characters with more wit, compassion, and heart than any writer I've come across in a long time. This is an enormously satisfying debut."— Grant Ginder, author of The People We Hate at the Wedding

"James's debut novel—a comedy of manners about the banes of upper-middle-class characters—bubbles with self-realizations, love in the patois of addiction speak, incipient love that could bridge oceans and a self-help expo keynote address imploring the freeing of our inherent wildness." —The New York Times Book Review

"Spend a head-spinning summer with the Widdicombes and their entourage in James' gleefully over-the-top satiric debut."— Kirkus Reviews

"An absurd and hilarious satire full of unlikely characters who are all wildly introspective, dysfunctional, and prone to New Age philosophizing." —Library Journal

"James's debut blends saucy wit with a fresh voice. . . . The dynamic characters will satisfy many tastes, and it's with a writerly sleight-of-hand that the peculiar humor and quirky truths of family, friendship, and love are revealed."— Publishers Weekly

"[A] mordant comedy of manners . . . James is a fine writer, and his narrator maintains a consistent, ironically self-serious tone, skewering contemporary mindfulness culture and the pursuits of those with time, money, or both to burn." —Booklist

"We know how this one tends to go: a big summer family gathering, filled with dysfunction and secret-spilling and absurd misunderstandings. Fingers crossed that first-time novelist James can put his own quirky stamp on the subgenre." —Entertainment Weekly

"I can't think of a writer better equipped to write a contemporary comedy of manners." —Literary Hub

"Oh look, it's the perfect book. Cheer Up, Mr. Widdicombe is a hilarious and witty joy of a novel about a family's insanely dramatic summer at their new island home. It's LOL levels of funny, each sentence is quote-worthy, and it's also pretty heartwarming. The only bad news is that it goes by way too fast." —Cosmopolitan

"It's a comedy of Northwest manners, as if Where'd You Go, Bernadette? had been written after a long alcoholic weekend, an exquisite corpse cobbled together by a raucous, sophisticated group of writing instructors….As the members of the Family Widdicombe spin off in their own directions, the people around them are spinning toward one another in different combinations. Their machinations are the point of this debut novel, as frothy and bitter as a pot of freshly brewed dark-roast coffee, the kind that's always available on the Widdicombe's sideboard. And the dialogue, oh how it singes and sears!...James is a writer to watch, one with a fresh take on American flaws and virtues that nevertheless feels old-school screwball." —Bethanne Patrick, Washington Post

"Cheer Up, Mr. Widdicombe is rather like a PG Wodehouse novel, updated with sex and profanity: throw a bunch of wealthy, eccentric people in a country house for a period of time and see what happens. In this, his first novel, Evan James expertly unfolds hopes, dreams and neuroses, managing to gently skewer his characters' foibles while revealing their humanity... The book is a deliciously funny personality stew, and James deftly guides us from one character's head to another as they maneuver their way through a madcap summer—one that you, dear reader, should definitely share." —Eileen Zimmerman Nicol, Bookreporter.com

"Funny and beautifully written, this family saga set on Bainbridge Island in the Pacific Northwest is an escape to end all escapes. There's tennis, there's novel-writing, there's the wild outdoors, and there's much-discussed decorating indoors. The Widdicombe family has much to discuss in general—they are a mass of contradictions and contrasting agendas that intersect in brilliant ways—and the dialogue is just so good. It's one of those books you hoard time with, and you float around in its atmosphere even when you're not reading it. I hate that it ended—I loved being in it so much!" —Jean Godfrey-June, executive beauty director at goop
Washington Square Press, 9781501199622, 288pp.
Publication Date: January 14, 2020
About the Author
Evan James is an award-winning writer whose personal essays and fiction have appeared in such publications as Travel + Leisure, Oxford American, and The New York Times, among others. He is the author of Cheer Up, Mr. Widdicombe. He is a graduate of the Iowa Writers' Workshop and has received fellowships from Yaddo, Virginia Center for the Creative Arts, and the Lambda Literary Writers' Retreat, where he was an Emerging LGBTQ Voices Fellow. He lives in New York.