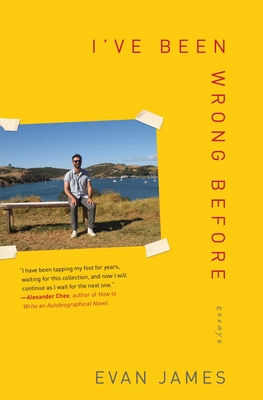 I've Been Wrong Before
Essays
Paperback

* Individual store prices may vary.
Other Editions of This Title:
MP3 CD (4/28/2020)
Compact Disc (4/28/2020)
Compact Disc (4/28/2020)
Compact Disc (4/28/2020)
Description
From the award-winning essayist and author of the "shrewd as hell and hysterically funny" (Carmen Maria Machado, author of Her Body and Other Parties) novel Cheer Up, Mr. Widdicombe comes a moving and unforgettable essay collection about his travels around the globe as he reflects on the power and complexity of human relationships.

From the award-winning essay "Lover's Theme," in which Evan James explores the life of a drag queen in San Francisco, to his poignant story of coming out in "One Hell of a Homie," set against the backdrop of the 1992 film Class Act, this essay collection brilliantly captures both the beauty and pain of relationships—friendly, familiar, and romantic. I've Been Wrong Before is an eye-opening and heartfelt illustration of how our differences are often the things that bring us closer together. Masterfully balancing tremendous insight with startling humor, this absorbing collection features Evan James's "wry intelligence and sense of the absurd" (R.O. Kwon, author of The Incendiaries) and is perfect for fans of Alexander Chee and Maggie Nelson.
Praise For I've Been Wrong Before: Essays…
"I've Been Wrong Before is an intoxicating, headlong, barbaric yawp of a journey. Evan James whisks us along as he performs in a San Francisco drag show as a cell phone, visits Provincetown during "Bear Week," gets mistaken for a sex worker in Barcelona, and off-road mountain bikes in a "high-speed, enlightenment-free chase though Southeast Asia." We're having such a good time that we hardly notice his introspection, his quest for belonging, and his pursuit of the big questions, all in splendid sentences. I've Been Wrong Before gets our messy human lives so very, very right." —Beth Ann Fennelly, author of Heating & Cooling: 52 Micro-Memoirs

"Each of Evan James's essays rings with the remarkable tenderness in them, arriving with the wit and sharp insight like the quiet friend sneaking into the party behind the flashier ones—a love for his subjects that even they may not have for themselves. I have been tapping my foot for years, waiting for this collection, and now I will continue as I wait for the next one." —Alexander Chee, author of How to Write an Autobiographical Novel

"Reading the essays of Evan James is like getting trapped in an elevator with the most entrancing stranger you've ever met. It's the radiant company you didn't even know you needed until the world graced you with it. His voice is tender, surprising, and true—bursting with absurdity and vitality, with the deep bewilderments, long yearnings, and messy fulfillments that constitute a life." —Leslie Jamison, New York Times-bestselling author of Make It Scream, Make It Burn

"Perhaps [James] has been wrong before, but in this fine collection, he is inarguably right." —Booklist

"James (Cheer Up, Mr. Widdicombe, 2019) memorably revisits experiences from his past, whether random encounters or more significant life-changing events. In each case, he reveals impressive candor and depth of thought about his formative years and his development as a writer. Cutting gay cultural clichés, the author skillfully reveals his complex inner life. Attuned to the broad expectations or struggles of being a contemporary gay male, he is also deft in his exploration of the personal and financial difficulties of anyone living in our current era. A remarkably insightful and entertaining collection from a talented voice." —Kirkus Reviews (starred)

"Dazzling." —BookPage

Praise for Cheer Up, Mr. Widdicombe

"What a joy to be with the Widdicombes! As funny and charming as a summer party you never want to end."— Andrew Sean Greer, Pulitzer Prize-winning author of Less

"Cheer Up, Mr. Widdicombe is shrewd as hell and hysterically funny. A summer novel, a comedy of manners, a razor-sharp satire of the idle rich…there's so much unbridled pleasure to be found in this rogue's gallery of new-age self-help gurus, aspiring screenwriters, bird-watching party-planning social climbers, lovesick assistants, despondent patriarchs, ne'er-do-well houseguests, indolent watercolorists, and loveably loathsome cads of all kinds."— Carmen Maria Machado, author of Her Body and Other Parties

"An assured, big-hearted debut, as tender as it is hilarious. Evan James's wry intelligence and sense of the absurd are an absolute delight."— R.O. Kwon, author of The Incendiaries

"Cheer Up, Mr. Widdicombe had me smiling from the very first page, and long after I put it down. Evan James writes dysfunctional characters with more wit, compassion, and heart than any writer I've come across in a long time. This is an enormously satisfying debut."— Grant Ginder, author of The People We Hate at the Wedding

"Spend a head-spinning summer with the Widdicombes and their entourage in James' gleefully over-the-top satiric debut."— Kirkus Reviews

"An absurd and hilarious satire full of unlikely characters who are all wildly introspective, dysfunctional, and prone to New Age philosophizing." —Library Journal

"James's debut blends saucy wit with a fresh voice. . . . The dynamic characters will satisfy many tastes, and it's with a writerly sleight-of-hand that the peculiar humor and quirky truths of family, friendship, and love are revealed."— Publishers Weekly

"[A] mordant comedy of manners . . . James is a fine writer, and his narrator maintains a consistent, ironically self-serious tone, skewering contemporary mindfulness culture and the pursuits of those with time, money, or both to burn." —Booklist

"We know how this one tends to go: a big summer family gathering, filled with dysfunction and secret-spilling and absurd misunderstandings. Fingers crossed that first-time novelist James can put his own quirky stamp on the subgenre." —Entertainment Weekly

" I can't think of a writer better equipped to write a contemporary comedy of manners." —Literary Hub

"Oh look, it's the perfect book. Cheer Up, Mr. Widdicombe is a hilarious and witty joy of a novel about a family's insanely dramatic summer at their new island home. It's LOL levels of funny, each sentence is quote-worthy, and it's also pretty heartwarming. The only bad news is that it goes by way too fast." —Cosmopolitan
Atria Books, 9781501199646, 256pp.
Publication Date: March 3, 2020
About the Author
Evan James is an award-winning writer whose personal essays and fiction have appeared in such publications as Travel + Leisure, Oxford American, and The New York Times, among others. He is the author of Cheer Up, Mr. Widdicombe. He is a graduate of the Iowa Writers' Workshop and has received fellowships from Yaddo, Virginia Center for the Creative Arts, and the Lambda Literary Writers' Retreat, where he was an Emerging LGBTQ Voices Fellow. He lives in New York.