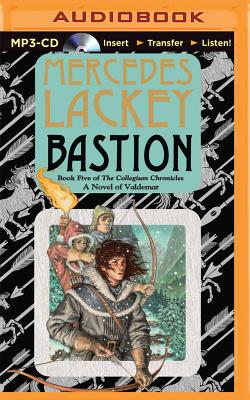 Bastion (MP3 CD)
The Collegium Chronicles (Collegium Chronicles (Audio) #5)
Brilliance Audio, 9781501263965
Publication Date: June 16, 2015
Other Editions of This Title:
Mass Market (10/7/2014)
Hardcover (10/1/2013)
Compact Disc (2/4/2014)
Hardcover, Large Print (5/28/2014)
MP3 CD (2/4/2014)
* Individual store prices may vary.
Description
When Herald Trainee Mags was abducted by two magical foreign assassins, he thought his life was over. Drugged, robbed of his Mindspeech, and unable to communicate with his Companion Dallen, he felt he had no chance of being rescued. Carried south by these unknown enemies, he was trapped in terrifying, drug-induced dreams. His only moments of peace came from brief visions of a woman whom he felt might be his mother. Though he finally managed to escape his captors, it was only to fall victim to Karsite demons.
When all hope seemed lost, he was rescued by a fugitive Sun Priest and his Suncat, Reaylis. This magical creature gave Mags back the power of Mindspeech and helped him contact Dallen. But before Dallen could reach him, Mags was recaptured by the assassins, who revealed that his parents had once been part of their sect, and they had been charged to bring him home.
Dallen and Reaylis once again interceded, saving Mags and bringing him home to Haven. Mags knew, however, that after searching for him for years, the assassins would not give up.
Mags had powerful allies in Haven, and together the heads of Herald's Collegium came up with a plan: to send Mags, all of his friends and loved ones, and other trained fighters into the hills to a stronghold called The Bastion. If they were all together, they were less vulnerable to the assassins, less likely to be picked off one by one.
The Bastion was the same stronghold where his parents had been murdered by bandits. The drugs he had been given opened up memories that couldn't be his--and gave him knowledge of styles of fighting that were unknown in Valdemar. Perhaps his new-found memories would spark recognition in the place where his parents had once been imprisoned. Mags might finally unlock the secret of who his parents had been and why they had fled so far to the north and, in doing so, finally discover his own identity.
or
Not Currently Available for Direct Purchase