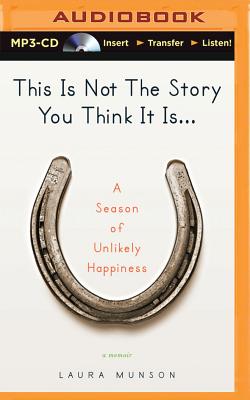 This Is Not the Story You Think It Is...
A Season of Unlikely Happiness
MP3 CD

* Individual store prices may vary.
Other Editions of This Title:
Digital Audiobook (6/30/2010)
Paperback (4/5/2011)
Hardcover (4/1/2010)
Paperback (4/1/2011)
MP3 CD (7/1/2010)
MP3 CD (7/1/2010)
Compact Disc (7/1/2010)
Compact Disc (7/1/2010)
Description
"I don't love you anymore. I'm not sure I ever did." His words came at me like a speeding fist, like a sucker punch, yet somehow in that moment I was able to duck. And once I recovered and composed myself, I managed to say, "I don't buy it." Because I didn't. He drew back in surprise. Apparently he'd expected me to burst into tears, to rage at him, to threaten him with a custody battle. Or beg him to change his mind. . . . I really wanted to fight. To rage. To cry. But I didn't. Instead, a shroud of calm enveloped me, and I repeated those words: "I don't buy it." You see, I'd recently committed to a non-negotiable understanding with myself. I'd committed to "The End of Suffering." I'd . . . decided to take responsibility for my own happiness. And I mean all of it. When Laura Munson's essay appeared in the "Modern Love" column of The New York Times, it created a firestorm. Readers sent it to their friends, therapists gave it to their patients, pastors read it to their congregations. People everywhere were struck by Munson's wisdom. But how was she able to implement this strategy? How was she able to commit herself to an "End of Suffering" at such a critical time? At forty years old, certain parts of Munson's life were going exactly as planned--she had two wonderful children, a husband she adored, a cherished home. Yet she and her husband, the once golden couple, weren't looking so golden anymore. While she had come to peace with her life, her husband had not. Poignant, wise, and often exceedingly funny, This Is Not The Story You Think It Is... recounts Munson's journey. Shaken to her core after the death of her beloved father, and having sought guidance and solace in stacks of books and hours of therapy, she finally realized that she had to stop basing her happiness on things outside her control. And once she had this key piece of wisdom, she realized she could withstand almost anything. Written as she experiences her crisis, moment by moment, sometimes breath by breath, Munson's book is raw and searingly honest in the very best sense. She takes readers by the hand as they embark, together, on a journey whose outcome is not known. Filled with wisdom, truth, and heart--and a great tomato sauce recipe--This Is Not The Story You Think It Is... is ultimately about how to be responsible for your own well-being. It is a candid, powerful, unforgettable memoir.
Brilliance Audio, 9781501280818
Publication Date: August 11, 2015
or
Not Currently Available for Direct Purchase