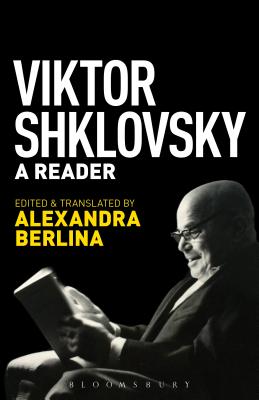 Viktor Shklovsky (Paperback)
A Reader
Bloomsbury Academic, 9781501310379, 416pp.
Publication Date: December 1, 2016
Other Editions of This Title:
Hardcover (12/1/2016)
* Individual store prices may vary.
Description
Viktor Shklovsky (1893-1984) was both patriarch and enfant terrible of Formalism, a literary and film scholar, a fiction writer and the protagonist of other people's novels, instructor of an armored division and professor at the Art History Institute, revolutionary and counterrevolutionary. His work was deeply informed by his long and eventful life. He wrote for over seventy years, both as a very young man in the wake of the Russian revolution and as a ninety-year old, never tiring of analyzing the workings of literature.
Viktor Shklovsky: A Reader is the first book that collects crucial writings from across Shklovsky's career, serving as an entry point for first-time readers. It presents new translations of key texts, interspersed with excerpts from memoirs and letters, as well as important work that has not appeared in English before.
About the Author
Viktor Shklovsky (1893-1984) was one of the foremost literary critics and theorists of the 20th century. One of the founders of the Formalist movement in literary criticism, his seminal works include "Art as Method" (1917), Theory of Prose (1925), Third Factory (1926), classic studies of Tolstoy and Mayakovsky, and a memoir of the Russian civil-war era, A Sentimental Journey: Memoirs, 1917-1922 (1923).Alexandra Berlina is Postdoctoral Researcher in Literary Studies at the University of Erfurt, Germany. Her translations of Brodsky's poems "Dido and Aeneas" and "You can't tell a gnat..." have won awards from the 'Willis Barnstone Translation Prize' and the 'The Joseph Brodsky/Stephen Spender Prize'. She is the author of Brodsky Translating Brodsky (Bloomsbury, 2014).