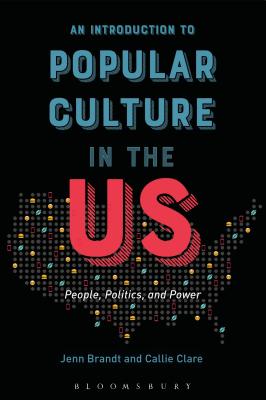 An Introduction to Popular Culture in the Us (Paperback)
People, Politics, and Power
Bloomsbury Academic, 9781501320576, 288pp.
Publication Date: January 25, 2018
Other Editions of This Title:
Hardcover (1/25/2018)
* Individual store prices may vary.
Description
What is popular culture? Why study popular culture in an academic context? An Introduction to U.S. Popular Culture: People, Politics, and Power introduces and explores the history and contemporary analysis of popular culture in the United States. In situating popular culture as lived experience through the activities, objects, and distractions of everyday life, the authors work to broaden the understanding of culture beyond a focus solely on media texts, taking an interdisciplinary approach to analyze American culture, its rituals, beliefs, and the objects that shape its existence.
After building a foundation of the history of popular culture as an academic discipline, the book looks broadly at cultural myths and the institutional structures, genres, industries, and people that shape the mindset of popular culture in the United States. It then becomes more focused with an examination of identity, exploring the ways in which these myths and mindset are internalized, practiced, and shaped by individuals. The book concludes by connecting the broad understanding of popular culture and the unique individual experience with chapters dedicated to the objects, communities, and celebrations of everyday life. This approach to the field of study explores all matters of culture in a way that is accessible and relevant to individuals in and outside of the classroom.
About the Author
Jenn Brandt is the Director of Women's and Gender Studies at High Point University, USA, and an assistant professor of English. Brandt's work focuses on gender and cultural studies in literature, popular film, and television. She is particularly interested in the ways in which politics shape and reflect contemporary culture. She has chapters in both Gender and Pop Culture: A Text-Reader (2014) and Feminist Theory and Popular Culture (forthcoming).Callie Clare is Assistant Professor of Communications at Siena Heights University, USA. Clare's work focuses on contemporary folklore and its relationship to popular culture. She is the author of Potions and Notions: The Legacy of Rabbit Hash, Kentucky.
or
Not Currently Available for Direct Purchase