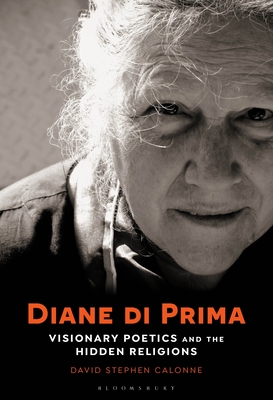 Diane Di Prima
Visionary Poetics and the Hidden Religions
Paperback

* Individual store prices may vary.
Description
Diane di Prima: Visionary Poetics and the Hidden Religions reveals how central di Prima was in the discovery, articulation and dissemination of the major themes of the Beat and hippie countercultures from the fifties to the present.
Di Prima (1934--) was at the center of literary, artistic, and musical culture in New York City. She also was at the energetic fulcrum of the Beat movement and, with Leroi Jones (Amiri Baraka), edited
The Floating Bear
(1961-69), a central publication of the period to which William S. Burroughs, Jack Kerouac, Allen Ginsberg, Charles Olson, and Frank O'Hara contributed. Di Prima was also a pioneer in her challenges to conventional assumptions regarding love, sexuality, marriage, and the role of women. David Stephen Calonne charts the life work of di Prima through close readings of her poetry, prose, and autobiographical writings, exploring her thorough immersion in world spiritual traditions and how these studies informed both the form and content of her
oeuvre
. Di Prima's engagement in what she would call "the hidden religions" can be divided into several phases: her years at Swarthmore College and in New York; her move to San Francisco and immersion in Zen; her researches into the
I Ching
, Paracelsus, John Dee, Heinrich Cornelius Agrippa, alchemy, Tarot, and Kabbalah of the mid-sixties; and her later interest in Tibetan Buddhism.
Diane di Prima: Visionary Poetics and the Hidden Religions
is the first monograph devoted to a writer of genius whose prolific work is notable for its stylistic variety, wit and humor, struggle for social justice, and philosophical depth.
Bloomsbury Academic, 9781501366574, 328pp.
Publication Date: July 23, 2020
About the Author
David Stephen Calonne is Senior Lecturer in English Language and Literature at Eastern Michigan University, USA. He is the author of William Saroyan: My Real Work Is Being (1983), as well as the literary biographies Charles Bukowski (2012) and Henry Miller (2014). Most recently he has published The Spiritual Imagination of the Beats (2017) and Conversations with Gary Snyder (2017).