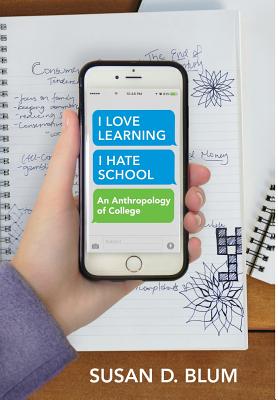 I Love Learning; I Hate School
An Anthropology of College
Hardcover

* Individual store prices may vary.
Description
Frustrated by her students' performance, her relationships with them, and her own daughter's problems in school, Susan D. Blum, a professor of anthropology, set out to understand why her students found their educational experience at a top-tier institution so profoundly difficult and unsatisfying. Through her research and in conversations with her students, she discovered a troubling mismatch between the goals of the university and the needs of students.
In "I Love Learning; I Hate School," Blum tells two intertwined but inseparable stories: the results of her research into how students learn contrasted with the way conventional education works, and the personal narrative of how she herself was transformed by this understanding. Blum concludes that the dominant forms of higher education do not match the myriad forms of learning that help students--people in general--master meaningful and worthwhile skills and knowledge. Students are capable of learning huge amounts, but the ways higher education is structured often leads them to fail to learn. More than that, it leads to ill effects. In this critique of higher education, infused with anthropological insights, Blum explains why so much is going wrong and offers suggestions for how to bring classroom learning more in line with appropriate forms of engagement. She challenges our system of education and argues for a "reintegration of learning with life."
Cornell University Press, 9781501700217, 360pp.
Publication Date: January 13, 2016
About the Author
Susan D. Blum is Professor of Anthropology at the University of Notre Dame. She is the author of My Word! Plagiarism and College Culture, also from Cornell, Lies That Bind: Chinese Truth, Other Truths, Portraits of "Primitives" Ordering Human Kinds in the Chinese Nation, the editor of Making Sense of Language: Readings in Culture and Communication (three editions), and coeditor of China Off Center: Mapping the Margins of the Middle Kingdom.