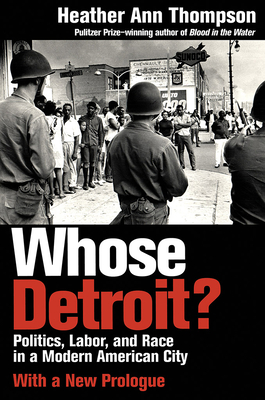 Whose Detroit? (Paperback)
Politics, Labor, and Race in a Modern American City (With a New Prologue)
Cornell University Press, 9781501709210, 304pp.
Publication Date: May 2, 2017
Other Editions of This Title:
Hardcover (4/1/2017)
Paperback (1/15/2004)
Hardcover (1/31/2002)
* Individual store prices may vary.
Description
In Whose Detroit?, Heather Ann Thompson focuses in detail on the African American struggles for full equality and equal justice under the law that shaped the Motor City during the 1960s and 1970s. Even after Great Society liberals committed themselves to improving conditions in Detroit, Thompson argues, poverty and police brutality continued to plague both neighborhoods and workplaces. Frustration with entrenched discrimination and the lack of meaningful remedies not only led black residents to erupt in the infamous urban uprising of 1967, but it also sparked myriad grassroots challenges to postwar liberalism in the wake of that rebellion. With deft attention to the historical background and to the dramatic struggles of Detroit's residents, and with a new prologue that argues for the ways in which the War on Crime and mass incarceration also devastated the Motor City over time, Thompson has written a biography of an entire nation at a time of crisis.