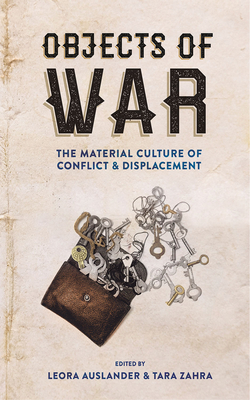 Objects of War (Paperback)
The Material Culture of Conflict and Displacement
Cornell University Press, 9781501720079, 348pp.
Publication Date: May 15, 2018
* Individual store prices may vary.
Description
Historians have become increasingly interested in material culture as both a category of analysis and as a teaching tool. And yet the profession tends to be suspicious of things; words are its stock-in-trade. What new insights can historians gain about the past by thinking about things? A central object (and consequence) of modern warfare is the radical destruction and transformation of the material world. And yet we know little about the role of material culture in the history of war and forced displacement: objects carried in flight; objects stolen on battlefields; objects expropriated, reappropriated, and remembered.
Objects of War illuminates the ways in which people have used things to grapple with the social, cultural, and psychological upheavals wrought by war and forced displacement. Chapters consider theft and pillaging as strategies of conquest; soldiers' relationships with their weapons; and the use of clothing and domestic goods by prisoners of war, extermination camp inmates, freed people, and refugees to make claims and to create a kind of normalcy.
While studies of migration and material culture have proliferated in recent years, as have histories of the Napoleonic, colonial, World Wars, and postcolonial wars, few have focused on the movement of people and things in times of war across two centuries. This focus, in combination with a broad temporal canvas, serves historians and others well as they seek to push beyond the written word.
Contributors:
Noah Benninga, Sandra H. Dudley, Bonnie Effros, Cathleen M. Giustino, Alice Goff, Gerdien Jonker, Aubrey Pomerance, Iris Rachamimov, Brandon M. Schechter, Jeffrey Wallen, and Sarah Jones Weicksel
About the Author
Leora Auslander is Professor of European Social History and Arthur and Joann Rasmussen Professor of Western Civilization at the University of Chicago. She is the author of Cultural Revolutions and Taste and Power. Tara Zahra is Professor of East European History at the University of Chicago. She is the author of Kidnapped Souls, The Lost Children, and The Great Departure.