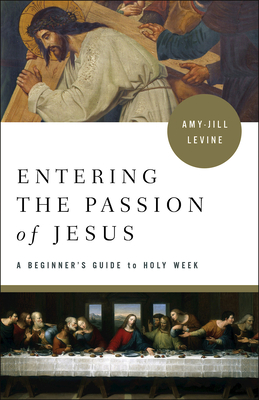 Entering the Passion of Jesus
A Beginner's Guide to Holy Week
Paperback

* Individual store prices may vary.
Description
Jesus' final days were full of risk. Every move he made was filled with anticipation, danger, and the potential for great loss or great reward. Jesus risked his reputation when he entered Jerusalem in a victory parade. He risked his life when he dared to teach in the Temple. His followers risked everything when they left behind their homes, or anointed him with costly perfume. We take risks as we read and re-read these stories, finding new meanings and new challenges. In Entering the Passion of Jesus: A Beginner's Guide to Holy Week, author, professor, and biblical scholar Amy-Jill Levine explores the biblical texts surrounding the Passion story. She shows us how the text raises ethical and spiritual questions for the reader, and how we all face risk in our Christian experience. Entering the Passion of Jesus provides a rich and challenging learning experience for small groups and individual readers alike. The book is part of a larger six-week study that is perfect for Lent and includes a DVD, and a comprehensive Leader Guide. The book's six chapters include: Jerusalem: Risking Reputation The Temple: Risking Righteous Anger Teachings: Risking Challenge The First Dinner: Risking Rejection The Last Supper: Risking the Loss of Friends Gethsemane: Risking Temptation.
Abingdon Press, 9781501869556, 144pp.
Publication Date: December 18, 2018