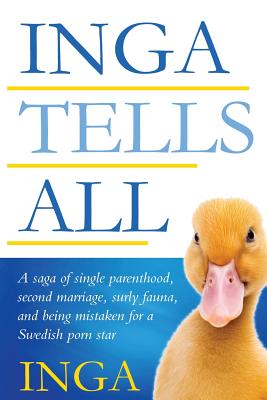 Inga Tells All
A saga of single parenthood, second marriage, surly fauna, and being mistaken for a Swedish porn star
Paperback

* Individual store prices may vary.
Description
"Hilariously irreverent."
"Fresh, new, and so relatable."
"Wickedly funny."
"Beautifully written...love the double entendres."
That's what folks are saying about Inga's writing-and, when you read her no-holds-barred personal memoir, you'll see why.
Inga Tells All: A Saga of Single Parenthood, Second Marriage, Surly Fauna, and Being Mistaken for a Swedish Porn Star is a rollicking autobiographical account of acclaimed journalist Inga's experiences with domestic life. Written under the same pen name used in her award-winning San Diego-based newspaper column "Let Inga Tell You," Inga Tells All encompasses everything from adoption, raising kids post-divorce, disastrous dates, and subsequent remarriage to technology, travel, a weight-sabotaging obsession with chocolate, and beyond.
But don't let these familiar topics fool you Inga's take on them is anything but typical. Her stories are full of surprises and are completely candid. They're sure to make you laugh out loud and approach the trials, tribulations, and errors in your own life with a sense of humor and a better understanding that you're not alone in your struggles.
So pour your favorite beverage and find that comfy chair. Inga Tells All will have you hanging on to every word and leave you wanting more from this maverick author.
Createspace Independent Publishing Platform, 9781502303868, 342pp.
Publication Date: November 6, 2014
About the Author
Inga is a freelance writer who's been penning pieces for newspapers and magazines for over forty years. Her column, "Let Inga Tell You," regularly appears in a San Diego-based newspaper and has been recognized by numerous awards, including the San Diego Press Club Excellence in Journalism Awards in Humor, Essay/Commentary/Opinion and Best (Overall) Column. It was also named Best Column by the California Newspaper Publishers Association in its circulation category. Inga has been operating under her current pen name for eight years, allowing her to maintain a certain degree of anonymity in her work, which affords her the freedom to unabashedly discuss every delicious detail of her personal life. Her debut title, Inga Tells All, goes a step further than her column has ever gone before and includes topics and text surely unsuitable for a family-oriented newspaper.