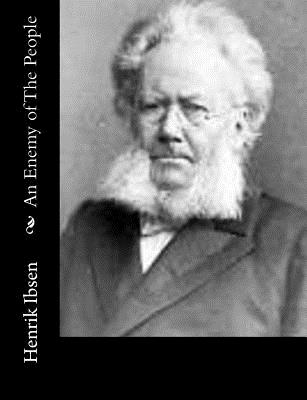 An Enemy of The People (Paperback)
Createspace Independent Publishing Platform, 9781502309877, 134pp.
Publication Date: September 9, 2014
Other Editions of This Title:
Digital Audiobook (6/14/2014)
Paperback (3/6/2020)
Paperback (7/4/2018)
Paperback (3/4/2020)
Paperback (11/27/2015)
Paperback (10/7/2019)
Paperback (3/4/2020)
Paperback (7/15/2011)
Paperback (11/28/2012)
Paperback (9/9/2019)
Paperback (12/6/2019)
Paperback (6/5/2019)
Paperback (9/5/2018)
Paperback (8/29/2010)
Paperback (12/31/2019)
Paperback (8/3/2018)
Paperback (6/17/2015)
Paperback (3/11/2020)
* Individual store prices may vary.
Description
"The strongest man in the world is the one who stands most alone." The plot of Ibsen's play is relevant more than 125 years after its 1882 publication. Natural springs found in a little Norwegian village are about to put the town on the map until a physician outs a powerful area business that is poisoning the water. Unfortunately, the media is complicit with local government in suppressing the study and when the scientist himself offers to lecture no one will rent him a forum. In short, when the scientist bucks local interests he becomes a pariah to the lightly-educated and easily-manipulated majority in the town, "an enemy of the people." Handier than the free PDFs on the web, this you can hold, bookmark, highlight and shelve. An inexpensive imperative for any history-, economics-, or political- buff.