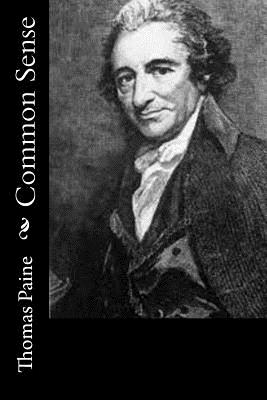 Common Sense
Paperback

* Individual store prices may vary.
Other Editions of This Title:
Paperback (10/14/2018)
Paperback (5/28/2013)
Paperback (11/8/2020)
Paperback (1/26/2020)
Paperback (3/17/2020)
Paperback (8/31/2020)
Paperback (11/10/2018)
Paperback (3/14/2020)
Paperback (9/1/2014)
Paperback, Large Print (8/31/2020)
Paperback (4/3/2019)
Paperback (11/14/2020)
Paperback (3/21/2021)
Description
Common Sense is a pamphlet written by Thomas Paine in 1775-76 that inspired people in the Thirteen Colonies to declare and fight for independence from Great Britain in the summer of 1776. In clear, simple language it explained the advantages of and the need for immediate independence. It was published anonymously on January 10, 1776, at the beginning of the American Revolution and became an immediate sensation. It was sold and distributed widely and read aloud at taverns and meeting places. Washington had it read to all his troops, which at the time had surrounded the British army in Boston. In proportion to the population of the colonies at that time (2.5 million), it had the largest sale and circulation of any book published in American history. Common Sense presented the American colonists with an argument for freedom from British rule at a time when the question of whether or not to seek independence was the central issue of the day. Paine wrote and reasoned in a style that common people understood. Forgoing the philosophical and Latin references used by Enlightenment era writers, he structured Common Sense as if it were a sermon, and relied on Biblical references to make his case to the people. He connected independence with common dissenting Protestant beliefs as a means to present a distinctly American political identity. Historian Gordon S. Wood described Common Sense as "the most incendiary and popular pamphlet of the entire revolutionary era." Four sections are noted on the title page, which quotes James Thomson's poem, "Liberty" (1735-36): Man knows no master save creating Heaven, Or those whom choice and common good ordain. -James Thomson, "Liberty" I. Of the Origin and Design of Government in general, with concise Remarks on the English Constitution Paine begins this section by making a distinction between society and government, and then goes on to consider the relationship between government and society in a state of "natural liberty." He next tells a story of a few isolated people living in nature without government, and explains that the people find it easier to live together rather than apart; thus, they create a society. As the society grows, problems arise, and the people meet to make regulations in order to mitigate the problems. As the society continues to grow, a government becomes necessary to enforce these regulations, which over time, turn into laws. Soon, there are so many people within the society that they cannot all gather in one place to make the laws, so they begin holding elections. This, Paine argues, is the best balance between government and society. Having created this model of what the balance should be, Paine goes on to consider the Constitution of the United Kingdom. Paine finds two tyrannies in the English constitution; monarchical and aristocratic tyranny, in the king and peers, who rule by heredity and contribute nothing to the people. Paine goes on to criticize the English constitution by examining the relationship between the king, the peers, and the commons. II. Of Monarchy and Hereditary Succession In the second section Paine considers monarchy first from a biblical perspective, then from a historical perspective. He begins by arguing that all men are equal at creation and, therefore, the distinction between kings and subjects is a false one. Several Bible verses are posed to support this claim. Paine then examines some of the problems that kings and monarchies have caused in the past and concludes: In England a king hath little more to do than to make war and give away places; which in plain terms, is to impoverish the nation and set it together by the ears. A pretty business indeed for a man to be allowed eight hundred thousand sterling a year for, and worshipped into the bargain Of more worth is one honest man to society and in the sight of God, than all the crowned ruffians that ever lived. -Thomas Paine.
Createspace Independent Publishing Platform, 9781502332851, 84pp.
Publication Date: September 11, 2014
About the Author
Thomas Paine (February 9, 1737 [O.S. January 29, 1736] - June 8, 1809) was an English-American political activist, philosopher, author, political theorist and revolutionary. As the author of two highly influential pamphlets at the start of the American Revolution, he inspired the Patriots in 1776 to declare independence from Britain. His ideas reflected Enlightenment-era rhetoric of transnational human rights. He has been called "a corsetmaker by trade, a journalist by profession, and a propagandist by inclination." Born in Thetford, England, in the county of Norfolk, Paine emigrated to the British American colonies in 1774 with the help of Benjamin Franklin, arriving just in time to participate in the American Revolution. His principal contributions were the powerful, widely read pamphlet Common Sense (1776) that advocated colonial America's independence from the Kingdom of Great Britain, and The American Crisis (1776-83), a prorevolutionary pamphlet series. Common Sense was so influential that John Adams said, "Without the pen of the author of Common Sense, the sword of Washington would have been raised in vain." Paine lived in France for most of the 1790s, becoming deeply involved in the French Revolution. He wrote the Rights of Man (1791), in part a defence of the French Revolution against its critics. His attacks on British writer Edmund Burke led to a trial and conviction in absentia in 1792 for the crime of seditious libel. In 1792, despite not being able to speak French, he was elected to the French National Convention. The Girondists regarded him as an ally. Consequently, the Montagnards, especially Robespierre, regarded him as an enemy. In December 1793, he was arrested and imprisoned in Paris, then released in 1794. He became notorious because of his pamphlet The Age of Reason (1793-94), in which he advocated deism, promoted reason and freethinking, and argued against institutionalized religion in general and Christian doctrine in particular. He also wrote the pamphlet Agrarian Justice (1795), discussing the origins of property, and introduced the concept of a guaranteed minimum income. In 1802, he returned to America where he died on June 8, 1809. Only six people attended his funeral as he had been ostracized for his ridicule of Christianity.