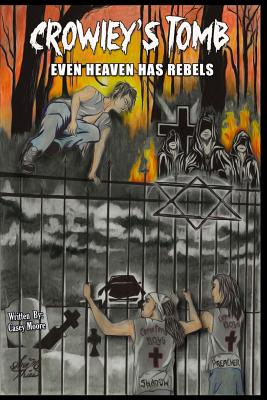 Crowley's Tomb
Even Heaven Has Rebels
Paperback

* Individual store prices may vary.
Other Editions of This Title:
Paperback (11/24/2014)
Description
The story you are about to experience is real The illustrations will be burned into your imagination. Come take a journey into the mind of madness, through the Chambers of Hell where no one can prepare you for what lurks in the darkness. Wandering the cemetery can be frightening; unfortunately, stumbling into the gates of Crowley's Tomb will be the most disturbing moments of your life. Here, there are no places to run. Your prayers will fall on deaf ears, your screams ignored. You can cry, you can hide, or you can beg for your soul to keep, but when the Devil calls, Death follows. It is said, "Heaven has Rebels" but on All Hallow's Eve at Crowley's Tomb, even the Devil was betrayed. The answer is in the blood A band of brothers will take you on a non-stop, heart-pounding ride through the underworld where the teenagers will battle against their own demons, the enemy and paranormal elements. You will witness the carnage of the Cemetery Boys' apocalyptic battle against Satan's Army. The cat is now out of the bag: the occult is real Lies of sadistic corruption will be uncovered at church. The Shadow Government's filth exposed. The truth rots in the back of your warped mind. You can no longer conceal sins Your taboo questions will be revealed by fear in the same breath. Your bone chilling conclusion determines whether you stand on the sidelines of good or the seductive evil empire. May God have mercy on your soul Oh yeah, what God? For at the hand of every dirty deed, evil has no end.
Createspace Independent Publishing Platform, 9781502388490, 322pp.
Publication Date: November 17, 2014
About the Author
With a refreshing, more sinister mind of madness, new creative author Casey J. Moore's purpose for your eternal nightmares is simple: I love telling the truth to the reader's mind, body and soul about the dirty deeds of mankind though a spine-chilling odyssey of horror. I feel the time is now for readers to enjoy new flavors of evil through the creation of relatable storylines, heroes, villains and clever endings. It's time for a new "fusion" writer (mystery, suspense, horror, and music infused with illustrations) to put horror back on the map. I am a firm believer that old, tired standards were meant to be broken. Are you ready for a change? A lifetime of experiences- from growing up in the foster care system and seeing the system fail kids who were born into unfortunate circumstances, to my own struggles with religion, surviving divorce and infidelity, as well as the many profound friendships over the years - helped shape me into the person I am today: honest, unafraid to speak the truth, compassionate, and someone who truly enjoys the simple pleasures in life! My journey has led me to my true passion: writing, which I look forward to sharing with you in many different genres. I reside in the beautiful Sarasota/Bradenton area of Florida, where I enjoy many passions: cooking, making new friends & developing relationships through FaceBook, football, dogs, meditation, motorcycles and working out. I am especially passionate about all things nature related, including spending time exploring the gulf beaches, boating, snorkeling, kayaking, camping, wildlife exploration and feeding the birds & squirrels. My biggest passion is writing while overlooking the serene Manatee River from my window. I was born in the Chicago area and lived in many states during my childhood. I spent many years living in Las Vegas, NV as an adult, where I owned popular Italian Restaurants/Pizzerias before returning to my true home - the incomparable Gulf Coast of Florida. I am 49, active, young at heart and embrace aging, which has helped fuel my passions!