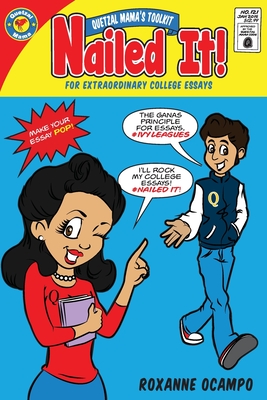 Nailed It!: Quetzal Mama's Toolkit for Extraordinary College Essays (Paperback)
Quetzal Mama's Toolkit for Extraordinary College Essays
Createspace, 9781502390028, 250pp.
Publication Date: October 25, 2014
About the Author
Quetzal Mama is the marketing brand and pen name of Roxanne Ocampo. She is an author, blogger, college admissions coach, and runs a non-profit college admissions program entitled, "Quetzal Mama Scholars." She is a Doctoral Fellow at the University of California at San Diego. Her research topic is "Undermatching" of California, Latina/o, high-performing, low-income, first generation high school students. Her work is grounded in Critical Race Theory and community stewardship. Her work has been featured on ABC News, Good Day Sacramento, and Sacramento & Co. She is a feature writer for several regional and national magazines. She provides strategic selective college admissions coaching for free to students who would not otherwise receive coaching. Her students are first generation, low-income, and historically underrepresented in higher education. Ninety percent of her students are pursuing STEM related majors (engineering and biological sciences). She is the proud mom of three incredible children attending Harvard, UC Santa Cruz, and one up-and-comer who aspires to be part of Cornell's Class of 2023.
Advertisement