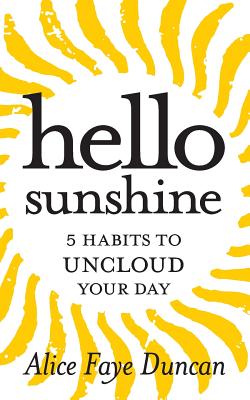 Hello, Sunshine (Paperback)
5 Habits to Uncloud Your Day
Createspace Independent Publishing Platform, 9781502421111, 36pp.
Publication Date: September 23, 2014
* Individual store prices may vary.
Description
This book is a HAPPY PILL for readers who must achieve their dreams under scattered clouds that sometimes block the sun. These 5 Habits will help readers manage stress, inspire their creativity and bring them joy. In five personal essays, Alice Faye Duncan, uses fodder from her childhood and 20 years as a professional writer to illustrate the power of gratitude, silence, benevolence, forgiveness and tenacity. These essays discuss the efficacy of each habit, while sharing humorous anecdotes from Alice's journey. No matter what the weather brings, this book will offer readers a burst of sunlight. HELLO, SUNSHINE includes a list of SUNNY DELIGHTS where readers will find movies, music and books to enlighten their perspective and brighten their mood. Each chapter begins with a power quote by historical figures like Alexander Graham Bell, Mother Teresa and Dr. King. Each chapter ends with an affirming Bible verse. Here is a tiny book that is power-packed with BIG principles and wisdom that will bless readers' lives, again and again. It is the first book in a Stress Management series published by Museum Creations Incorporated (MCI). This series was created for readers who want to keep themselves moving forward as they tackle the challenges of work, family, entrepreneurship and artistic ambitions. Don't hoard the sunshine. Share these habits with others until your home, your job, and this great big world is a happy place to be.
About the Author
Alice Faye Duncan is a librarian who writes books for children and adults. She is an active member of the American Library Association (ALA) the National Education Association (NEA) and the Society of Children's Book Writers and Illustrators (SCBWI). HELLO SUNSHINE is her first book for adults. HONEY BABY SUGAR CHILD is her book for young readers. When she is not writing, Alice collects art, visits art museums and plays Scrabble.