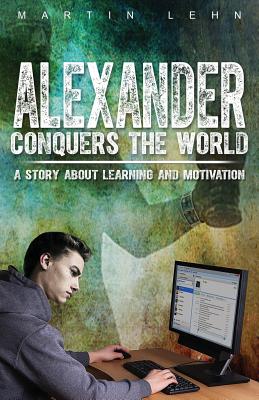 Alexander Conquers the World (Paperback)
A Story about Learning and Motivation
Createspace Independent Publishing Platform, 9781502531858, 300pp.
Publication Date: October 24, 2014
* Individual store prices may vary.
Description
When teenaged Alexander meets the mysterious teacher Chiron, it marks the beginning of an intellectual journey that will change his life. Alexander becomes fascinated by the man's breadth of knowledge and begins to realize that there is more to life than playing computer games and, more importantly, realizes that Chiron can teach him how to succeed.
In Alexander Conquers the World, Martin Lehn offers his reading audience a wealth of knowledge, wisdom, humor, and understanding of what it takes to motivate young people to learn and succeed in life. He does this in the form of clever multigenre fiction composed of authorial narrative, as well as emails and computer chats between Alexander and Chiron. The result is a fascinating look at what can happen when a complete stranger voluntarily takes on the role of mentor to a teenage boy trying to discover who he is and where he is going in life. Each chapter focuses on one key to success. The story follows Alexander's intellectual and emotional growth as he struggles to understand how motivation, mindset, sleep, exercise, willpower, habits, and diet are vital to successful learning. At times resistant to complying with Chiron's "assignments" and "missions," Alexander gradually understands that this mysterious man is teaching and sharing ideas far beyond what he has learned in school.
Recommended for everyone in pursuit of student success
Besides being an entertaining read, this multifaceted book can serve a variety of educational purposes. High school teachers can use it as supplemental reading for social studies, personal health, and psychology courses. The book can also be useful at the college level for entering freshmen trying to find their way around the often-confusing college campus, whether it involves academic pursuits, social endeavors, or personal relationships.
Alexander Conquers the World is sure to find a home on the shelves of teachers, students, and anyone else interested in educational fiction as an alternative to direct, didactic instruction. Offering a wealth of knowledge on a variety of subjects, this unique book definitely has a place in high school and college libraries, as well as on the reading list of anyone between the ages of twelve and eighteen who wants to get the most out of life.
About the Author
Martin Lehn was a graduate student in theoretical physics when he realized that his interest in the mental universe and the nature of learning had exceeded his interest in the physical universe. This inspired him to study for and receive his degree in education. He followed up with a master's degree in education, specializing in the field of educational psychology. While working as a high school teacher in Norway, Martin continues his pursuit of exploring how students can achieve their greatest learning potential.