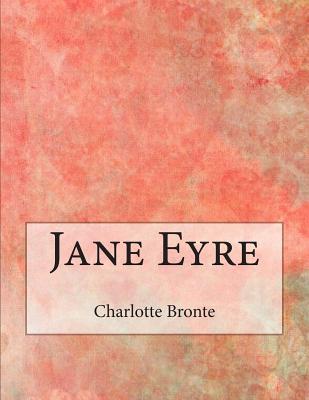 Jane Eyre
Paperback

* Individual store prices may vary.
Other Editions of This Title:
Paperback, Swedish (12/13/2014)
Paperback (3/17/2011)
Paperback (3/4/2014)
Paperback (10/5/2012)
Paperback (3/17/2011)
Paperback (7/3/2012)
Paperback (9/7/2018)
Paperback (2/8/2015)
Paperback (2/16/2011)
Paperback (2/16/2011)
Paperback, French (7/18/2014)
Paperback (5/25/2007)
Paperback (7/26/2013)
Paperback (12/5/2013)
Paperback (4/5/2011)
Hardcover (9/8/2015)
Description
Jane Eyre is a novel by English writer Charlotte Bront . It was published on 16 October 1847 by Smith, Elder & Co. of London, England, under the pen name "Currer Bell." The first American edition was released the following year by Harper & Brothers of New York. Primarily of the bildungsroman genre, Jane Eyre follows the emotions and experiences of its title character, including her growth to adulthood, and her love for Mr. Rochester, the Byronic master of fictitious Thornfield Hall. In its internalisation of the action - the focus is on the gradual unfolding of Jane's moral and spiritual sensibility and all the events are coloured by a heightened intensity that was previously the domain of poetry - Jane Eyre revolutionised the art of fiction. Charlotte Bront has been called the 'first historian of the private consciousness' and the literary ancestor of writers like Joyce and Proust. The novel contains elements of social criticism, with a strong sense of morality at its core, but is nonetheless a novel many consider ahead of its time given the individualistic character of Jane and the novel's exploration of classism, sexuality, religion, and proto-feminism. The novel Jane Eyre is a first-person narrative of the title character. The novel is set somewhere in the north of England, during the reign of George III (1760-1820), and goes through five distinct stages: Jane's childhood at Gateshead Hall, where she is emotionally and physically abused by her aunt and cousins; her education at Lowood School, where she acquires friends and role models but also suffers privations and oppression; her time as the governess of Thornfield Hall, where she falls in love with her Byronic employer, Edward Rochester; her time with the Rivers family, during which her earnest but cold clergyman cousin, St John Rivers, proposes to her; and the finale with her reunion with, and marriage to, her beloved Rochester. During these sections the novel provides perspectives on a number of important social issues and ideas, many of which are critical of the status quo (see the Themes section below). Literary critic Jerome Beaty notes that the close first person perspective leaves the reader "too uncritically accepting of her worldview" and often leads reading and conversation about the novel towards supporting Jane, regardless of how irregular her ideas or perspectives. Charlotte Bront (21 April 1816 - 31 March 1855) was an English novelist and poet, the eldest of the three Bront sisters who survived into adulthood and whose novels have become classics of English literature. She published her best known novel, Jane Eyre, under the pen name Currer Bell.
Createspace Independent Publishing Platform, 9781502571618, 272pp.
Publication Date: September 30, 2014