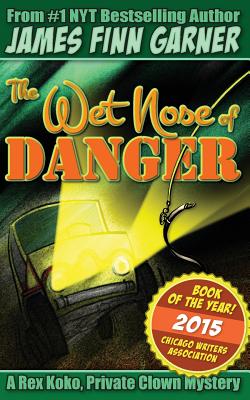 The Wet Nose of Danger (Paperback)
Createspace Independent Publishing Platform, 9781502592705, 254pp.
Publication Date: October 3, 2014
* Individual store prices may vary.
Description
From the international best-selling author of Politically Correct Bedtime Stories comes a new mystery genre: Clown noir In Top Town, a ghetto full of washed-up circus lifers in the shadow of a big city, audiences come every night for cheap thrills, both wholesome and not. Fire eaters perform for gin money. Gypsies reveal the future (and for 20 bucks can make it happen). Daredevils cheat Death time after time, but once. And witness to it all is one of the most loved and notorious figures in Top Town, a tough joey with a deadly past and a nose for picking all the wrong fights: Rex Koko, private clown. The Wet Nose of Danger yanks our hero out of his element when he is hired by a high society dame to get to the bottom of a dognapping epidemic among the show dogs at the kennel club. At the same time, he is asked to hunt down two missing sideshow freaks. Where do his loyalties lie -- with the blue-bloods who will never accept him, or with the kinkers who will never forgive him for a past tragedy? Add to the mix transvestite mobsters, rogue elephant seals, midget policemen, randy joey-jumpers, fugitive Nazis, and a dangerous face-off on the docks of Marseilles, and you have a gripping, hilarious thriller that won't stop humping your leg. Pistols Palookas Pampered pooches As e.e. cummings said, "Damn everything, but the circus
About the Author
James Finn Garner is best known as the author of Politically Correct Bedtime Stories, which was a #1 New York Times best-seller, and its two sequels, Once Upon a More Enlightened Time and Politically Correct Holiday Stories, both of which were also NYT best-sellers. The first book of this trilogy has been translated into more than 25 languages, and they are all enjoyed around the world, including China, Japan, Poland, Indonesia and Iran. His other books include Tea Party Fairy Tales, Apocalypse WOW! and Recut Madness: Favorite Movies Retold for Your Partisan Pleasure. His latest work is the clown noir mystery series starring "Rex Koko, Private Clown": Honk Honk, My Darling (2011 Nontraditional Book of the Year, Chicago Writers Association); Double Indignity; and The Wet Nose of Danger. These hard-boiled, big-shoed thrillers are available in print and electronic editions. In addition, Honk Honk, My Darling is available as a dramatic podcast. Check out RexKoko.com for more information and a face full of fizz water. Garner's writing has been published in The New York Times, Playboy, TV Guide, and The Wall Street Journal, among others. A former columnist for Chicago Magazine, his essays and stories have been broadcast on National Public Radio and the British Broadcasting Corporation. He is also a performer and a noted public speaker. He is the co-founder and custodian of Bardball.com, a website that aims to resurrect the art of baseball doggerel. Bardball is a fan-driven site that publishes new poetry every weekday during the regular season, and welcomes reader submissions, both lofty and lascivious.