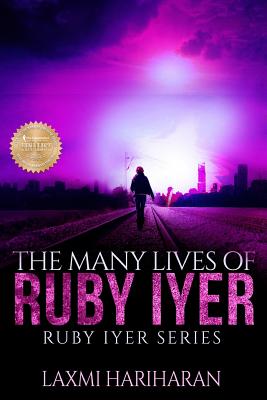 The Many Lives of Ruby Iyer (Paperback)
Createspace Independent Publishing Platform, 9781502773777, 308pp.
Publication Date: November 5, 2014
* Individual store prices may vary.
Description
When her best friend is kidnapped, Ruby will stop at nothing to rescue him. Criminals run the streets of Bombay. Jam-packed with the worst degenerates. The city is a shell of the pride and joy it used to be. Ruby knows something must be done, but it isn't until her best friend is kidnapped by the despotic Dr Braganza that she knows that she and she alone must save city, save her best friend, save the world from total destruction. Armed only with Vikram, a cop-turned-rogue they are about to embark on a road they may never return from. If you're looking for fast-paced books like Hunger Games or dystopia fiction like Angelfall, the Ruby Iyer series is perfect for you. ______________________________________________________________ THE BESTSELLING DYSTOPIA SERIES EVERYONE'S TALKING ABOUT If you're looking for books like Hunger Games, then this dystopia romance, The Many Lives of Ruby Iyer is it. From the bestselling dystopian fiction author with over 200 reviews and ratings of her dystopia books across Goodreads, Amazon and other retailers. If you love books like Divergent, this is for you. "Laxmi is a storyteller who knows how to build worlds populated with endearingly down to earth bravehearts." - Inma Martinez, world leading digital media strategist. ..".A dystopian young adult novel that presents so much more than a singular, easy path." - D. Donovan, (Midwest Book Reviews) 2015 Readers' Favorite, Bronze Medal Winner in the Young Adult - Action category. YOUNG ADULT FINALIST at 2015 IAN Book of the Year Awards. FINALIST, 9th Annual Indie Excellence Awards.
About the Author
She almost died. But when dystopia romance author Laxmi Hariharan had a near death experience, she was told to write. Laxmi is the creator of dystopian romance series, RUBY IYER SERIES (The MANY LIVES OF RUBY IYER - FINALIST Indie Excellence Awards, 2015 Readers' Favorite, winner in the Young Adult - Action category - FINALIST 2015 IAN Book Of the Year awards. Also the bestselling The RUBY IYER DIARIES & The FIRST LIFE OF VIKRAM ROY), and the Amazon bestselling, eLit Gold winner, The Destiny of Shaitan (Bombay Chronicles, 1). If you're looking for books like Divergent and Angelfall, you'll love the RUBY IYER SERIES. Laxmi writes books similar to Hunger Games while listening to electronica & progressive rock, and downing innumerable cups of extra sweet ginger-chai. She is also an avid photographer of street art and believes she was a tree -- a redwood -- in her past life. London is where she creates. Bombay is what fires her imagination. Receive a free copy of THE RUBY IYER DIARIES when you sign up to her newsletter here http: //bit.ly/RubyIyerDiariesAmazon Reach Laxmi, on Facebook https: //www.facebook.com/laxmihariharanauthor on Twitter https: //twitter.com/laxmi on Instagram http: //www.instagram/com/laxmiwrites