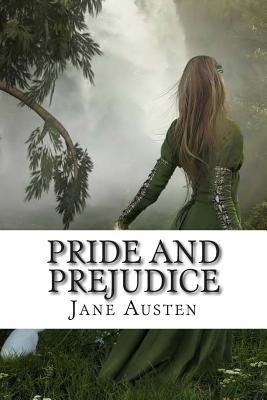 Pride and Prejudice (Paperback)
Createspace Independent Publishing Platform, 9781502793775, 298pp.
Publication Date: October 11, 2014
Other Editions of This Title:
Paperback (9/1/2004)
Paperback (9/11/2015)
Paperback (12/19/2012)
Paperback (7/30/2008)
Paperback (5/31/2010)
Paperback (9/8/2014)
Paperback (2/6/2015)
Paperback (12/8/2012)
Paperback (5/1/2015)
Paperback (8/12/2010)
Paperback (8/28/2015)
Paperback (10/13/2015)
Paperback (1/28/2013)
Paperback (12/17/2011)
Paperback (6/27/2012)
Paperback (6/6/2013)
Paperback (3/23/2015)
Paperback (9/25/2014)
Paperback (8/11/2010)
* Individual store prices may vary.
Description
The novel centres on Elizabeth Bennet, the second of the five daughters of a country gentleman. Mr Bennet is a bookish man, and somewhat neglectful of his responsibilities. Mrs Bennet is a woman lacking in social graces and primarily concerned with finding suitable husbands for her five daughters. Jane Bennet, the eldest daughter, is distinguished by her kindness and beauty; Elizabeth Bennet shares her father's keen wit and occasionally sarcastic outlook; Mary is not pretty, but is studious, devout and musical albeit lacking in taste; Kitty, the fourth sister, follows where her younger sister leads, while Lydia is flirtatious and unrestrained. The narrative opens with news in the Bennet family that Mr Bingley, a wealthy, charismatic and sociable young bachelor, is moving into Netherfield Park in the neighbourhood. Mr Bingley is soon well received, while his friend Mr Darcy makes a less favourable impression by appearing proud and condescending at a ball that they attend (he detests dancing and is not much for light conversation). Mr Bingley singles out Jane for particular attention, and it soon becomes apparent that they have formed an attachment to each other, though Jane does not alter her conduct for him, confessing her great happiness only to Lizzie. By contrast, Darcy slights Elizabeth, who overhears and jokes about it despite feeling a budding resentment. On paying a visit to Mr Bingley's sister, Caroline, Jane is caught in a heavy downpour, catches cold, and is forced to stay at Netherfield for several days. Elizabeth arrives to nurse her sister and is thrown into frequent company with Mr Darcy, who begins to act less coldly towards her. Mr Collins, a clergyman, and heir to the Bennet estate, pays a visit to the Bennets. Mr Bennet and Elizabeth are much amused by his obsequious veneration of his employer, the noble Lady Catherine de Bourgh, as well as by his self-important and pedantic nature. It soon becomes apparent that Mr Collins has come to Longbourn to choose a wife from among the Bennet sisters (his cousins) and Elizabeth is singled out. She instead forms an acquaintance with Mr Wickham, a militia officer who relates having been very seriously mistreated by Mr Darcy, despite having been a godson and favourite of Darcy's father. This insight and her attraction to Mr Wickham increase Elizabeth's dislike of Mr Darcy. At a ball given by Mr Bingley at Netherfield, Mr Darcy becomes aware of a general expectation that Mr Bingley and Jane will marry, and the Bennet family, with the exception of Jane and Elizabeth, make a public display of poor manners and decorum. The following morning, Mr Collins proposes marriage to Elizabeth, who refuses him, much to her mother's distress. Mr Collins recovers and promptly becomes engaged to Elizabeth's close friend Charlotte Lucas, a homely woman with few prospects. Mr Bingley abruptly quits Netherfield and returns to London, devastating Jane, and Elizabeth becomes convinced that Mr Darcy and Caroline Bingley have colluded to separate him from Jane.