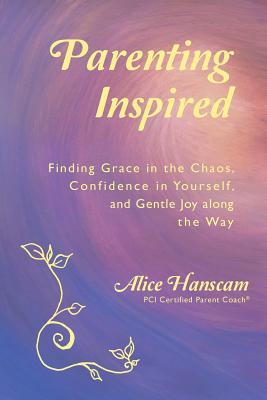 Parenting Inspired (Paperback)
Finding Grace in the Chaos, Confidence in Yourself, and Gentle Joy Along the Way
Createspace Independent Publishing Platform, 9781502804488, 130pp.
Publication Date: March 16, 2015
* Individual store prices may vary.
Description
Along with life's greatest joys, parenting also brings life's greatest challenges-leaving many parents overwhelmed, concerned, or frustrated over a difficult stage, wondering if things can ever be better. Creating positive, lasting change feels impossible; enjoying the family life and relationships they dream of seems unreachable.
No matter the struggles you're facing, it is possible to nurture healthy, positive relationships with the children in your life and feel calm and confident as a parent. The empowering method of Appreciative Inquiry, used by PCI Certified Parent Coaches(R) in their work with families, empowers parents to strengthen themselves, their family relationships, and experience grace in all the chaos parenting can bring, more confidence in themselves, and greater joy along the way.
The first ever parenting book to incorporate the life-changing methodology of Appreciative Inquiry, this valuable read also looks at the real-life experiences of author Alice Hanscam, CPC, and her many years as both a parent and certified parent coach.
Through inspiring stories of three different families, and concrete steps you can take to begin the process of change, Parenting Inspired contains everything a parent needs to navigate the often overwhelming experience of raising a child and grow the kind of relationships they truly strive for.
About the Author
For more than thirty years, Alice Hanscam, CPC, has worked with parents and children in a multitude of ways. The owner of Denali Parent Coaching, LLC, she is a PCI Certified Parent Coach(r) and a ScreamFree Certified Leader who brings a strong background in child development, extensive parent-coach training, and an inspiring depth of knowledge and experience into her work with families. Alice currently lives in Alaska with her husband, Mike, and delights in being a parent of two beautiful adult daughters. She continues to be dedicated to helping parents and families thrive through her work as an inspirational writer, speaker, coach, and mentor.
Praise For Parenting Inspired: Finding Grace in the Chaos, Confidence in Yourself, and Gentle Joy Along the Way…
"Alice Hanscam blends beautifully her work as a PCI Certified Parent Coach® and Certified ScreamFree Leader to bring this inspiring self-coaching book to parents that can encourage and empower them to do the hard work of creating the positive change they want. The coaching process she guides us through is thoughtful, practical, and filled with stories parents can relate to—a treasure of a book!" (Hal Edward Runkel, LMFT, author of NYT Bestseller ScreamFree Parenting)

"Among parenting experts, Alice Hanscam distinguishes herself as profoundly wise, empathetic, and encouraging. Alice is the insightful, supportive friend parents need in their corner in times of indecision or struggle. Her wisdom and positive world view are gifts which allow parents to proceed on their chosen journey with poise and confidence." -Janet Lansbury, author of Elevating Child Care and No Bad Kids

"Alice speaks from her big heart, both as a mother and as a parent coach. She expertly takes parents on a reflective journey through the phases of Appreciative Inquiry while sharing real-life stories of her own and of her clients. Readers experience first-hand the positive results of her compassionate caring and wise techniques. Inspired parenting, indeed!" --Gloria DeGaetano, founder, The Parent Coaching Institute

"This book has left a lasting impression on me. At first I read it through the eyes of an educator, but soon found myself reflecting upon my years as a young mother and current years as a grandmother. Alice's "voice" resonated as I read each chapter. The mantra, "what you focus on grows" continues to be at the forefront of my thinking. I'm reminded that the power of pause is essential and that self-care is needed to invest in myself and my family. I appreciated the heartwarming stories of parents making intentional changes in their lives. Alice's writing style gently guides her readers to think differently." (Patricia Clem, Educator)

"The problem with being a parent is the job doesn't come with a manual. Something happens, and in the minute when we have to respond to our child's behavior we respond from our gut. Many times what comes out of our mouths leaves us feeling like inept and even bad parents. Yet we can't figure out what else to do or say. Parenting Inspired is the answer. Alice Hanscam's new book helps parents move from "What should I do?" to "I know what I want to have happen" and make it a reality. It's a readable, doable framework from which you can grow into the parent you always wanted to be and have the relationship with your children that you always dreamed about." --Rhonda Moskowitz, M.A., PCI Certified Parent Coach®, founder of Practical Solutions Parent Coaching

"Journey is the word I often use to describe my life's transformation from less distracted to more lovingly connected. Some might even call my experience an "inspired parenting journey". Little did I know there was a step-by-step guide that has helped many people create the lasting change I've experienced on my journey until I read Parenting Inspired: Finding Grace in the Chaos, Confidence in yourself, & Gentle Joy Along the Way. As I read the pages of Alice Hanscam's enlightening book, I felt like I was reading the perfect companion guide to my life's transformation. Many of the concepts that Alice illustrates in the book (like focusing on the positive, the power of the pause, and the importance of self care) have been critical to the success of my journey. Alice goes a step further by providing highly relatable examples, sample dialogues, and practical exercises based on her experience as a PCI Parenting Coach. Her in-depth instruction allows readers to implement loving practices into everyday life and reflect on the positive changes that are occurring. After working through this excellent resource, anyone can come away feeling less alone and more hopeful for the calm, connection, and confidence we all yearn for in life." (Rachel Mary Stafford, author of Hands Free Mama and Hands Free Life)

"I loved this book for many reasons. There are few books on parenting that focus on what IS working and how to increase the joy in your family. Alice uses the powerful approach of Appreciative Inquiry with parents and the stories she tells will encourage any parent to try the process for themselves. In fact, she takes parents through the process, step by step. Additionally, the book is a great resource for coaches to use with their clients. I love how the book is so specific in the exercises and activities. It's not a dry "how-to" manual. Definitely not. It's a story book, how-to book and encouraging, hope-filled book. You'll feel as though Alice is right there with you, coaching you through your strengths and helping you bring out the best in you and your family." (Amazon Customer)

"As parents, Alice has gently set us on the relationship path we envision for our family, helped us realize we are not alone in our day to day struggles and provided the simplest of tools that will last throughout our parenting journey. With her guidance what used to be explosive situations are defusing much more quickly and everyday battles are evolving into calm, even fun routines. Parenting Inspired has helped us learn how to move more smoothly through the chaos and be the calming presence our child needs as he navigates huge emotions and experiences life changes." (Theresa Buckley Perez, parent)