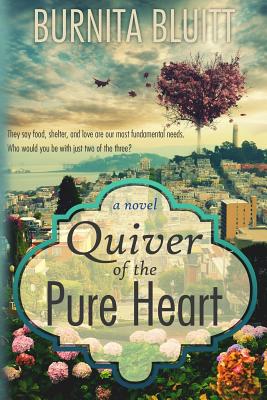 Quiver of the Pure Heart (Paperback)
Createspace Independent Publishing Platform, 9781502835277, 274pp.
Publication Date: October 14, 2014
Other Editions of This Title:
Paperback (10/22/2014)
Paperback (9/24/2014)
* Individual store prices may vary.
Description
Quiver of the Pure Heart: Love, Corruption & Gentrification Collide; as New Novel Uncovers Family 'Secrets' During Heroine's San Francisco Displacement. A romantic suspense novel set in San Francisco, 1989. Twenty-eight year old Blis Dumas' peaceful life and sense of security becomes the target of a well-crafted scheme. Blis Dumas fears a repeat of the 1950-60s, redevelopment that took place displacing primarily African-American residents from the Western Addition's Fillmore District, their "Harlem of the West." Her world crumbles as she is notified that her own Victorian home, inherited from her grandfather, is in jeopardy of demolition by the San Francisco Redevelopment Bureau and she must sell to them...or so she thinks. She uncovers family secrets that reveal her problem is much closer to home. Blis fights to save the home she adores; fights the temptation of an incorrigible former lover; and fights the threat to a tender, new, budding romance. Blis loves San Francisco, but like any love relationship, it is where her emotions will be tested, where passions will live and die, and where people are not always as they seem. QUIVER OF THE PURE HEART will appeal to readers that appreciate domestic settings to illuminate the universal themes of forgiveness, compassion, and letting go. Burnita Bluitt's 'Quiver of the Pure Heart' is one of the few novels on the market to shine a very urgent real-world spotlight on the topic of gentrification and urban displacement. However, heroine Blis Dumas quickly learns that she faces things that are far more complicated than just relocation. The discovery of family secrets reveals that the problems being created by the San Francisco Redevelopment Agency are chillingly personal, with forgiveness and compassion about to become her weapons of choice. In 1948, San Francisco's Fillmore District was designated a redevelopment area, sparking tumultuous decades in which, according to city officials, 883 businesses were shuttered, 4,729 households were forced out, and roughly 2,500 Victorian homes were demolished. While this unfortunate gentrification may sound like a historical mistake, metro cities across the nation are currently facing similar fates. It's a subject that rarely makes it into fiction, but one Burnita Bluitt tackles with gusto in her latest novel. "Blis is a microcosm of the fear, pain and love that exists in everyone, along with their innate ability to overcome it," explains Bluitt. "These emotions and coping strategies are called on by everyone falling victim to gentrification, and I believe my novel is the first to depict love and loss from this unique perspective." Continuing, "It's a historical and present epidemic in many areas and presents a huge test to each individuals' tenacity and strength. Those who thought they had neither often discover that they are incredibly strong and resilient. But I'm not saying it's easy; far from it. I hope my work raises awareness of the grassroots struggles faced by those being displaced. It's a toxic issue rarely addressed.
About the Author
Burnita Bluitt writes and resides in the San Francisco Bay Area. Now retired from working in the administration of Silicon Valley companies such as McKinsey & Co., Merrill Lynch, and Google, she indulges her love for, and curiosity about, San Francisco's rich history and architecture. Her debut novel, Quiver of the Pure Heart, began as a love-letter to San Francisco's painted ladies. However, after uncovering the Western Addition Victorian's dark history, she felt compelled to shine a light on their tragic past. Her book's story is fiction, but the history is not. Corrupt officials left an indelible impact on the Fillmore community, which is still felt today.