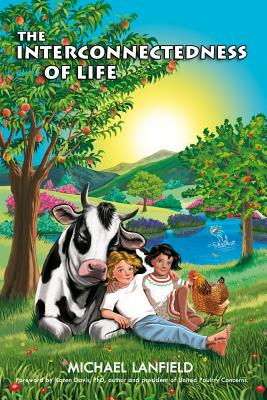 The Interconnectedness of Life (Paperback)
New Edition 2015
Createspace Independent Publishing Platform, 9781502892195, 174pp.
Publication Date: December 6, 2014
* Individual store prices may vary.
Description
We need to realize that we are interconnected with one another and that we depend on one another for survival. We must love one another unconditionally to survive. Love not only includes humans but all beings. No one is ever excluded, as unconditional love means, by definition, that there are no conditions when it comes to whom or what we love. The Interconnectedness of Life explores humanity's transformation fro living by killing into living by loving. If we want to live in a more harmonious, loving and compassionate world amongst animals, the earth and one another, we have to awaken to our true selves and realize the underlying reasons for the many human-made problems, that it is the animal foods on our plates and the solution to the problem which is to live vegan. Until we come to the realization that nonhuman animals are not here for us, but rather here with us, and realize that we need to stop seeing them as property, there will never be peace and love on this earth. If the bloodshed towards innocent creatures prevails - wars, environmental devastation, world hunger, disease, and sickness are inevitable.
Year: 2014 (2015 Newly Revised Edition) Cover Drawings: Raffaella Cosco Title Design: Michael Lanfield Foreword: Karen Davis, PhD Publisher: We Are Interconnected Films.
About the Author
The #1 Amazon best-selling author of The Journey, educator, and filmmaker, Michael Lanfield is a certified World Peace Diet facilitator. Inspired and taught by Dr. Will Tuttle, his talks are informative, inspiring and interactive. He is also the author of The Interconnectedness of Life, and The Lost Love. He is the founder of the non-profit organizations, We Are Interconnected Films and The Vegan Sandwich. Karen Davis, PhD is the president and founder of United Poultry Concerns, a nonprofit organization that promotes the compassionate and respectful treatment of domestic fowl including a sanctuary for chickens on the Eastern Shore of Virginia. She has written numerous essays and books including, Prisoned Chickens, Poisoned Eggs: An Inside Look at the Modern Poultry Industry; More Than a Meal: The Turkey in History, Myth, Ritual, and Reality; Instead of Chicken, Instead of Turkey: A Poultryless "Poultry" Potpourri; A Home for Henny; and The Holocaust and the Henmaid's Tale: A Case for Comparing Atrocities.