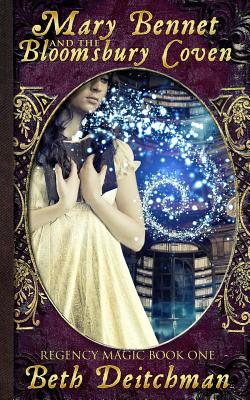 Mary Bennet and the Bloomsbury Coven
Regency Magic Book One
Paperback

* Individual store prices may vary.
Description
The last Bennet daughter remaining at Longbourn, Mary leads a quiet life in Hertfordshire, where gossip about the intriguing new vicar provides the only entertainment. Having developed a taste for novels, Mary lives vicarious adventures through their heroines. But when a mysterious book arrives addressed to her, she embarks on a magical and thrilling adventure of her own. In London she meets Mr. Hartbustle, a charming old bookseller, who invites her to a meeting of the famed Bloomsbury Coven. There she learns about their dreadful enemy, known only as the Glastonbury Sorcerer, who has stolen a very powerful book of spells. Before long Mary finds herself at the center of a deadly war between light and dark forces. Set in Jane Austen's England a year after the events of Pride and Prejudice, Mary Bennet and the Bloomsbury Coven is the first book of the Regency Magic Series, whimsical tales of magic and manners published by Luminous Creatures Press.
Createspace Independent Publishing Platform, 9781502905185, 224pp.
Publication Date: October 19, 2014
About the Author
Beth Deitchman wrote her first book in third grade. Since then she has also had short-lived but very entertaining careers as a dancer, a university lecturer, and an actor. These days she writes and teaches Pilates in Northern California where she lives with her husband, Dave and dog, Ralphie.