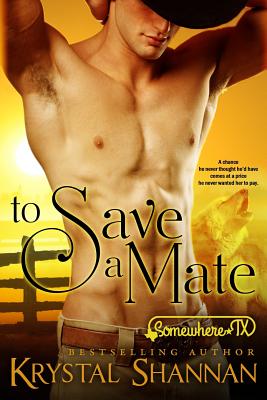 To Save a Mate (Paperback)
Somewhere, TX Volume 1
Createspace Independent Publishing Platform, 9781503014114, 160pp.
Publication Date: November 6, 2014
Description
A chance he never thought he'd have comes at a price he never wanted her to pay What do you do when everything you thought was real turns out to be a lie? How do you pick yourself up and move on? Move past the pain? Kara McClure is living the perfect life. A great boyfriend, supportive loving parents, and a full ride to John McAdams University on a scholarship. What could go wrong? But something always does. When tragedy hits, you're supposed to be able to count on those closest to you for support. Kara turns to the love of her life, Vincent Harris, only to find him supporting the nether lips of her sorority sister. Luke VonBrandt is a business college student with a secret no one can know. When an accident threatens the life of an innocent girl he's secretly loved since high school, he risks everything to give her a second chance on life, even exposing the truth about what he is. The blue-eyed beauty haunts his dreams and her scent is all he can think about. Luke's wolf insists he find a way to claim her as his own. But Kara's broken heart will fight him every step of the way.
About the Author
You Can Find Out More @ www.krystalshannan.com Krystal Shannan goes to sleep every night dreaming of mythical realms with werewolves, vampires, fae, and dragons. Occasional a fabulous, completely human story slips into the mix, but powers and abilities usually crop up without fail, twisting reality into whatever her mind can conceive. As a child, her parents encouraged her interests in Ancient Greek and Roman mythology and all things historical and magickal. As an adult, the interests only grew. She is a child of Neverland and refuses to ever stop believing in fairies. She is guilty of indulging in and being a Buffy the Vampire Slayer groupie as well as an Angel fan. For those of you unfamiliar with the world of Joss Whedon, you are missing out! She also makes sure to watch as many action and adventure movies as possible. The more exciting the better. Yippee-Ki-Yay..... If you don't know the end of that phrase, then you probably don't like the same movies. She enjoys reading romance in all genres, but especially paranormal. Her favorite book is ACHERON by Sherrilyn Kenyon. But really, if it has a 'Happily Ever After', she's on board! Krystal writes stories full of action, snark, magick, and heart-felt emotion. If you are looking for leisurely-paced sweet romance, her books are probably not for you. However, for those looking for a magickal ride, filled with adventure, passion, and just a hint of humor. Welcome home.
Advertisement