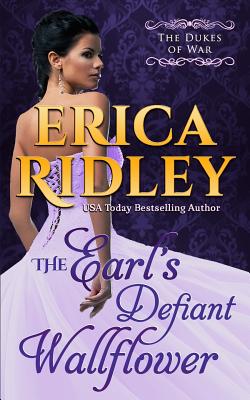 The Earl's Defiant Wallflower (Paperback)
Createspace, 9781503198623, 170pp.
Publication Date: November 26, 2014
Description
Oliver York returns from war to find his father dead, his finances in arrears, and himself the new Earl of Carlisle. If he doesn't marry an heiress-and fast -he and his tenants are going to be pitching tents down by the Thames. He definitely shouldn't be trading kisses with a penniless debutante... no matter how captivating she is Miss Grace Halton is in England just long enough to satisfy the terms of her dowry. But a marriage of convenience isn't as easy as she'd hoped. Back in America, her ailing mother needs medicine only Grace's dowry can afford. Which means the dashing earl she can't get out of her mind is the one man she can't let into her heart.
About the Author
Erica Ridley learned to read when she was three, which was about the same time she decided to be a writer when she grew up. Now, she's a USA Today best-selling author of historical romance novels. Her latest series, The Dukes of War, features roguish peers and dashing war heroes who return from battle only to be thrust into the splendor and madness of Regency England. When not reading or writing romances, Erica can be found riding camels in Africa, zip-lining through rainforests in Costa Rica, or getting hopelessly lost in the middle of Budapest.
Advertisement