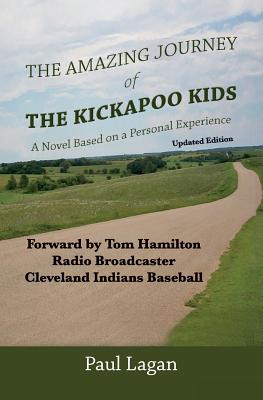 The Amazing Journey of the Kickapoo Kids (Paperback)
A Novel based on a Personal Experience (Updated Edition)
Createspace Independent Publishing Platform, 9781503224469, 386pp.
Publication Date: May 27, 2015
* Individual store prices may vary.
Description
Small-town heroes are born and legends are made in Paul Lagan's inspirational story, The Amazing Journey of the Kickapoo Kids: A Novel Based on a Personal Experience.
Stretching along a twisting 120-mile stream from northern Wisconsin to the Wisconsin River lies the Kickapoo Valley. The 1940s haven't been kind to Millersville and the other small towns sprinkled along the river banks. The devastating aftermath of the Great Depression and World War II still hang like a black cloud over the area. Although hard work is their inheritance, inhabitants manage to find relief in one of America's most sacred pastimes-baseball.
Out of this unlikely setting evolves a group of courageous kids who are destined to challenge the record books and immortalize high school baseball history in Wiscconsin.
There are no divisions in high school sports in the 1940s and 1950s, so tiny Millersville is forced to compete against schools with twenty times as many students in order to qualify for the state championship. After graduation five of their players are offered pro contracts.
Seen through the eyes of the author, much as as he personally lived it, The Amazing Journey of the Kickapoo Kids offers a fictionalized account of this couragious group of rural small-town boys quest to do the impossible.
Readers will want to stand up and cheer as they learn the riviting story behind this extraordinary slice of American history that may never be repeated.
About the Author
In 1989, Paul and his wife Susan founded Alliance for Life Ministries (AFLM). Their effort is geared toward making a difference by taking God's Word and applying it to His Cultural Mandate. Before retiring, Susan was a department supervisor at the UW in Madison, WI. Paul was self-employed as founder of Union Financial Services. In 1999, AFLM received the prestigious Salt and Light Award from The Center for Reclaiming America for Christ, as Outstanding Christian Organization in the United States. Paul's commentaries have appeared in publications and on the websites of ministries all over the world. His wife, love of his life, best friend, ministry partner and hero passed away in 2013. Paul Lagan can be reached by email at: paulwlagan@gmail.com. The Amazing Journey of the Kickapoo Kids is his first novel.